About Pinpointe
Pinpointe is an award-winning, easy-to-use, cloud-based email marketing platform that helps mid market Business-to-Business (B2B) marketers target, track analyze and stay in touch with customers through permission-based email. With up to 250 sub-accounts, award-winning campaign builder and high capacity, Pinpointe is purpose built for mid size companies, agencies, franchises & high volume senders, who have outgrown their current email marketing provider. Free 'Concierge' Onboarding!
PinPointe is a cloud-based email marketing tool that helps small, midsize and large enterprises across various industry verticals to create, distribute, analyze and manage their email marketing campaigns. PinPointe allows users to create email campaigns from a library of premade templates and automates email scheduling and trigger campaigns. The solution helps users to target audience segments by combining behavioral information, demographics and other custom fields. It also features real-time analytics, which allows users to track Twitter streams and inbound marketing results. Additionally, PinPointe helps users to add buttons that allow audiences to follow, like and share email marketing campaign elements. Other features include drag-and-drop editors, campaign statistics, spam checkers, lead capture forms and integration with third-party applications. PinPointe can be accessed via desktops and multiple mobile devices and is ReturnPath certified. Services are offered on a pay-as-you-go pricing model and on a monthly subscription basis. Support is offered via phone and email.
Pros
"The team we have on our side, is awesome. Replies anytime, any day and mostly within 45 minutes."

"What we like most about Pinpointe is their high-quality reporting. The information they offer is unlike any other service we've used, including click maps, link reports, and campaign quality scores."

"I've been using it for more than six years and it hasn't failed yet. Consistent in delivery and virtually no down time."

"I have had a great experience in using this software and working with this company."
Cons
"The whole database, list and segment thing can be a little confusing and overwhelming."

"Inability to segment list and send targeted emails. I also do not like the format of the date as it makes it hard to sort data in Excel."

"So far, I haven't found anything I don't like, which the expectation that I can only have one "segment" per contact. Other than that, Pinpointe has exceeded my expecations."

"Social media integration and complaints report is missing."
Detailed Review: How Can Pinpointe Help You?
Do you want an email marketing platform that is capable of sending out hundreds of thousands of emails every day?
Well, even if not so many, do you need a platform to manage your contacts and scale up your email marketing?
I know I do.
And that's exactly what Pinpointe helps you achieve. It's a versatile email campaign tool that can help you achieve all your email marketing goals.
Whether your company is small or large, its tiered structure makes it easy for you to get multiple teams onboard. This makes it perfect for publishers, universities, multi-divisional agencies, and more.
It has a variety of plans, from which you can choose the one that best fit requirements of your email campaigns.
This is a versatile tool for all things related to email marketing.
In this section, I'll review the main features that Pinpointe has to offer and how you can use them in email campaigns.
1. Email Design
Pinpointe makes email design a simple task. It features a WYSIWYG, (What You See Is What You Get), email editor.
Using it, you can create stunning emails without any knowledge of coding. It also has loads of free email templates which you can customize in minutes.
But this is just one of the two options that the platform offers. The other option being a simple drag-and-drop email builder. This makes the process faster and easier too.
Once you've designed your email, you can run unlimited inbox previews with built-in inbox previewing technology by Email on Acid.
You'll be able to see how it'll appear on a variety of email clients such as Gmail, Yahoo! Mail, Outlook, and more.
What's more?
If you want to edit the email HTML code, Pinpointe has an option for that as well. You can switch to the HTML view and fine-tune the code to perfect your email.
It's also possible to import and format text, create tables, incorporate graphics, add trackable links, and more.
Pinpointe also gives you the option of personalizing your emails using custom fields alongside wonderful email templayes.
But that's not all.
You can also create multi-part emails using this tool. That way, you'll be able to create HTML and text emails.
On choosing this option, Pinpointe figures out the appropriate format based on the inbox of the receiver. This ensures that all of your receivers are able to view your emails at any time.
Next, let's take a closer look at how you can create emails.
How Can You Design Emails Using Pinpointe?
You can choose between the classic WYSIWYG editor and the drag-and-drop builder. I personally prefer the latter for its ease of use.
Step #1: All you need to do is pick relevant email templates and start customizing them to create emails for your email campaigns. You can filter templates based on your niche too.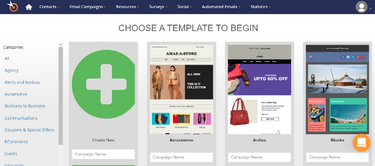 Step #2: Once you open an email template, you can start editing it right away. You can drag and drop the elements where you want and edit the text boxes with ease.
It's also possible to add different blocks to an email and customize it further. The tool also gives you the option to add your own HTML code.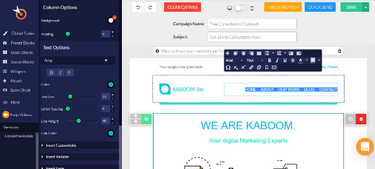 Step #3: Once your email is ready, just hit the "Spam Check" button, and the platform will show you your spam score. It also suggests the reasons for the score so that you can rectify them to lower the score.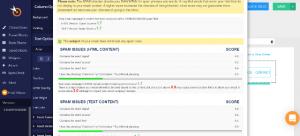 Step #4: After that, just tap on the "Inbox Preview" button to get an overview of how the email will appear in different inboxes and on different devices.
Step #5: Once you're ready to go, just click on "Quick Send."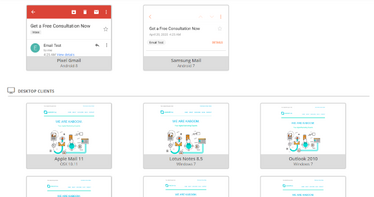 2. Autoresponders
Pinpointe lets you create drip email campaigns using its autoresponders. Using them, you can create drip emails that will be triggered when a certain event takes place.
You can create a drip marketing sequence of emails that will be sent out automatically to your subscribers over a certain time period.
You can manage cross-selling, upselling, cart abandonment, product trials, and more through these autoresponders. It's also possible to design the autoresponder sequence to nurture your leads to become customers.
So, let's take a look at how you can create a drip email campaign.
How Can You Create Drip Campaigns?
Step #1: From the dashboard, head to Automated Emails and select "New Drip Campaign."
Step #2: Next, you need to name the automated email and filter it based on the trigger. You can choose from a wide variety of triggers such as Opened Email Campaign, Clicked on X Links, and more.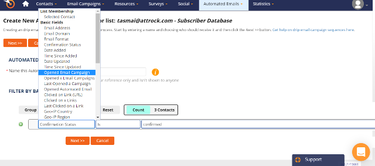 Step #3: You need to then select the details of the automated emails. These include the sender details, sending options, advanced options, and email content options.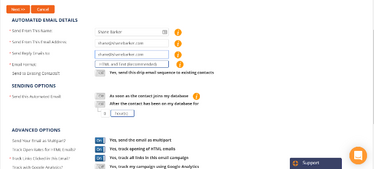 What's next?
Step #4: You need to build your email using the email builder. After which, you will get the list of your automated emails for your drip marketing and drip campaigns.
Step #5: You can then add a new automated email or sequence till you've completed it.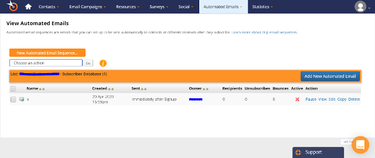 Image Via Pinpointe
Schedule a live demo of Pinpointe now.
3. Segmentation
Using Pinpointe, you can create and manage your email lists.
But that's not all.
You can even segment the email lists using various fields so that you can filter out and send emails to only those people in your list who should actually receive the email.
Using Pinpointe, you can segment your audience on the basis of their previous activity in other email campaigns too.
This behavioral target can reduce the likelihood of spam complaints and opt-outs as the emails will most likely resonate with the receivers.
Now, let's take a look at how you can create email segments.
How Can You Create Email Segments?
Creating email segments in Pinpointe is a breeze.
Step #1: All you have to do is go to the dashboard and tap on "Contacts" and click on "Manage Segments." This will bring you to the segmentation page.
Step #2: Tap on "New Segment" to create your segment.
Step #3: You will then be asked to name the segment and select the email list that you want to segment.
Step #4: After that, you have to add the segmentation rules based on which the segmentation will take place.
That's it! Your segment will be created.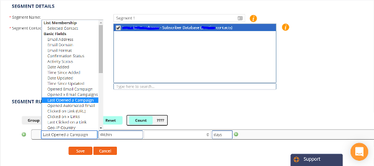 Such simple features are great for folks (like me) who want to simplify their email marketing.
Apart from these, Pinpointe offers loads of other great features for email campaigns, such as easy website integration, high email deliverability, Salesforce integration, and more.
However, what stood out to me was their onboarding process. They took a personalized approach to it and helped me out with everything necessary to get me started with my email campaigns.
This included importing data, full training that included training videos, and more. They were always up for meetings whenever needed as well. This made the entire process seamless.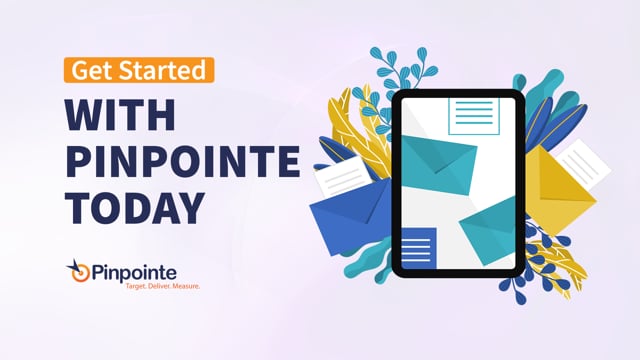 What Are Others Saying About Pinpointe?
"Pinpointe's system has given us the opportunity to market our products with confidence. Our email campaigns are not only delivered in a timely manner, but our deliverability rates have increased and we can easily capture the data we need to generate future sales."

Julia Comitale, Marketing & Communications Executive | KMI Media.
" Pinpointe's cloud-based email marketing system allows us to completely automate the process of delivering high-value campaigns to our end customers, on behalf of our entire distributor network."