About Sleeknote
Sleeknote is a cloud-based software that helps online businesses reach conversion goals through website popups. It allows marketers to collect email addresses as well as optimize lead generation and conversion. Sleeknote comes with a drag-and-drop editor, which allows user to customize campaign elements with the design scheme of the website. It offers audience targeting and personalization features, and facilitates integration with third-party applications such MailChimp, Zapier, Campaign Monitor, ActiveCampaign, HubSpot, Salesforce, Klaviyo, Drip, HeyLoyalty, Apsis and more.
What is Sleeknote?
Most lead capture forms target only new website visitors. Whether you're visiting a website for the first time or returning as an email subscriber, you see the same generic form asking you for an email you gave on a previous visit. Sleeknote makes it easy to customize forms for each visitor, regardless of where they are in their journey. Ask a new visitor to leave their name & email. Then, when they return as a subscriber, invite them to leave a review or more. The possibilities are endless.
Pros
"Whenever I contact you, I get the feeling that you are ready to help me. You have short response time and outstanding service."

"Personalized popups work great in terms of increasing sales without annoying our customers. The software itself is easy to integrate and use."

"The support team is also great, helped us a lot with implementation."

"The popup templates look great and they convert. There are templates for every occasion and you can of course customize them."
Cons
"Some minor missing features, but I have spoken with Sleeknote about it, and they are on their way."

"The software is quite expensive compared to competitors in the industry. They have a pricing model that charges you as you pass different thresholds for sessions."

"Nothing really other than my own highly unrealistic addons. I'm pushing it to its limit at the moment I'll probably get something to put my finger on in the future."
What do you like best about Sleeknote?
User friendly and easy to customize to your needs and campaign tracking. API and zapier webhook make it easy to integrate with other martech apps in your tool box
What do you dislike about Sleeknote?
Analytics can be more robost with easier integrations to other tools like CRM and Google products.
What is Sleeknote and how does it work?
Recognised as the internet's favourite popup builder, Sleeknote provides everything that a company needs to keep its business running in the competitive market. From capturing emails to reducing cart abandonment rates and creating multiple personalised popups for different groups of visitors, the software does it all. Made for marketers, Sleeknote is an incredibly user-friendly popup builder that helps to fetch more leads and sales. The popup builder also offers a plethora of templates that are easily customisable as per convenience. Without waiting for any design or development team, Sleeknote can alone help users to create popups of their choices that will be aligned to the interests of the end customers. Further, by using the various integrations and tools of Sleeknote, marketers can grow their email list with quality subscribers. Since every visitor has a unique preference, marketers can use Sleeknote to build customisable popups that would target the specific visitor and turn him/her into a regular customer, effectively.
Sleeknote Review: Pricing
Sleeknote offers five subscription plans based on the number of visitors and page views:
The Lite plan starts from $62/month, which comes down to $49/month with an annual subscription. This plan supports up to 25,000 visitors per month.
The Basic plan starts from $74 per month, or $59/month if billed annually, and supports 50,000 visitors per month.
The Plus plan starts at $143 per month or $114/month with an annual subscription. It supports up to 125,000 visitors per month and comes with three custom-made campaigns.
The Pro plan starts from $282 per month, or $225/month billed annually. This package offers support for up to 300,000 visitors per month.
The Premium package starts from $462 per month, which is $369/month billed annually. This plan supports up to 500,000 visitors per month.
The best thing about Sleeknote is that all of the packages let you use their full features, except the advanced goal tracking feature being excluded from the Lite package. The packages vary according to the number of visitors and pageviews per month. So the decision only comes down to the size of your business.
Best For
Though any online business can use it, Sleeknote primarily targets medium to large enterprises, e-commerce businesses, and SaaS companies. If the premium pricing is not an issue, I'd recommend Sleeknote to companies with a high volume of visitors and who prefer to work with a professional success manager. It's also ideal for people who run many businesses.
Sleeknote Review: 3 Reasons to Try Sleeknote 
While there are multiple reasons to give Sleeknote a try, the top 3 features that stand out are:
Personalization
Sleeknote's advanced personalization feature, SiteData, allows you to show or hide campaigns based on any visitor data on your site. It can be used as a trigger, a targeting option, and a merge tag – making it perfect for upselling and minimizing cart abandonment in your store.
You can also display individual visitors' tailored campaigns depending on their cart items, basket value, search queries, operating system, browser language, etc.
Gamification
Sleeknote lets you grow your email list with exciting, gamified spin-to-win pop-ups and daily offer campaigns.
With drag-and-drop and comprehensive customization options, you can easily gamify your popups without any required landing sites or coding knowledge. You simply build one campaign with all of your offers, including images, URLs, and discount codes, and Sleeknote will automatically refresh your offer every day. This saves you hours of work and provides you with customer insights that you can use for other marketing campaigns.
Optimized Embedding
Sleeknote has eight new "collect email addresses" templates and twelve new "boost product sales" templates optimized for embedding on your website.
You can locate them under the "Embedded" filter and instantly put them up on your site to provide back-in-stock notifications, welcome discounts, etc. More special form and banner templates are on the way, in addition to what Sleeknote currently has to offer.
Aside from these three benefits, the ease of use and versatility are also compelling reasons to try Sleeknote. Another feature that I like about Sleeknote over the other tools is that the popups can also be used as digital shopping assistants.
With Sleeknote's choice of pre-made templates that feature trending goods, Shopify bestsellers, and more, visitors will be able to find what they're looking for while also increasing your customer's average order value.
Sleeknote also lets you modify your close buttons on mobile. You can customize your buttons by uploading your own, deciding on their size, and placing them wherever you wish. You'll have greater flexibility and better-looking mobile campaigns with Sleeknote.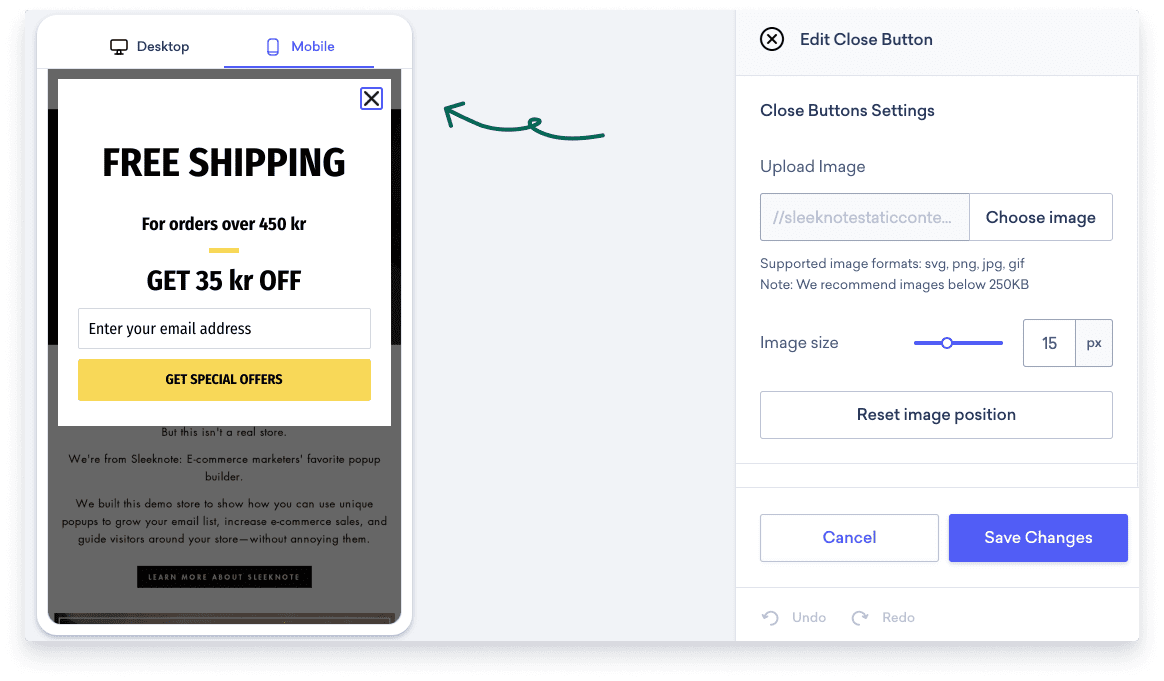 Finally, Sleeknote allows you to view campaign performance data for a custom date range in your dashboard, including views, leads, and conversion rate. This helps you see how your campaigns fared during specific holidays and months and create performance graphs for an entire year.