WHAT IS FINDER.IO?
FINDER.IO BY 500APPS IS THE TOP LEAD GENERATION SOFTWARE DESIGNED TO GROW YOUR SMALL, MEDIUM, OR LARGE SCALE BUSINESS.
Finder.io by 500apps is an advanced Email Finder and Email Verifier tool that helps find the email addresses of people who matter most to your business. Finder.io is also one of the best lead sources globally, with a database of more than 430 million email addresses. Get your cold leads to boost sales and revenue with a bulk email verifier. Use smart bots to scrape useful information about the top 5 profiles of any company, user insights, and company information.
Finder.io Benefits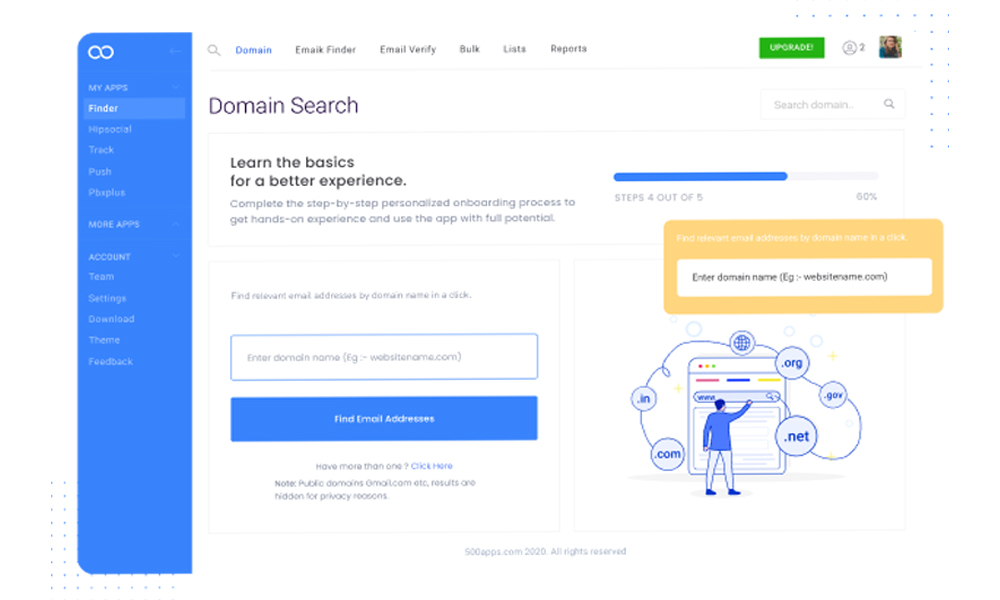 The main benefits of Finder.io are easy network expansion, quick email address search, accurate email address search, and easy data optimization.
Easy Network Expansion
Finder.io allows for effortless network expansion by enabling easy access to individuals, stakeholders, business owners, and decision-makers. With its email finder tool that deploys advanced AI, businesses can always be sure that all email contact details are precise and accurate. Through it, users can quickly strengthen business network connections without the need for mediators.
Speedy Email Address Search
Finder.io can deliver accurate and precise email addresses of point persons and stakeholders for specific business needs with just a click. It can also search and verify email contacts in bulk.
Accurate Email Address Search
Finder.io deploys advanced AI and analytics in verifying and certifying email addresses and contact persons. With Finder.io, users can be sure that the right people and parties are contacted.
Easy Data Optimization
Finder.io offers advanced reporting and analytics to its users. All contact details and content on people and expanded networks are automatically optimized and integrated to accurate reports that optimize tasks, campaigns, and projects. All reports are also fully customizable. They can be easily filtered to allow users to only download the most accurate and latest collection of integrated network data.
The top features of finder.io are:
Email Finder: Find emails of key people from a database of 430 million emails updated monthly
Email Verifier: Verify emails with a single click and reduce bounce
Bulk Support: With bulk support, shorten your lead generation cycle
Domain Search: Get emails of key decision-makers from any company from domain search
Smart Bots: Smart bots automate finding information on the company, top 5 profiles, and user insight
Lead Mining: Mine leads from LinkedIn and Google using bots
Manage Lists: Create and manage lists from search results and use them in your campaigns
CRM Integration: Integrate finder.io with the top 24 CRMs and build your relationship with customers


Finder.io features

Domain Search
Search History
Graphical View
Simple List View
Email Certifier
Email Finder
Bulk Email Finder
Bulk Email Verifier
Simple Interface
Lead Qualifier
Email Reports
Support

How much does Finder.io cost?

The Finder.io has 2 plans – Get 37+ apps with Finder.io at Just $14.99 INR 1079.28 (Full Licence/monthly plan), Try finder.io with 14-day Free Trial INR 0 (Full Licence/14 day)
Free trial : Available