What is Sendinblue?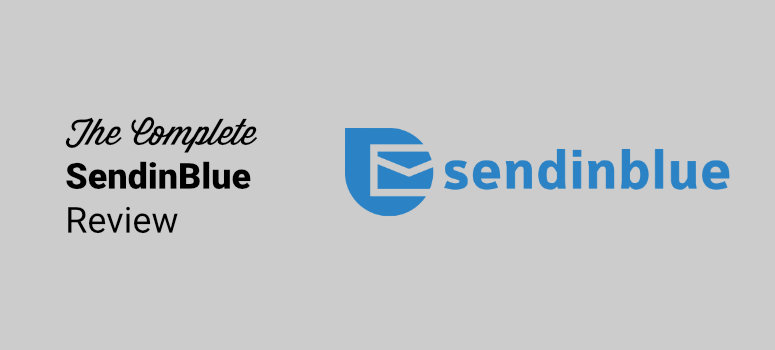 Trusted by over 300,000 businesses worldwide, Sendinblue is an all-in-one marketing platform for engaging with your contacts and building better customer relationships through targeted and meaningful communication. Cover your entire marketing funnel with our all-in-one solution for marketing automation, email marketing, SMS marketing, chat, Facebook Ads, CRM and for sending transactional messages via email and SMS. Sendinblue's real power comes from the flexible and versatile marketing automation platform.
The Sendinblue Tracker script lets you track web behavior from your contacts and use this information, as well as email engagement and data from your contacts, to create complex automation workflows that can save you time and help you scale and grow your business with no work at all. Sendinblue pricing is based on the number of email messages sent, rather than the number of contacts you keep in your account.
Sendinblue offers free accounts that allow you to send up to 300 emails per day (9,000 emails per month) 100% free. As your business grows, you can upgrade to a plan that meets your needs without breaking the bank. Send up to 100,000 emails per month for just $65 — or send even more emails at low prices. You are a large sender or have more specific needs? That is why Sendinblue has developed an Enterprise solution, a custom plan tailored to suit your needs and scale with you. Learn more about our paid plans, pay-as-you-go options, and pricing for SMS credits here: www.sendinblue.com/pricing.
Sendinblue features
Let's kick this Sendinblue review off by looking at the key modules offered by this tool:
email marketing campaigns and broadcasts
email marketing automation
transactional email and SMS
 social media marketing
 Sendinblue Price
This is probably the section of our Sendinblue review that will have a big impact on your final decision. Here are the prices and the numbers of emails you can send on each plan: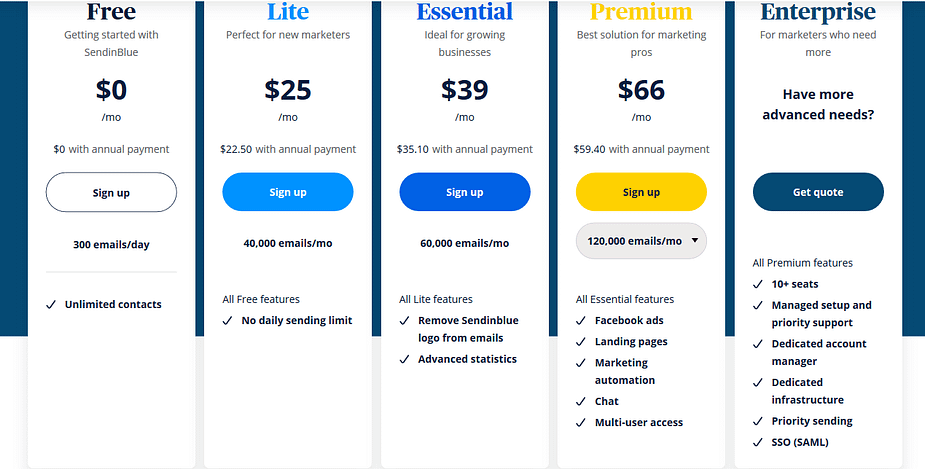 First off, as you can see, Sendinblue charges "per email sent" and not per the size of your contact list.
In other words, no matter if your list is 100 people or 1,000,000, Sendinblue doesn't charge you extra for that.
Another important point; there's a free plan! The cap of 300 emails / day translates to 9,000 / month. (Email automation up to 2,000 contacts.)
Reasonably, if you're just starting out and your list is between 100 and 500 people, then this free plan might be all you need.
(If you want to send SMS, those are more of a pay-as-you-go deal. For example, sending 100 SMS in the US is $1.34. Sending 200 is $2.68, and so on. Sending to other countries has different rates.)
A More Detailed Look at Sendinblue's Features
As you can see, Sendinblue offers a good range of pro features, and gains points for being so affordable for small businesses. Let's take a closer look at the pros and cons of Sendinblue's key features:
Sendinblue Templates
Sendinblue's templates aren't bad at all. There are 47 responsive designs available, and they are organized by purpose (sale, re-engagement, welcome, etc.) rather than industry (fashion, marketing, etc.). Compared to many of Sendinblue's competitors it's an uncommon approach, but in my opinion, this makes more sense, as the design will already be optimized for specific call-to-actions.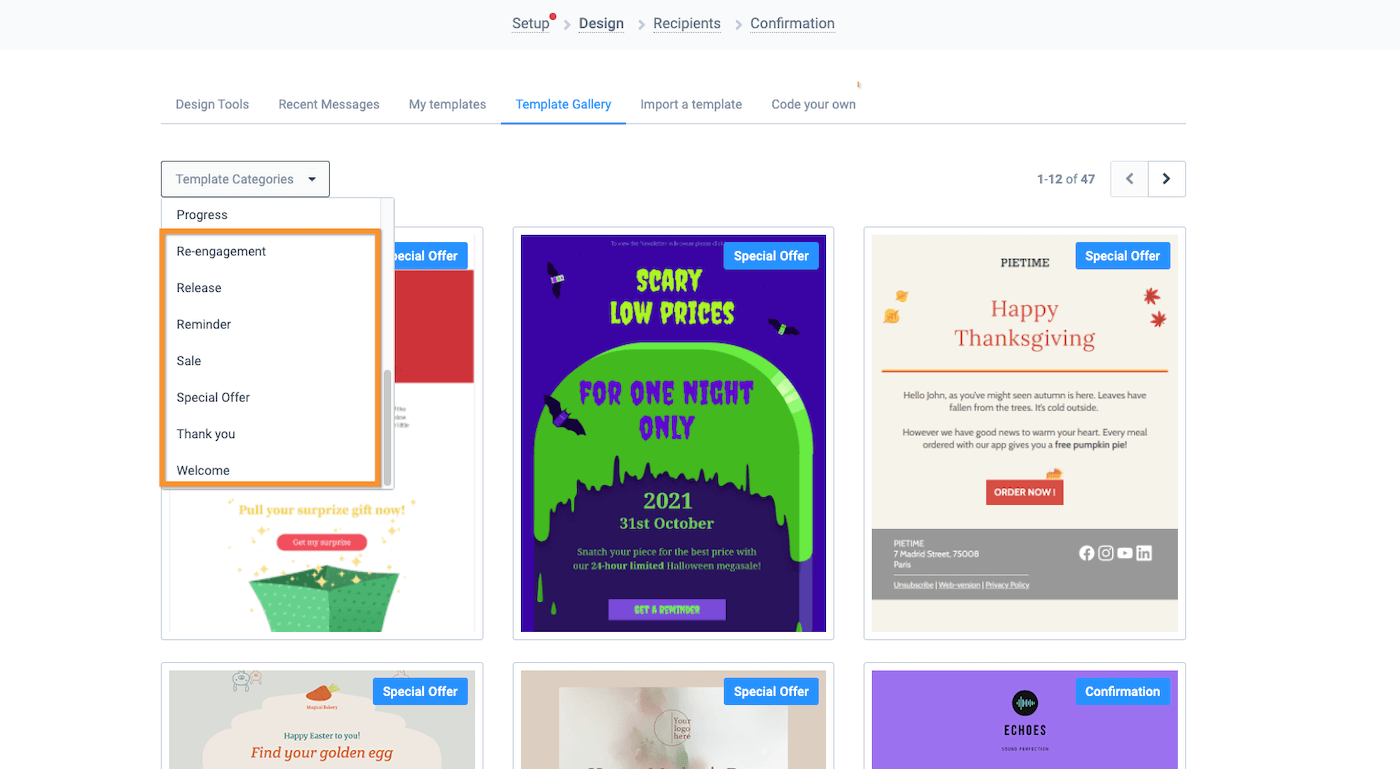 All email templates are included on all plans, including the free one. Though, bear in mind that you'll need to pay in order to remove Sendinblue's branding.
You also have the option to code your own newsletter and save it as a template.
Note that once you've chosen your template, you won't be able to change it without starting from scratch.
Sendinblue SMS Marketing
SMS marketing is offered on the free plan, though you'll need to purchase credits. The price depends on the country you're sending them to. For example, sending SMS within the US will cost you €5 for 500 SMS, €10 for 1000, etc. Note that you'll be charged in Euros regardless of where you operate.
Having the ability to send SMS is an added bonus, as not many email marketing platforms offer this. Not even the popular newsletter tool Mailchimp has this capability.
We compared prices to emailing tool Omnisend and found them to be very similar.
Sendinblue SMTP
Sendinblue's SMTP relay service is used to send transactional emails and avoid spam filters. This is great for those who need to send time-sensitive bulk emails.
Sendinblue promise rapid delivery:
50% of emails delivered within 1 second
99.98% of emails delivered in under 20 seconds
Our deliverability tests, which monitor email marketing services' ability to deliver marketing emails to a range of email clients, show that Sendinblue does indeed achieve very good deliverability rates.
You can use Sendinblue's SMTP service for free with a limit of 300 emails per day, but I'd recommend avoiding these kinds of limits and heading straight to the paid plan if you're likely to go over.
Sendinblue CRM
Aside from unlimited contacts, marketing automation and web tracking, its free plan also comes with a built-in CRM.
Most all-in-one email marketing services charge extra for this pro feature, so having it for free is a great advantage to using Sendinblue.
We even included it in our guide to the best CRM software for small businesses for that very reason.
It's true that dedicated CRMs like HubSpot offer greater functionality, though if you only need a simple solution, Sendinblue's CRM could be enough for you. After all, we have listed it as one of the best HubSpot alternatives.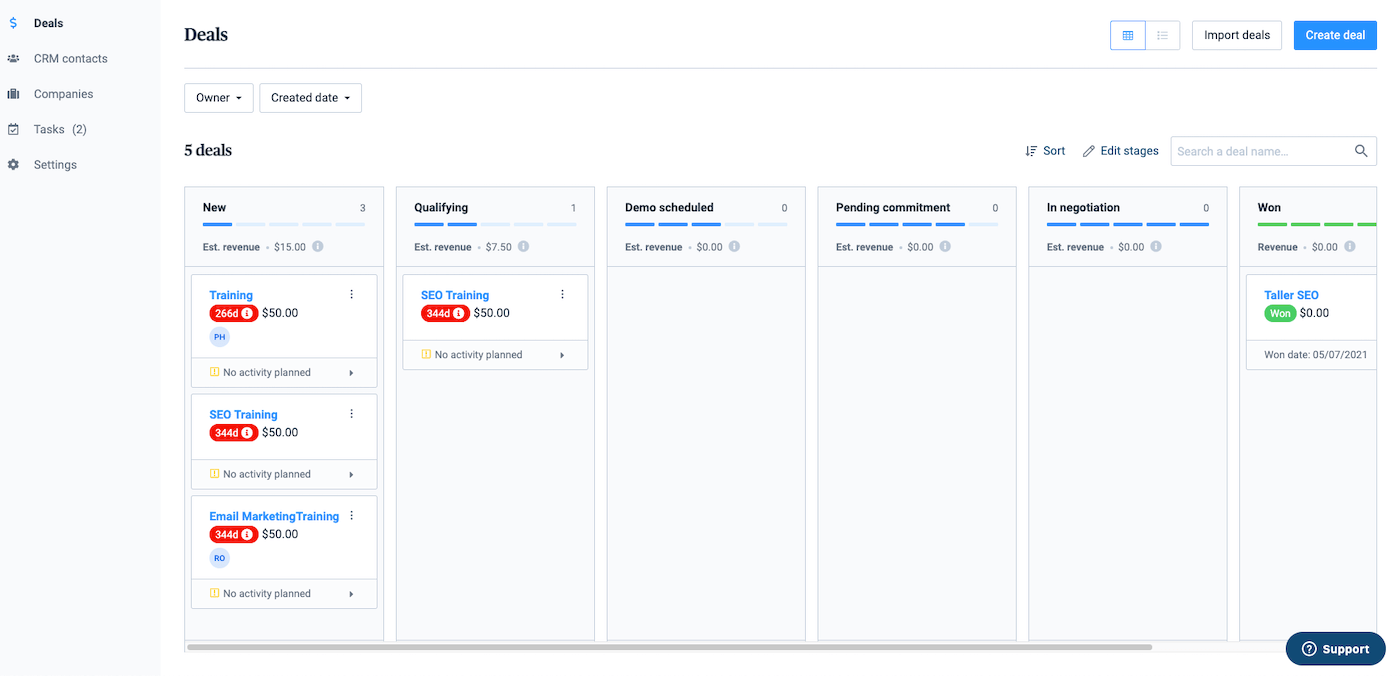 In our opinion, Sendinblue's deal pipeline is well-designed and easy to use. It's definitely one of the simpler CRM solutions, but that isn't necessarily a bad thing. After all, you won't be overwhelmed by hundreds of options and layers of navigation. Instead, you'll find editing columns and adding/editing attributes a breeze.
That said, it is missing two key things: lead scoring and analytics. There is no reporting at all on deals, which isn't great.
Conversations App
Multichannel contact management is possible with Sendinblue thanks to the Conversations app. Here you can manage messages that come in via live chat, chatbot, FB Messenger and Instagram.
This is what the interface looks like when you get started: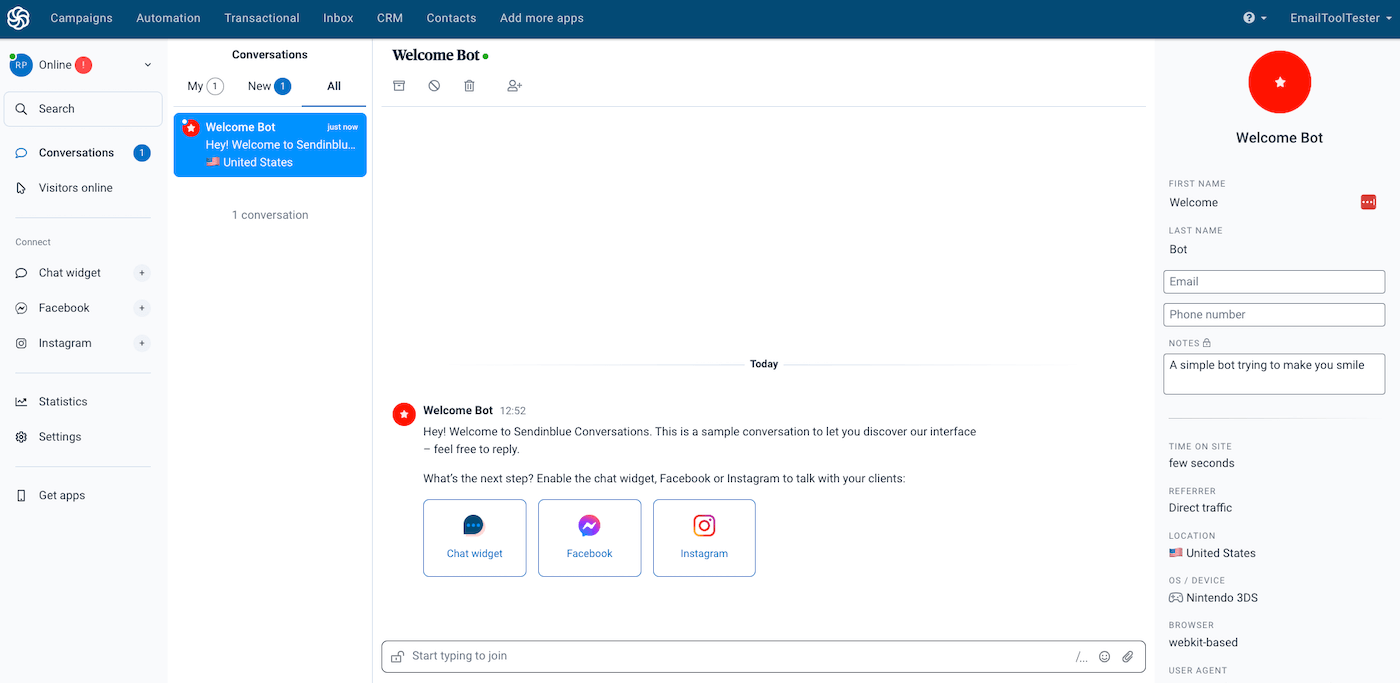 This is definitely a great addition to the emailing software, as it really helps you to stay on top of messages and quickly identify opportunities.
There is also a Conversations mobile app, which is available for both iOS & Android.
Sendinblue promises to integrate WhatsApp into this dashboard in the near future.
This feature is available for free, but it's quite limited, as you won't be able to connect the external messaging apps. If you want to integrate Facebook Messenger, Instagram +/ WhatsApp, you'll need to pay $15 per user on top of your monthly subscription.
WhatsApp Campaigns
As one of the first Meta partners for WhatsApp Campaigns, with Sendinblue, you can now send targeted messages to your audience through the messaging app.
Unlike with SMS, you can customize your WhatsApp campaigns with images, videos, attachments, and CTAs. This could be a great way to keep your customers engaged. You'll be required to add an unsubscribe link to your WhatsApp campaigns, and we'd advise keeping an eye on the unsubscribe rate, as a high one will affect your quality score. It would be great if you could A/B test such campaigns – something that isn't possible currently.
You can upload your contacts in bulk and create segments that you can use across other channels (SMS and email campaigns). So the fact that you can manage various channels all in one place is really useful.
This feature is available on all plans, though sending charges vary per country.
Conclusion
After conducting this Sendinblue review and taking a look at their full feature set, it's clear that Sendinblue 'get' email marketing. They've built-in some very clever options to help small businesses optimize their email campaigns, including advanced email automation, segmentation, personalization, and landing pages and forms that are geared towards increasing conversions. They really do have small business email marketing covered (hence why we listed them as a good Mailchimp alternative)!
While its automation features may not be enough to topple the email marketing software giants like ActiveCampaign, it's not a long way off. See how it compares to Mailchimp in this comparison.
Sendinblue have also been working on their CRM features, incorporating a deal pipeline and inbox where you're able to send emails to customers directly by integrating with your email client.
Aside from offering a generous free plan, with its paid plans starting from $25 for up to 20,000 emails, Sendinblue are one of the cheapest email marketing providers on the market.
In terms of features, there's no denying that Sendinblue is impressive. Our best advice? If, after reading this Sendinblue review, you're really interested in what they could offer you, try it out on the free version to see if you like it. Who knows, you might find yourself enjoying sophisticated marketing automation on a budget?