What is Mailjet?

Who is Mailjet for?
Mailjet doesn't occupy a specific place in the market.
It lacks the advanced functionality that would make it a useful tool for experienced email marketers with the budgets to create complex campaigns. Also, its pricing plans aren't great value for money for small enterprises.
Mailjet offers a free plan — albeit with very limited features — which makes it an option for people who want a solid tool on a shoestring budget.
Mailjet's features
Mailjet is really lacking in some important feature areas such as segmentation and automated email sequences.
This makes it difficult to create targeted direct marketing campaigns that speak to customers on a more individual level. Its only saving grace is a good collaborative email editor that allows multiple people to edit emails at once.
Email editor
Mailjet takes you step-by-step through the process of creating an email, starting with the subject line (which you can personalize according to the customer's name or location), through to the design and contact list.
In terms of email design, Mailjet has a more limited range of email newsletter templates than other email marketing software. This is especially true when it comes to templates for different purposes such as welcome emails or flash sale emails.
These templates' design is also basic, which means you need to spend more time on designing your email blasts.
But if you want to create your own, Mailjet's drag-and-drop email editor lets you get creative and produce a winning design with its full range of editing tools.
You can add content such as text, buttons, images and videos, and customize each content block by changing the background color, layout, text styles, and even language.
Another useful feature is the ability to display specific content blocks to certain segments or lists. You can choose which content blocks to display to all recipients and which to display to a segment of your customers.
This allows you to quickly create highly tailored and personalized content.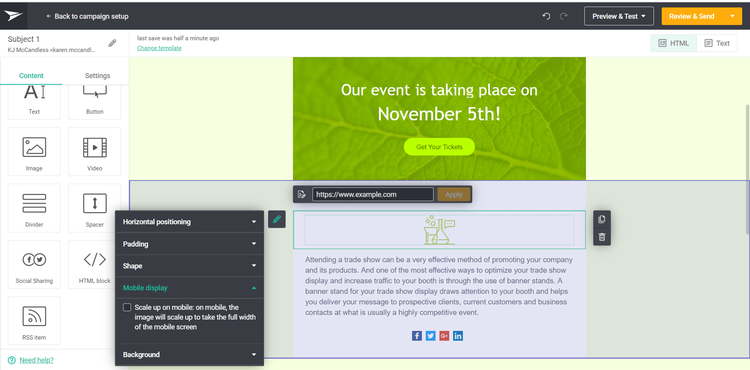 Mailjet's email editor is highly collaborative, letting several different team members edit the email at once, with changes reflected in real-time. You can also lock sections of the email to ensure that nobody else can edit them.
Mailjet's email editor lacks preview options that let you see how the email looks on different devices or by email client.
It also lacks an option to check how likely your email is to end up in a recipient's spam folder, which is a feature you find in other email marketing software such as Benchmark Email.
The send options are also limited, as you can only send right away or at a specific time in the future, with no ability to send by time zone or to send at an optimal time according to recipients' previous behavior.
Contact management
Mailjet makes it easy to migrate data from another solution. You can import contacts from an API or upload them manually.
Once you've imported the contacts, Mailjet matches properties such as email address, name, and location, so you don't need to do that manually.
For each email list you create, Mailjet provides an actions list so you can see every activity, such as sending campaigns and adding new contacts to the list.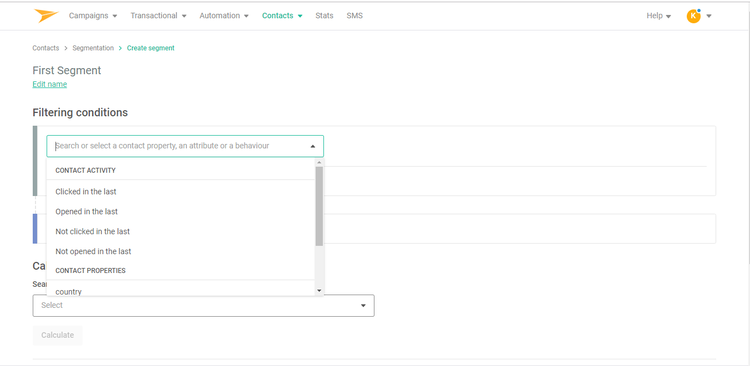 When it comes to creating a segment, Mailjet only lets you choose conditions based on demographic data and whether they have recently opened and clicked an email.
It lacks advanced segmentation capabilities, such as creating a segment based on product page views and past purchases.
Autoresponders
To help you easily set up autoresponders — automated sequences of emails that are triggered by customer behavior — Mailjet provides a number of templates for use cases such as welcome campaigns and when a customer updates their details.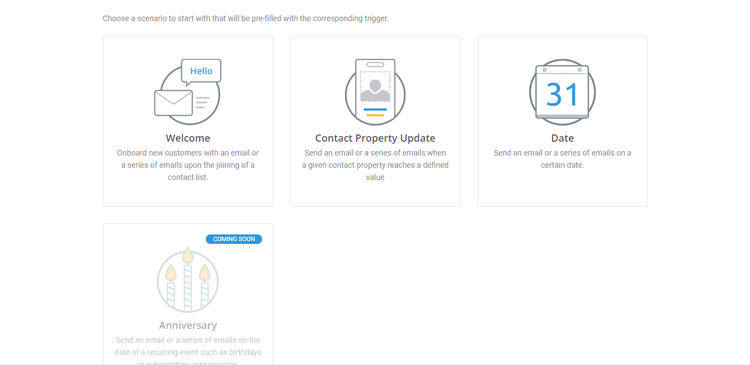 However, Mailjet doesn't provide any other autoresponder options aside from these templates — for example when a customer hasn't opened their emails in a set period of time — which means you can't create very complex automated sequences.
Transactional emails
One area that Mailjet specializes in is ensuring that your transactional emails — order confirmation, delivery information, etc — end up in your recipient's inbox.
This more advanced feature requires some coding knowledge and integration with Mailjet's API.
Mailjet includes templates that are designed specifically for transactional emails, such as a payment method being declined.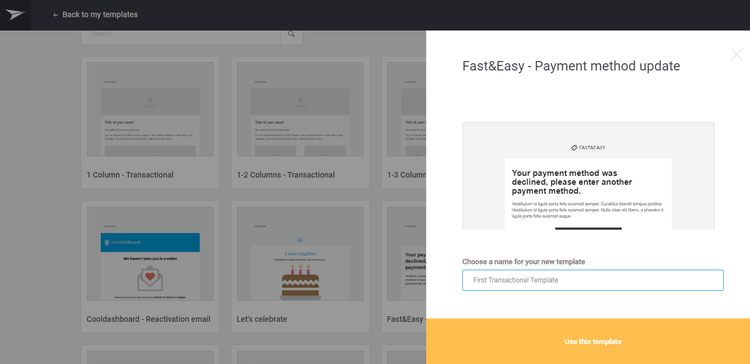 You can also receive real-time notifications if your transaction emails have not been sent, if there is a delay in delivery, or if recipients are not opening and clicking on these emails.
Reports and analytics
Mailjet's reporting functionality is solid but not special. It lacks Mailchimp's revenue-driven analytics or GetResponse's marketing funnel-driven reporting capabilities.
Mailjet breaks its reports down by overall email performance and by individual contact. The email performance reports include stats on:
Opens (including by email provider)
Clicks
Bounces
Unsubscribes
Spam reports
Its contact reports show you how many emails, both as a number and percentage, an individual has opened and clicked.
Mailjet's ease of use
A lot of email marketing services display a checklist of actions you should take to get started when you first log in to the software.
Mailjet takes this a step further by providing a full setup and use guide in one place. This starts with creating a test email campaign and moves on to importing your contacts, designing an email template, managing your contacts, and using more advanced features such as A/B testing and segmentation.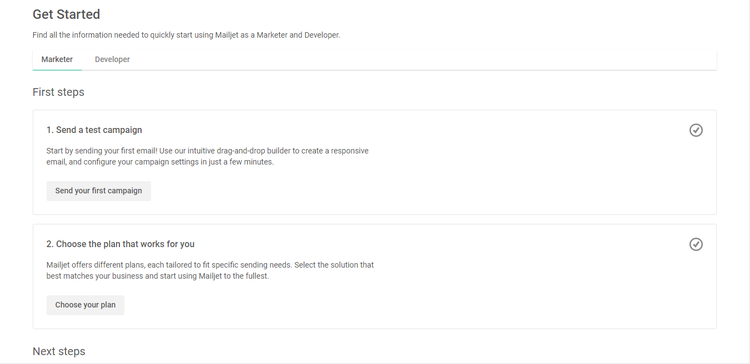 This approach is akin to providing a virtual training manual.
Navigational issues
You'll encounter occasional navigational issues.
For example, when I chose the option to design an email from within the "Create a Campaign" checklist, it took me back to the main dashboard. One action doesn't always lead to another in a logical way, and I found myself having to use the back button on my browser quite a lot.
Sometimes I felt stranded when I was in the middle of a task and I wanted to save it and go back to the main menu, but this wasn't an option.
Feature tours
Mailjet helps you understand how to use its more complex features by providing short product tours.
These explain the value and use case of each feature, explain the different steps you have to take, and point out the different options on the dashboard. This helps marketers who have never used these features before quickly get up to speed.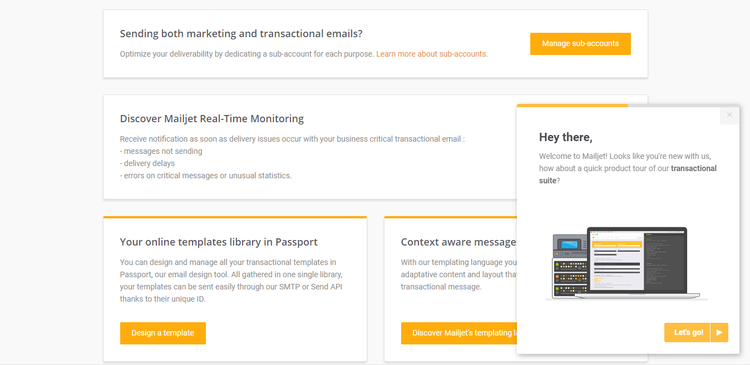 There are also in-app pop-ups sprinkled throughout the software that provide useful digital marketing tips, as well as links to Mailjet blog articles on subjects such as personalizing subject lines and the best ways to start an email.
Mailjet's pricing
Mailjet provides a free plan that lets you send up to 6,000 emails per month, with a limit of 200 emails per day. The free plan has very limited features, with no A/B testing, segmentation, or automation options, and it doesn't include the ability for multiple users to edit emails at once.
There are much better free plans on the market, such as those from Mailchimp and Zoho Campaigns.
Mailjet has two main paid pricing plans: Basic and Premium. The company also offers an Enterprise plan, but you have to contact sales for prices.
The Basic plan starts at $9.65 per month, which allows you to send up to 30,000 emails per month, with no daily sending limit. The price increases the more emails you want to send per month.
For example, the Basic plan costs:
$18.95 for up to 60,000 emails per month
$68.95 for up to 150,000 emails per month
$166.95 for up to 450,000 emails per month
The Basic plan isn't great value for money since it has very limited features, no A/B testing, and no segmentation options.
The Premium plan, which starts at $20.95 per month for up to 30,000 emails per month, includes multi-user collaboration, which means several people can edit an email at the same time. It also offers autoresponders that let you create automated email sequences, and it has segmentation capabilities. This is the best value of the Mailjet plans.
If you pay annually, you get a 10% discount on all plans.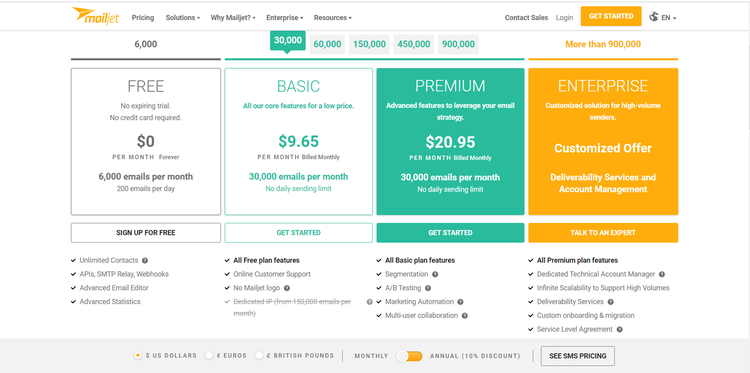 Working with Mailjet support
Mailjet's support options are limited. When you click on the help option in the main menu, you are presented with three quite vague options:
Documentation
Ask a Deliverability Expert
Need Help?
When I clicked on "Need Help", I expected to be taken to a page with ways to contact Mailjet.
Instead, you are taken to Mailjet's Support Center, which has a range of FAQs, guides, and whitepapers. There is a "Contact Us" option on this page, which allows you to submit a ticket.
There are no phone support or live chat options, and no information on response times. It's also not immediately obvious how you can contact Mailjet; it was only by trial and error that I found the option.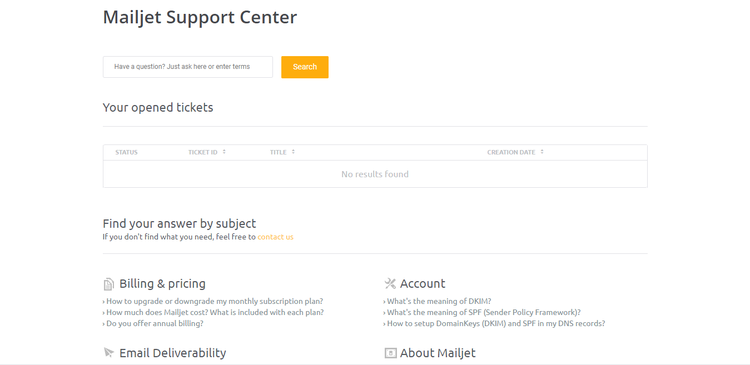 When you click on the Documentation option, you are taken to a similar knowledge base that is just organized in a different way. The Ask A Deliverability Expert option tries to make you upgrade your plan so you can get insight from one of Mailjet's experts.
Benefits of Mailjet
Mailjet helps you to optimize transactional emails — such as delivery notifications and change in payment details — by providing real-time notifications if there are problems with email delivery.
It also provides a highly collaborative email editor, with the ability for multiple users to make changes in real time.