What is SalesBlink?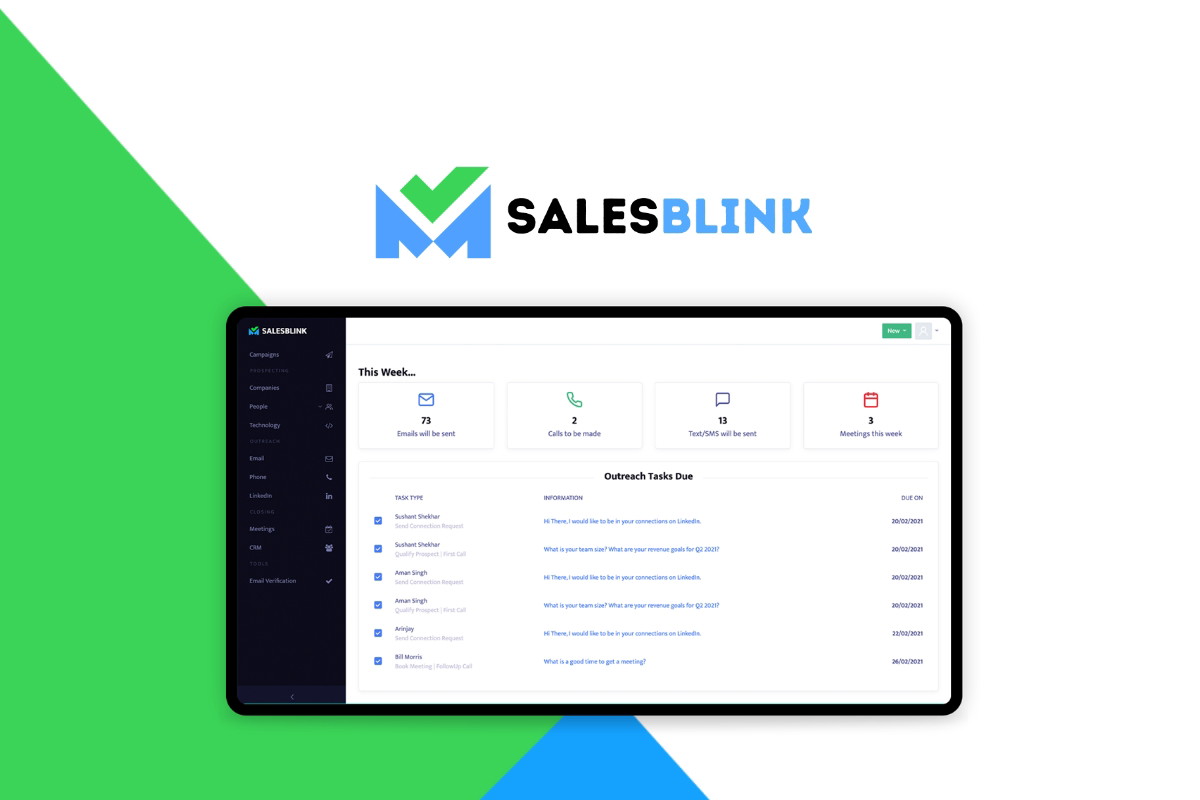 SalesBlink is full-stack cold email automation and leads generation platform. SalesBlink can help you in finding leads for your business through the following services. Lead Generation solutions Include: Linkedin Email Extractor, Email Finder, B2B Website Data Enrichment, B2B Database, Daily Domain Leads. Outreach solutions Include: LinkedIn Outreach, Cold Email and cold call Sequences, Mass Email Outreach. Closing Solutions include: Tracking and managing client deals, scheduling client meetings and CRM solutions.
About SalesBlink
SalesBlink is a full-stack cold outreach platform. It lets you generate leads and reach out to prospects at scale with Automation.
SalesBlink's platform allows you to find prospects, create outreach campaigns, import custom data, book meetings, and manage prospects with the built-in CRM for automated, successful sales conversations. You can tailor campaigns to your business' sales needs and virtually plan various outreach methods and time frames for calling, emailing, and more.
Pros
"This software solved our lead generation and outreach problems. This software is very helping us in our business growth."

"Its a great tool if you are in Cold outreach, and also toll to look up email for your leads. Best part on this tool we can manage how to outreach eg LinkedIn, email phone etc."

"This software will change the way we do outreach at revolutionmarketingteam.com. Thanks to the SalesBlink team for this amazing tool."

"This feature is like having your own Google search engine, helps to find the prospects. Closing section contains the meeting options, using which your prospects can schedule a meeting."
Cons
"Inability to make calls directly from the app. I guess this is on their roadmap though."

"Disappointed with b2b database. And the interface feels confusing at the start."

"Currently, I need to manually check each company in the prospecting tool. Setting up Gsuite email is slightly confusing, it can be reworked."

"No master account to manage all email accounts within the software."
SalesBlink features
SalesBlink is a full-stack cold outreach platform that does it all. Everything is unlimited, from lead generation to outreach. SalesBlink's mission is to connect with the right prospects every time, resulting in greater prospecting, outreach, and conversions.
So, let's see whether SalesBlink provides what you need for cold emailing and outreach.
 Find prospects: The initial step of an outreach campaign would be to generate leads (prospecting ). The platform has an email finder built-in for this purpose, which you can use to find emails, phone numbers, social media links, and more in bulk. You can target these data of prospects using their domain and name.
You will receive tools like domain search, which allows you to search for emails and phone numbers by domain name, email search, which enables you to find people by name or email, and company finder, which allows you to target potential businesses.
SalesBlink additionally provides verification tools for those generated lead emails with a single click.
Create and automate custom outreach campaigns: You may build up multi-channel outreach campaigns to personally communicate with your prospects. You can construct a complex flow that includes phone calls, emails, LinkedIn messages, etc.
It also helps in the automation of cold outreach and the management of deal pipelines. It does tailored LinkedIn outreach, automates email outreach sequences, and simplifies phone outreach
SalesBlink also offers image personalization, which gives an extra personal touch to increase open and reply rates.
 Meeting Scheduler: You can enable prospects to schedule meetings with you. To begin, simply connect your Google Calendar with SalesBlink. You may also specify the duration of the meeting and the amount of time between sessions.
You may also get a unique URL to share with your prospects so they can easily schedule meetings.
LinkedIn outreach: You may integrate LinkedIn into your SalesBlink account and begin reaching out to prospects who have no connection with you on LinkedIn. You can send connection requests and InMails to people who seem to have potential.
CRM tool: You can manage your prospect data by reviewing communication history to determine the status of each lead and conducting a comparison analysis to assess your progress. All that will help you in closing more deals.
Based on these features, SalesBlink has all the required capabilities to work well as a cold outreach and lead generation solution. It can find email addresses, set up outreach campaigns, and automate the process.
SalesBlink Pricing
The pricing of SalesBlink is quite straightforward. There are three plans available: Email WarmUp, Email Outreach, and Sales Outreach.
The Email WarmUp package only includes email tools like connecting to any email provider, auto email warm-up, improving email deliverability, etc. You will not be able to create an outreach campaign since it lacks outreach features. The pricing for this plan starts at $11/mo/user.
The Email Outreach plan provides tools that allow you to interact with your prospects. It has a campaign builder, cold email outreach with follow-up automation, A/B testing, an email tracker, and a meeting scheduler, among other features. The pricing for this plan starts at $29/mo/user.
The sales outreach plan covers all features and adds the resources necessary to sell to your prospects. It includes multichannel outreach, sales pipelines, deal stage automation, team Reports, and other features. The pricing for this plan starts at $89/mo/user.
The company offers a 14-day free trial and monthly and annual pricing options to its customers.
Conclusion
Low-quality cold emails or a poorly executed cold email campaign can be a huge waste of time and money. Choosing the right outreaching tools that either have the necessary features or are cost-effective is critical to being profitable.
SalesBlink will assist you in maximizing the benefits of cold emailing while maintaining high profitability and ROI. It allows you to tailor your outreach campaigns to your company's specific sales needs and virtually schedule multiple outreach strategies and times for calling, emailing, etc.
So, SalesBlink could be right for you if you are into cold emailing or cold outreach. This tool may have the same otential as its competitors.