Contactually CRM Product Overview
Contactually is a relationship-based CRM which helps companies build authentic, long-lasting connections that grow their business. The tool helps businesses discover the right person, then develop authentic personalized communication that keeps your business top-of-mind. Login daily and engage your high value contacts to generate more repeat and referral business.
Key features include:
Buckets: Categorize, and prioritize all of your relationships using Contactually's "Buckets". Set follow up reminders at different intervals for different types of contacts and develop the cadence you'd like to connect. Have contacts closer to the end of your pipeline? Connect with them more often and grow your relationship beyond the initial transaction.
Email Templates: Pre-written messages for any and all occasions. Email Templates allow you to make personal, authentic connections with less effort and time.
ScaleMail: The perfect way for contacting small groups who deserve more attention than sending a newsletter. Select the people you want to contact and easily personalize the message before sending.
Programs: Customize and automate a sequence of actions. Create reminders, send template emails or even re-organize your contacts in ways you normally work. Build your own step-by-step processes that communicates the way you do.
Pipelines: Track the status and value of the business that's tied to your relationships. They're a great way to stay on top of your business development efforts as they happen, and take the action needed to move them along.
Still not convinced Contactually CRM is right for you? Use our CRM Software product selection tool to browse additional solutions and get a custom recommendation. Have questions? Call, click, or email to get a free consultation from one of our unbiased Technology Advisors.
What is Contactually?
Contactually's software makes it simple to stay engaged with every part of your network. You simply categorize your key contacts into Buckets, and your Contactually account will take care of the rest. That means no more worrying about who to follow-up with today, how any prior interactions went, or what to say to break the ice. With regular follow-up like this, you'll soon realize you have fewer cold, forgotten connections, and more warm, engaged relationships that are thinking of you.
Contactually Pricing

Contactually offers a 30-day free trial with no credit card required. After the trial, you have the option to upgrade to a Basic, Professional, or Enterprise plan. The Basic plan ($35 per user per month, or $29 per user per month with an annual subscription) provides you with unlimited contacts, unlimited follow-up reminders, unlimited email account connections, social network integration, and 50 bulk messages per day. Upgrading to Professional ($59 per user per month, or $49 per user per month with an annual subscription) gives you all of those features plus smart templates, automated programs, introductions, pipelines, team collaboration and analytics, priority support, and 300 bulk messages per day. Finally, the Enterprise plan ($125 per user per month, or $99 per user per month with an annual subscription) gives you all the benefits of the professional plan, but your bulk message per day limit goes up to 1,000, and you get unlimited API calls.
How Contactually Works ?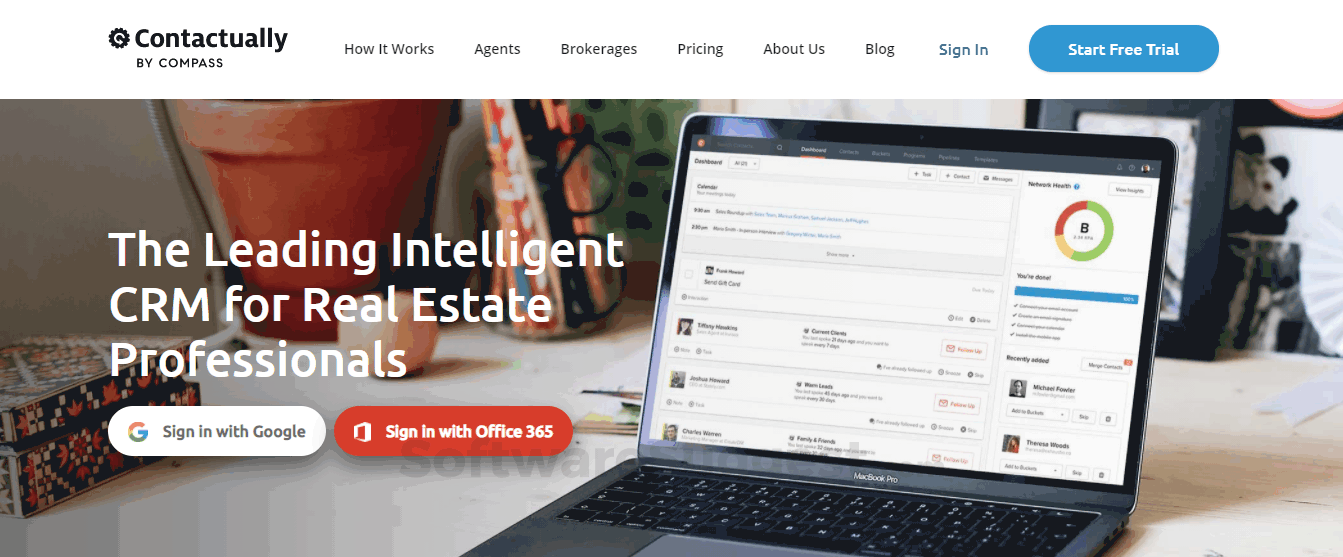 Contactually is an integrated and intelligent CRM tool that is specially designed for real estate professionals. Those who have a broker firm can use the tool to manage their agents to increase the efficiency and eventually lead to higher brokerage. It also works great for individual real estate consultants or brokers. The leads managed in the CRM can be bucketed into different categories based on your work style, be it the number of days or how likely they are to convert. Contactually offers a daily dashboard to prioritise every day's tasks and get a glance of the next tasks at hand. The agent workflow can be fully automated owing to its AI features that come into play. To engage users better, the tool lets you send emails and also shows you the best time to mail users based on historical data. If you're a broker, simply gain admin rights to increase adoption of the tool and increase the productivity of your agents.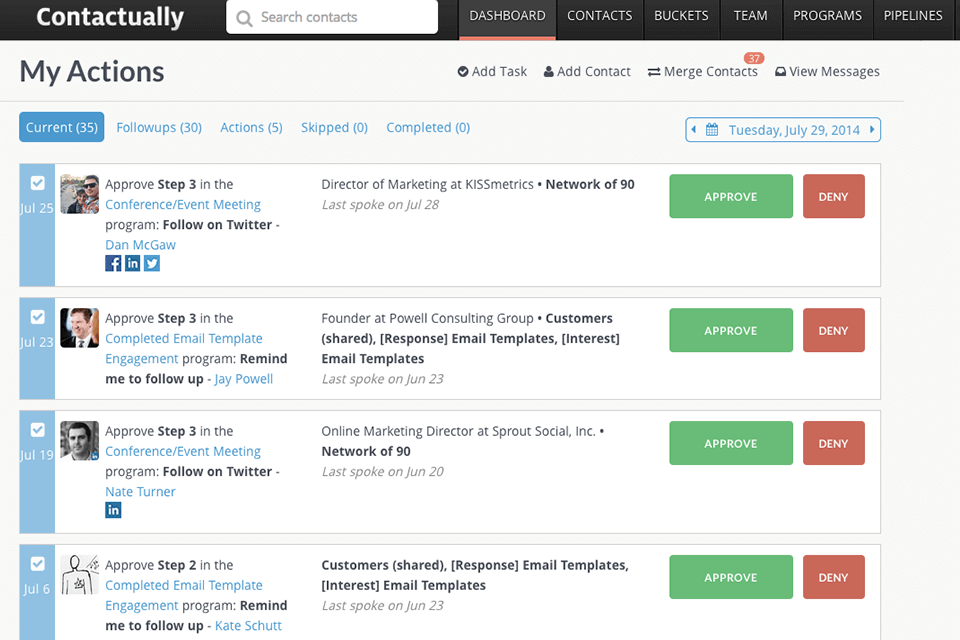 Contactually's Features
Manage and track all of your relationship building activity from your Contactually Dashboard.
Use Contactually's email templates to supercharge your email marketing. Efficiently engage your contacts with powerful messaging.
Start a meaningful conversation by sharing valuable articles and content with your network.
Influence your network and elevate your thought leadership with Contactually's Intro Maker tool.
Looking to personally interact with several contacts at once? Look no further than Contactually's Scale Mail feature.
Keep your mind at peace knowing that you're regularly and meaningfully engaging your contacts with Contactually's Programs feature.
Visualize your deals and prioritize your efforts by showing which projects are in which stages of your pipeline.
With Contactually, the days of manual data entry are long gone.
Contactually Alternatives & Comparisons
Pipeline tool for active dealmakers. Get super-organized. Close deals in less time. Built by active salespeople and serious web app developers.
Attract, convert, close and delight customers with HubSpot's complete set of marketing tools. HubSpot all-in-one marketing software helps more than 12,000 companies in 56 countries attract leads and convert them into customers.
With integrations to Google Apps, Office 365, MailChimp, and major social media sites; great mobile apps for tablets and smart phones; and easy access to a REST API for custom integration, Insightly is the leading small business CRM.
The Sales Cloud puts everything you need at your fingertips—available anywhere. From Social accounts and contacts to Mobile, Chatter, and Analytics, collaboration across your global organization and getting deals done faster is not only possible, it's easy.
It is a customer relationship management solution that brings customers and companies together. It's one integrated CRM platform that gives all your departments — including marketing, sales, commerce, and service — a single, shared view of every customer.