About SmartrMail
Looking for a MailChimp replacement for Shopify? Get a $19 credit back and free migration assistance on SmartrMail. We are fully integrated with Shopify, BigCommerce, WooCommerce and Neto. We are the easiest way to send better email your customer love. Easy-to-use automation, product recommendations, beautiful newsletters and advanced segmentation. 100+ 5-Star Reviews on Shopify.
Pros
"I am excited to see how Smartrmail adds value to our customer experience and in turn equates to increased sales."

"Help is always available to create wonderful and simple newsletters."

"It's smart segments functionality is amazing, and the fact that we can set up automations based around detailed parameters is extremely exciting for our business as we move into the future."

"The ease of syncing data such as products and other information for e-commerce is fantastic."
Cons
"A pretty handy tool really. Was using mailchimp but got annoyed with their lack of support and found automations complicated."

"I have not encountered any things I don't like yet."

"I had repeated trouble properly segmenting my email list."

"Nothing major just took a little bit of getting used to the autosave as I was used to saving everything I did manually in mailchimp. Not a software problem, just a person problem ;-P."
The Best SmartrMail Features
Product Recommendation Emails
As one of the standout features, you'll find an automated tool that's essential for bringing customers back to your store, especially after they've made a purchase in the past. This area of SmartrMail produces product recommendations for your customers.
The big advantage with SmartrMail is that it doesn't just send out random products from your inventory. Instead, it evaluates the past purchase history of that particular client, along with their browsing history and email clicks.
And since the customer and product syncs are all done in real-time, you don't have to worry about a customer getting an email that doesn't apply to them.
This is truly one of the coolest features I've seen in an email marketing client, since there's not much work involved for you as the webmaster, yet you still make additional revenue.
Abandoned Cart Recovery Options
A few abandoned cart features are packaged into the Shopify and Bigcommerce platforms. However, both are a little watered down for what most companies are trying to do with their abandoned carts. SmartrMail offers a huge upgrade, where you send up to three follow up emails when a customer abandons their cart.
Discount offers can go in the abandoned cart emails, but the coolest feature is the mixing and matching of these offers. For example, you could have a few discount offers in the first email and a completely different one for the third email.
After that, you can take a look at the comprehensive sales reporting to understand which of the abandoned cart and recommendation emails drove business to your site.
A Newsletter Composer That's Much Faster Than MailChimp
If you've ever worked with an email marketing tool that isn't meant for ecommerce, you know how tedious it can be to upload product images, copy and paste descriptions, and pretty much manage anything that goes into the email.
Since SmartrMail integrates with your online store, the entire process is shortened. You no longer have to copy and paste or resize images, since all of your products are pulled upon selecting the one you want to insert. This means the description, links and price are all automatically dropped into the email.
In addition, a quick product lookup tool allows you to type in a keyword and immediately scroll through the options that apply. Once you find the perfect product, click on it and sit back to watch SmartrMail do all the work for you.
For ecommerce, this composer saves an incredible amount of time.
SmartrMail Pricing
A 15-day trial lets you test out the SmrtrMail system on both Bigcommerce and Shopify. You don't need a credit card, and since both Shopify and Bigcommerce have their own free trials, a new store would not have to pay a dime for that first two weeks.
As for the pricing, SmartrMail includes a price tool for finding the exact price per month you would have to pay. The company only charges based on the number of email addresses you have in a database, so you're never overcharged by having to choose between a handful of plans.
As an example, here's a list of the prices for certain email subscriber levels:
100 subscribers – $19 per month
500 subscribers – $21 per month
1,000 subscribers – $23 per month
5,000 subscribers – $43 per month
10,000 subscribers – $68 per month
50,000 subscribers – $268 per month
100,000 subscribers – $518 per month
500,000 subscribers – You'll have to contact support
Keep in mind that each of the plans include the following features:
Unlimited Email Sending
Smart Popup
Auto-product Emails
Email Newsletters
Abandoned Cart Sequence Emails
MailChimp + Auto Import
Detailed Reporting
SmartrMail Support
The first support item I noticed on the SmartrMail website is the blog. This includes several case studies, along with tips and tricks on how to manage your ecommerce email marketing. For example, one of their most recent articles is all about minimizing abandoned carts with email marketing.
Furthermore, you can call the SmartrMail support team by scheduling a date and time. Therefore, they'll give you a call so you don't have to wait around in a queue for a long time. An email address is provided for direct contact, and the FAQs page is sure to help out some folks.
As far as I can tell, SmartrMail doesn't have a knowledge base, but other than that, the support outlets are pretty solid. In fact, each plan receives a dedicated ecommerce assistant for chatting with while composing your emails.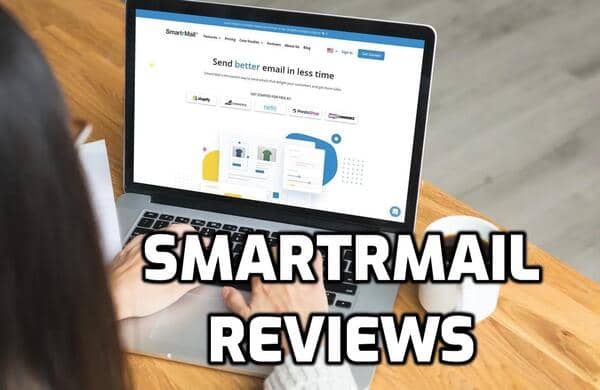 Who Should Be Using SmartrMail?
There are a few reasons why you would go with SmartrMail over other options like MailChimp and AWeber. First of all, SmartrMail focuses only on ecommerce, connecting with your online store and providing the perfect integrations for sending out targeted and relevant emails. Therefore, if you're using Shopify or Bigcommerce, I would skip MailChimp and go with SmartrMail.
Oh yea, and SmartrMail's prices are better than MailChimp. I've always thought that MailChimp had some of the best prices in the business, but SmartrMail cuts those rates quite a bit.
Overall, if you need an email composer that's easy for beginners, only for ecommerce stores and a bit cheaper than what's on the market today, we recommend giving SmartrMail a try.
If you have any questions about this SmartrMail review, feel free to drop a comment in the section below.