emfluence Marketing Platform product overview
Whether you're launching your own digital campaigns, managing a brand across a network of franchises, or creating campaigns for your book of business, you can leverage the emfluence Marketing Platform for email automation, social media management, reporting, and more. Build surveys, landing pages, and forms, and track website traffic and engagement with reporiting. Emfluence is designed for digital marketers to launch campaigns, managing a brand across a network of franchises, and create campaigns for their book of business.
What is emfluence Marketing Platform?
With support request times that are 5x faster than industry average and the ability to build new features and functionality to meet the needs of our marketers, we're one of the only marketing automation platforms that can truly say we're building this software for you. Featuring automated, transactional, and manual emails, landing pages, surveys, social posting, website tracking, image libraries, and more for B2B, B2C or agency programs.
Pros
"Overall, it is a great tool and as I gain more experience, my experience will continue to improve."

"I have really enjoyed using emfluence and even with the template created, it's a really great platform and tool to use."

"The Emfluence team is so eager to help out with any issues I have."

"Email was simple to create and oversee all while enhancing the quality of what is being sent."
Cons
"The design side is a little awkward and not very intuitive to use."

"I have no knowledge of html, so a few of the advanced features were a little difficult for me to master."

"This may be because i use a template in Emfluence, but i've had trouble creating dividers in the template the way it was set up. Again, could simply be because of the template or user error."

"It is hard to build templates and emails if you are not a software developer."
Breakdown of core features

Email Marketing
The emfluence Marketing Platform offers three types of emails (manual, automated, and transactional) with opportunities to personalize anything from images to snippets of text, layouts, timing, and more in a drag-and-drop email builder. Their workflow canvas lets you create automated email campaigns with the ability to branch email journeys based on opens, clicks, and dozens of engagement-based triggers. The email tools also offer out-of-the-box preflight testing tools, including access to Email on Acid, for testing design, personalization, spam warnings, and deliverability. A/B test up to five versions of your email or subject line with automated delivery of the winning version. Plus, take advantage of their Query Builder to build automated campaigns around website visits, custom fields, contact scores, behavior and more.
Landing Pages
The emfluence Marketing Platform offers a drag-and-drop landing page builder that saves your favorite designs, themes, layouts and more. Build complex landing pages with lead generation forms (that can even capture progressive capture so you can learn more about your landing page visitors each time they fill out a form), turn landing pages into light box or pop-up modals for your website, and personalize landing pages for prospects visiting from a variety of sources, including email campaigns and direct mail campaigns.
Social Media
Build out your social media strategy across Facebook, LinkedIn, and Twitter using their drag-and-drop Marketing Calendar. Plan for campaigns or for lengths of time, coordinate social posts alongside scheduled emails and external events (like sales calls, trade shows, or direct mail campaigns) and collaborate with team members or users in other departments to ensure your communications are efficiently planned.
Features
Email Marketing

Marketing Automation

Custom Fields / Forms

Dashboards

A/B Split Testing

Scheduling

API

Event Management

Analytics

Web Forms

Campaign Management

Reporting

Social Media Monitoring

Social Media Integration
emfluence Marketing Platform Description
The emfluence Marketing Platform can do the heavy lifting of customer engagement for you. Once you define your strategy, you can easily build out automated, personalized campaigns to speak to your customer and keep them coming back! We've focused our platform's features around what marketers need to create, track and deploy successful digital campaigns, including:
Email Automation
Email Marketing
Drag & Drop Email Builders
Social Media Management
Surveys
Landing Pages
Form Builders
Automated Reporting
Website Tracking
Light Boxes and Modals
Variable Content Blocks
For 19 years, we have partnered with clients to develop, maintain and evolve marketing automation software for companies both big and small. We are known for having support times 5x faster than the industry average and a monthly roadmap of updates based on user feedback. We can truly say that we building this platform for you.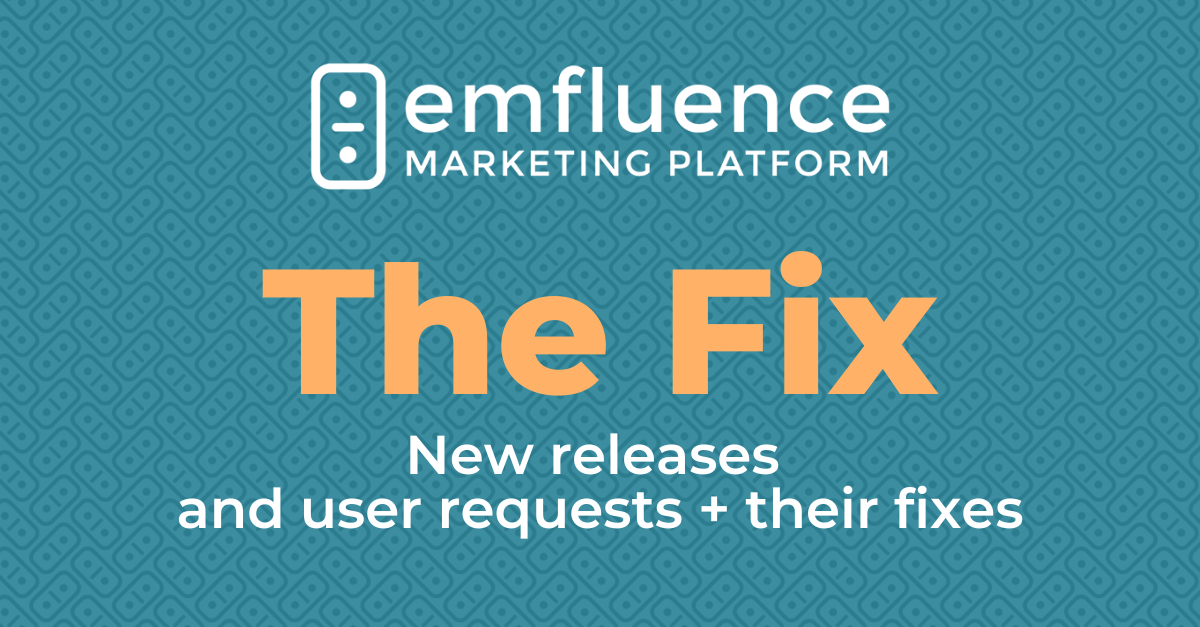 Key benefits of using emfluence Marketing Platform
Create interactive and completely customized landing pages by choosing from one of emfluence's pre-built templates and add landing pages to campaigns to see results across multiple channels.
Use emfluence's form builder to create online forms for gathering leads, registrations, and email subscribers. Survey and feedback forms can also be created to gain insight into the customer experience.
Automate marketing campaigns using the visual workflow editor and calendar tools which allow users to drag and drop elements in order to schedule campaign tasks. Users can also set up actions to automatically occur based on user behavior, or non-action.
Create modals and lightboxes to capture potential leads before they leave the page. Lightboxes can be customized to display different targeted content and appear based on pre-defined parameters.
Generate reports and analytics to measure the performance of email marketing, social media posts, campaigns, and more, and schedule reports to be delivered via email at regular intervals.