Privy Review: Overview
There are many angles to on-site engagement. And Privy focuses on just two.
First off, the solution has been developed to facilitate targeted on-site displays like banners and pop-ups. Apart from minimizing cart abandonment rates, their principal objective is helping businesses grow their mailing list.
Then secondly, Privy offers automated email marketing to supplement its engagement tools.
Now, collectively, these two aspects seek to drive on-site conversion, and increase sales. With that, the platform has attracted more than 200,000 marketers spread across 180 countries, who reportedly engage over 200 million leads each month. All this in just three years.
Now, it certainly seems like something worth checking out, right?
Well, let's get things underway. This Privy review is a guide on its primary features and functionalities, pricing, and the typical users.
What is Privy?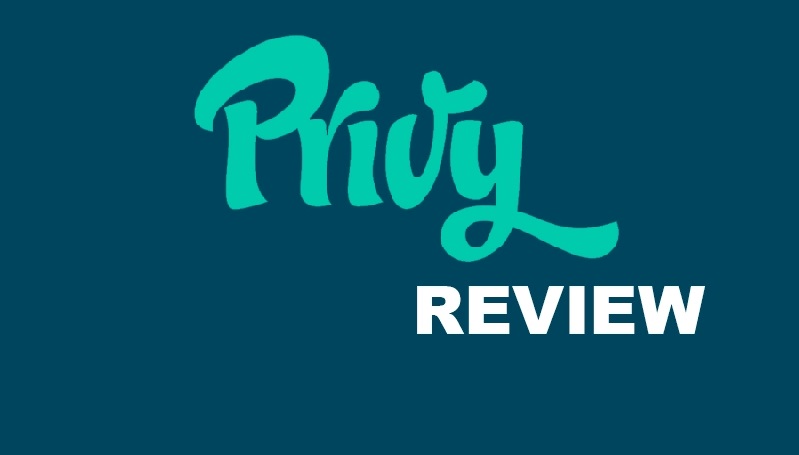 Privy is built specifically to drive online conversions through targeted on-site displays (e.g., pop ups, banners, bars) and automated emails that enable leading ecommerce companies like Leesa, Keen Footwear, Butcherbox & thousands more to rapidly grow their email lists and dramatically reduce cart abandonment. Privy is deeply integrated with top ecommerce and email platforms including Shopify, Shopify Plus, Bigcommerce, Klaviyo, Mailchimp, Bronto, dotmailer, Magento2, Hubspot & WooCommerce.
Pros
"Everything works great and there are plenty of awesome features."

"I love Privy's List Growth and Email Tool. I was able to customize everything about it to make the pop-up appear matching to my website."

"The templates are beautiful, easy to edit and setup and publish on website. Exit intent works fabulously well on desktop and mobile."

"I love Privy because it has multiple functions and it allows me to do e-mail and SMS marketing in one."
Cons
"I had a bad experience recently when I tried to find out the URL that my sign-ups were coming from."

"It would be hard as a small business to justify the expense."

"Also, their pricing and plans change too often which is a bit worrisome and uncomfortable."

"You have to deduplicate your lists MANUALLY. The worst part is that they have known about this issue for months and have still not fixed it."
Privy Review: Features
Wide Array of Display Options
Now get this- An overwhelming 96% of marketers acknowledge the importance of personalization in improving overall customer relationships.
What am I driving at?
A good engagement tool, to begin with, has to offer adequate customization options. That's how you start tweaking your entire campaign to not only target leads, but also align it with your marketing goals.
Thankfully, Privy is universally customizable. And the whole process starts off with an intuitive drag-and-drop designer.
You don't need even basic coding skills to use it. Everything is quite straightforward actually- simply drag and drop images or text anywhere you'd like, then edit them according to your preferred outlook design.
Privy then goes ahead to provide hundreds of professionally designed templates to make your work much easier. However, in the unlikely event they fail to impress, you can embed your own unique template into the drag-and-drop designer.
Now, I would have called it a pop-up designer. But, it turns out that it can help you tweak much more than that. As a matter of fact, Privy comes with nine varying display types that you can use for different occasions.
Ok, I bet you already know about pop-ups. Yes, those light-boxes that typically show up on your screen as you surf around a website.
Although they are intrusive, the fact of the matter is- they are great at capturing your visitors' attention. Privy allows you to strategically pair them with well-structured content pieces or discount offers- for optimal engagement.
Another display type you can use on Privy is bars. These are thin full-width strips that are normally placed at the top or bottom of the screen.
Since they are not as loud as pop-ups, they'd be ideal for subtle promotions like items on sale. You can also take advantage of them to collect email addresses from your leads.
But, here's the kicker- internet users, including warm leads, are not that generous with their email information. So, you have to consider a cleverer approach.
That's why, I assume, Privy created a display option they call "Spin-To-Win". It's quite similar to a typical raffle wheel. The only difference here is that site visitors submit their email information to spin the wheel- and stand a chance of winning coupon codes.
Now, that's thoughtful, don't you think? Unfortunately, they could distract some visitors from activities aligned to the conversion funnel. Like reading a blog post, for example.
So, here's the thing. Such groups of leads can be targeted with flyouts.  These are quite similar to pop-ups, but more laid back. They usually show up at one of the bottom corners of the screen like banners- but more engaging because they are not static.
And speaking of banners- yes, you're right. That they are also part of Privy's display package. The best thing about them is that they are not as invasive as the rest. But they still move slightly to grab your visitors' attention.
Now, make no mistake. Not everything here moves. Embedded forms, for instance, are static displays that can be pinned to a part of your site to collect info like mailing details.
They go well with another display option- thank you pages. These could appear immediately after visitors submit their information, as a way of showing appreciation- and perhaps throw in a couple of coupon codes.
Other than that, you could introduce tabs linked to a specific call-to-action. They just sit idly at one corner of the screen, and clicking on them launches a corresponding display campaign like a form.
And finally, you get landing pages. Unlike the rest of the campaign modes, they don't appear on your website. Instead, they are published on third-party platforms like social media sites as all-rounded engagement campaigns, complete with links to drive traffic to your online store.
Targeting and Triggers
Display campaigns are seemingly promising, you have to admit. But, engagement is not guaranteed.
The only way to generate great results is ensuring that the right messages are delivered to the right visitors at the right time.
So, to achieve this, Privy offers campaign triggers and audience targeting.
Audience targeting relies on a powerful tracking engine, which critically assesses visitors in line with the corresponding campaign parameters. Consequently, you're able to create rules for targeting selected visitors with specific display campaigns.
Well, the criteria here is quite diverse. You could either choose one element or combine multiple for dynamic, more effective targeting.
The specific elements you could employ include:
Privy campaign history
Page views this session
Page views overall
Sessions count
Language
Country
Custom JavaScript
Initial traffic type
Traffic type
Initial URL all time
Initial URL this session
Referring URL
Time of the day
Day of the week
Cart value
Current URL
Device type
Campaign triggers, on the other hand, allow you to dictate parameters for launching various display campaigns according to visitor behavior.
The timer trigger, for starters, sets specific times various campaigns are displayed based on the time spent on your online store.
Then the scroll percentage trigger comes in handy when you need to launch campaigns according to how far your visitors scroll down the web pages. This is a clever way to identify warm leads with the best chances of proceeding through the conversion funnel.
But, don't get me wrong. That doesn't mean that the rest should be ignored.  You can leverage the exit intent trigger to specify campaigns that would be displayed right before visitors leave the site. Admittedly, this would be a thoughtful strategy for reaching out to cart abandoners, and consequently reducing the overall abandonment plus site bounce rates.
Email Marketing and Automation
Engaging visitors on your site is just one part of Privy. And among its objectives, as we've seen, is growing your mailing list.
So, of course, it only makes sense to supplement that with email marketing functionalities.
That said, Privy is seemingly making a decent attempt at providing a full-stack email marketing tool. After helping you collect email addresses, it provides features for creating emails, personalizing messages, and automating the whole email marketing campaign.
The email editor, to begin with, uses the drag-and-drop function to build and edit messages, announcements, and newsletters.
And then to save you the trouble, Privy provides automation, which you can combine with audience targeting to specify how and when certain emails are delivered to particular leads.
Consider your new subscribers, for instance. On average, 320% more revenue per email is generated by welcome emails sent to them, compared to other promotional emails.
As a result, it would be advisable to take advantage of Privy's autoresponder to automatically launch welcome email campaigns as soon as they sign up.
Other than that, you can boost your conversion rates with timed coupon reminders sent automatically to targeted individuals.
And you know what? You don't have to rely only on Privy's mailing list. You can sync it with other email providers like MailChimp- to import secondary leads, and subsequently expand your audience.
Privy Review: Pricing
Well, guess what?
Here's a pleasant surprise. It turns out that you can start off with a free plan. And no, it doesn't run for a limited period of time. It's permanently free- seriously.
But, of course, there has to be a catch. You'll not be able to send more than 3,000 autoresponder emails per month. Plus, it doesn't provide advanced functions like audience targeting. Your only capabilities here are basically installing the service, plus creating display campaigns and landing pages.
That said, here are your options when you're ready to scale up:
Plus Plan- $24 per month, or save $50 by going annual. It's ideal for personal sites and ecommerce stores seeking to grow their mailing list.
Standard features
Eliminates Privy's logo from the campaigns
After signing up, visitors can be redirected to selected pages
Hide or reveal promotional or sign-up displays on selected web pages
Access detailed information on activities by each website visitor
Build sign-up forms, offers, and displays optimized for desktop and mobile
Commerce Plan- $79 per month, or save $160 by going annual. It's ideal for ecommerce gurus seeking to decrease cart abandonment and boost sales.
Standard features
Uses advanced grouping properties to sync contacts from with third-party email providers
Follow up on Shopify and Shopify Plus coupon redemptions
Leverage numerous targeting parameters to achieve highly targeted displays
Introduce custom HTML elements to embed media into your displays
Establish special coupon codes synced with your BigCommerce or Shopify store.
Growth Plan- $299 per month and up. Ideal for ecommerce teams seeking to optimize conversion across multiple channels.
Standard features
Privy experts provide strategic training and prioritized support
Capitalize on and sync variable form fields and detected attributes to advanced ESPs
Embed with Maropost, Bronto, Retention Science, and Salesforce
Install CSS, custom JavaScript, Google tracking pixels, and Facebook
Take advantage of A/B testing to assess your campaign's efficacy
Who Should Consider Using Privy?
In a nutshell, Privy provides relevant engagement tools that can be leveraged to increase conversion and boost sales. It's simple enough to be used by typical small business owners, although it's best leveraged by marketers and marketing agencies.
That said, personal websites, plus small and mid-size businesses would find Privy useful. However, the solution is not advanced enough to accommodate the extensive needs that large enterprises come with.