Popupsmart Overview
Popupsmart is a simple popup builder that works for boosting your sales, generating new leads and increasing conversions.
Popupsmart is all you need if you want to…
Grow your email list,
Show up announcement,
Comply with cookie laws.
Increase phone cells,
Promote your products,
Collect form submission.
While creating your popup on Popupsmart, you can choose your layout from various layouts or customizing it however you wish in terms of editing appearance, headline, descriptions, images and so on.
With highly advanced targeting options, you can also decide when your popup will show up.
Also, you don't need to worry at all since Popupsmart is a budget-friendly tool that you can try for free!
About Popupsmart
Popupsmart is a no-code tool to increase e-commerce sales, build email lists, and engage with your visitors in just 5 minutes. With customizable popups and ready-to-make templates, you can easily create engaging popups that will boost your sales. Also, different integrations will help you provide more sources and make you reach more customers. Start trying Popupsmart for free and see the impact that your website will create.
What is Popupsmart?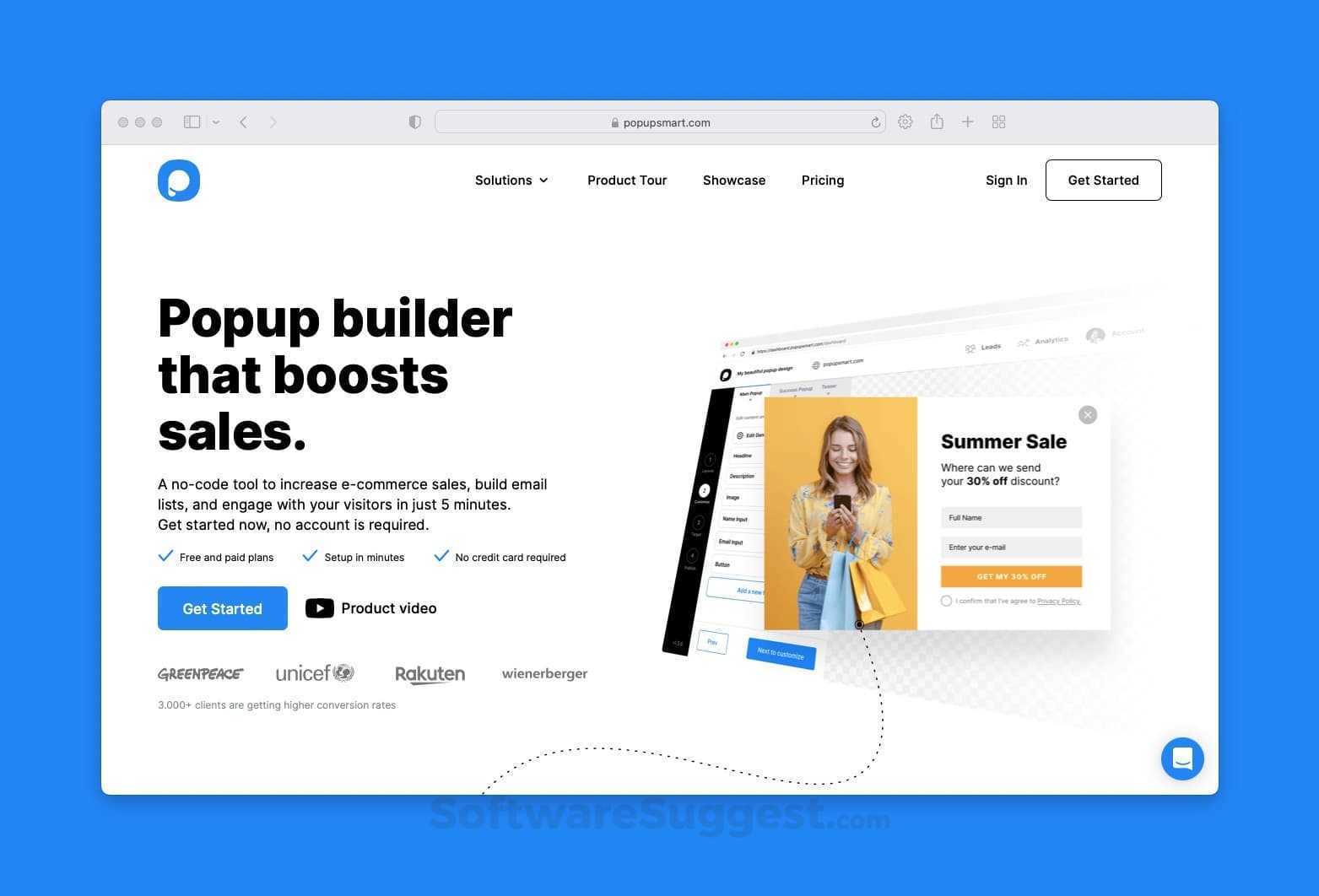 Popupsmart enables you to create engaging popups that boost sales and increase conversion rate of your business. With different templates and many integration options, you should give a chance to Popupsmart now.
What is Popupsmart and how does it work?
Popupsmart is an efficient pop-up builder that enables users to generate leads and grow rapidly. Users can choose the design and template according to their requirements and customize their campaigns without having any technical knowledge. The software enables its users to convert targetted visitors into email leads with the advanced targeting options and conversion-ready popups of the software. One can gather the personal information of visitors to know them better and segment customers according to their engagement activities. Popupsmart helps its users to present mobile compatible popups to increase the traffic on the website of the user. The software offers four different interface styles and several other designs, which help to boost the phone call conversion rate. Users can communicate with their targeted visitors through smart popups, and hence inform them about the latest features and products launched. One can offer visitors with discounts and coupons, thus enhancing customer satisfaction.
Pros
"Overall, I've had a great experience with Popupsmart. Great enough to take time to convince my marketing department that we should use this service among the others we've tested."

"I love the tool because it offers flexibility through many templates, targeting, scheduling and display options and is easy to use."

"I didn't run into issues and was happy with how it boosted my website conversions. Definitely worth testing out."

"Popupsmart has been a fantastic experience for me. Great enough to take the time to persuade my marketing staff that this service, among the others we've tried, should be used."
Cons
"Before using Popupsmart, we used Mailchimp's popups to capture emails in our blog. The problem with Mailchimp is that their embed code was slowing down our website and customization is limited."

"Lack of documentation on customisation some of the templates."

"No benefits, its been a bad and costly experience using this amateur software."

"It very often conflicts with Cookie banners – dismiss the cookie banner and the popup disappears too."
What do you like best about POPUPSMART?
POPUPSMART is simple and does a great job of creating popups for my website. The default templates make it super easy to use and customize accordingly to our needs!Review collected by and hosted on G2.com.
What do you dislike about POPUPSMART?
POPUPSMART is bit expensive compared to its alternatives even tho it provides functionality to match pricing its hard for startups to spend a lot in marketing with popups 🙁Review collected by and hosted on G2.com.
What problems is POPUPSMART solving and how is that benefiting you?
POPUPSMART helps us to generate more demo calls which can turn into quality leads. We have integrated POPUPSMART with our Google Sheets to keep track of all the leads we ever came across!
Popupsmart Description
Popupsmart's new popups, cutting-edge targeting technology and reduced cart abandonment will help you increase sales conversions. Shopify's special integration allows you to create dynamic coupon codes, display your most popular products, and increase conversion rates. With dynamic coupon codes and other promotions, you can instantly show popups directly to your target audience. Segment your products to show popups. This will allow you to increase sales of your most popular products. Our exit-intent technology allows you to show your customers effective coupons codes and campaigns when they are about to abandon the cart. Customer feedback is valuable. You can improve your website by getting feedbacks. Popupsmart offers feedback popups that can be used in conjunction with the navigator. You can easily create attractive and impressive popups.