About Cartloop SMS Marketing
Conversational text marketing platform that helps Shopify brands drive revenue, build relationships with customers, grow subscribers and engage them with highly targeted campaigns through simple text conversations. Our team (not yours) stands behind every conversation with your shoppers. You just sit back and see your sales grow!
What is Cartloop?
Conversational text marketing platform that help brands drive revenue, build relationships with customers, grow subscribers and engage them with highly targeted campaigns through 1:1 text conversations. Cartloop's Concierge team stands behind every conversation, making personalized conversations a breeze.
What do you like best about Cartloop?
I am amazed by this app and by the team that's working there. When I reached out to them, the team instantly responded back, onboarded me, created a strategy based on my needs. They promised to help me with anything that has to do with SMS and that was true. Whenever I was sending a campaign, they helped me draft the text and recommended me days and hours for better conversion.
The results are also fantastic. I've been using automated flows for SMS and the results were decent, but conversational flows are way better! The results almost doubled. Highly recommend the app!
What do you dislike about Cartloop?
I don't dislike anything – all the feedback I offer is implemented and they work on building the product all the time.
What problems is Cartloop solving and how is that benefiting you?
I recover a lot of abandoned carts, I get a lot of insights on why people are not completing the orders, I run campaigns, I do surveys and I am able to build a community.
Cartloop Review: Features
Conversational Inbox: With Cartloop's single-inbox view, you can centralize and manage your texts across all your channels in one location. All SMS conversations are free and included in all the subscription plans.
SMS Concierge: Cartloop's SMS Experts are available 24/7 to ensure that your clients experience conversations relevant to their individual needs. Unlike other SMS marketing tools that rely on automation, Cartloop's concierge service creates personalized interactions on your behalf while retaining your brand's distinct voice and tone. The Cartloop team can also handle your SMS chats and customer service, convert subscribers to customers and develop one-on-one connections.
Onboarding and Support: Cartloop's innovative onboarding and support approach deliver ongoing strategy and implementation for all customers regardless of the subscription category. Rather than relying solely on SMS marketing, Cartloop aims to assist you throughout the customer experience journey.
High Compliance: Unlike most SMS tools, Cartloop messages customers using dedicated local phone numbers or toll-free lines to offer the best possible deliverability for international audiences. Customers are also notified about their rights when they provide their contact information using sign-up forms that adhere to compliance standards.
International Availability: Cartloop is available across 10 countries, including the US, UK, CA, AUS, Singapore, Sweden, Estonia, Poland, and more are constantly being added to the list.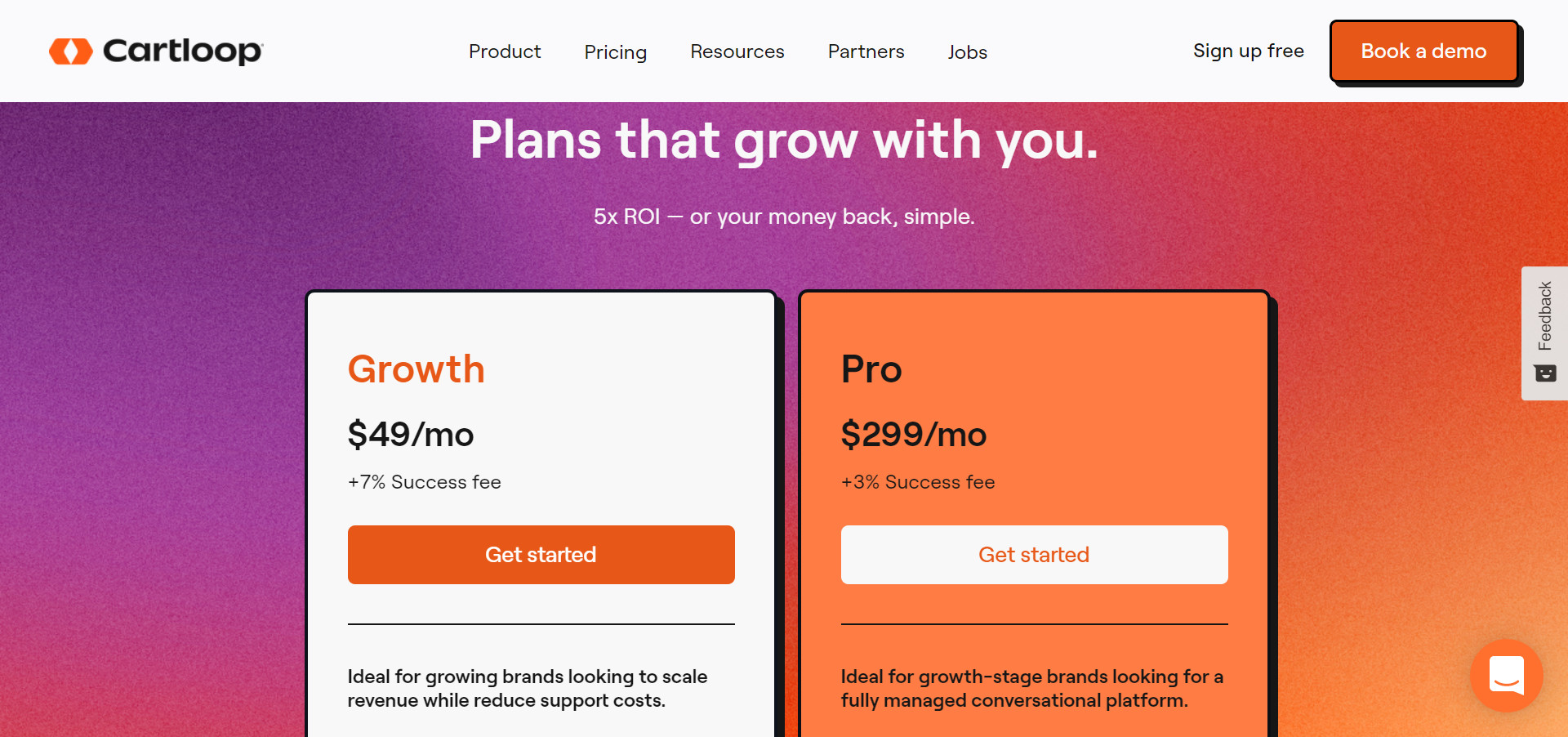 Cartloop Review: Pros 
Cartloop agents ensure highly personalized interactions without the use of any bots.
Their support extends throughout the entire customer experience journey.
Thanks to the extremely helpful onboarding support, Cartloop is easy to use and set up.
The pricing model ensures that you only pay for messages that result in sales.
Businesses new to SMS marketing don't need to spend time or resources with Cartloop's fully-managed campaigns, dedicated success managers, access to designers and copywriting teams, etc.
Cartloop Review: Cons 
At present, Cartloop only supports eight integrations.
It is an SMS-only tool and does not have email marketing features.
Cartloop only offers 2 weeks of free trial.
Currently, it is available for the Shopify ecosystem only.
Cartloop Review: Pricing 
Cartloop offers three standard packages and the option for custom plans. Success fees apply to all the plans, so you'll have to pay Cartloop a percentage of the revenue made by using its features.
The Growth plan costs $49 per month, while the Pro plan costs $299 per month and adds to the previous plan's features with useful insights, unique discount codes, and a dedicated success manager.
Cartloop Review: Best Suited For
Cartloop is an excellent option for businesses that solely use SMS marketing, especially if they want personalized human conversations and 24/7 support. While small businesses can opt for the free package, larger businesses can also scale up Cartloop services with premium plans.
But if you want more than SMS marketing, you'll need to look for email marketing tools to supplement Cartloop.
Cartloop Review: 3 Reasons To Try Cartloop
Cartloop is a solid SMS tool to diversify your marketing strategies, and that is reason alone to give it a try. But for me, these are the top 3 reasons to try Cartloop.
Human Conversations
Cartloop's proposition revolves around one-on-one human conversations. Their two-way SMS is expected to convert three times as many customers as automated texts.
Cartloop's growth tools are conversational, allowing clients to respond and converse with a human in real-time. Furthermore, the 24/7 Concierge Service includes a Live SMS Concierge who can respond to consumers even when your team is away from the computer and outside of business hours.
Cartloop's professionals are also skilled at identifying client issues and complaints so that you may get vital input to improve your service. During the onboarding process, the agents will learn everything there is to know about your company and will frequently refer to your website, FAQs, and in-house support team. You can even choose which tone of voice your Cartloop SMS agents should use and how the initial, automated messages should sound when you first get started.
Smart Sending
Cartloop encourages smarter messaging by charging you only for messages that result in a sale. Cartloop's conversational approach allows you to send a limitless number of messages to boost client pleasure, retention, and trust.
Moreover, Cartloop's pricing approach encourages best practices by charging only when you gain income, whereas competitors use a pay-per-message system where you pay for messages regardless of the outcome.
Text Flows
You can use Cartloop to establish 'flows' that let you determine at what point in the customer experience journey should a message be sent to your clients. This includes abandoned cart flows, in which actual people interact with your uncertain customers to persuade them to reconsider their purchase.
Customers who choose to receive marketing messages from you and provide their phone number at checkout receive an automated message within minutes. After that, a shopping expert takes over the live discussion to determine why the customer hasn't completed their purchase and possibly use upsells, cross-sells, and discounts to boost conversions.
Cartloop Review: Other Benefits of Cartloop
Aside from these three aspects, Cartloop also provides other benefits, such as sending timed one-time messages to your customer list, such as sales messages, discounts, product launches, etc.
You can also engage your subscribers with freebies, discounts, new product drops, and more with Cartloop's two-way campaigns. To make these campaigns more successful, you can segment your target and schedule them to go out at appropriate times.
Another benefit exclusive to Cartloop is that if your monthly subscription plan surpasses $300, you are eligible for two-way SMS support, where Cartloop essentially delivers Done-for-you SMS services.
Two-way SMS support can be a rare advantage for businesses new to SMS marketing, or for those who want to avoid hiring extra people to run their SMS support. Cartloop not only provides the manpower but also assists with strategizing creative consultation and overall customer experience optimization.
Cartloop also offers real-time analytics and reporting to its customers. You may track important marketing indicators like revenue, click-through rate, the total number of interactions, and whether or not customer interactions have increased or decreased over time. This information can then be turned into weekly reports to aid in developing your marketing plan.
Lastly, with Cartloop Pro, you get additional perks like handheld migration, 1:1 dedicated slack channels, fully-managed campaigns, compliance optimization, and access to Cartloop's design and copywriting teams.
Similar Software #1- Privy: Growth, SMS & Email Marketing under One Platform 
While Cartloop caters more to SMS marketing, Privy is a good alternative if you're looking for both SMS and Email marketing in one place. Privy helps you create pop-up windows, landing pages, embedded forms, and more to boost your online conversions through targeted on-site displays.
Notable features of this SMS and Email marketing tool include an expansive list of ready-to-use templates, advanced audience targeting, campaign scheduling, direct and broadcast texts, newsletters, customer win-back email, etc. Besides, Privy also comes with dedicated learning resources, including blogs, marketing podcasts, masterclasses, and even one-on-one coaching for its users.
To add to its many features, Privy also has native integrations with top eCommerce platforms, website builders, leading ESPs, and more.
Privy comes with three subscription plans– a Starter plan charging $15 per month, a Growth Plan for $45 per month, and a Free package. Before subscribing to any of the three plans, you can give Privy and try with its 15-day free trial offer.
What makes Privy a good alternative to Cartloop because it has additional Growth and Email marketing features, an easy-to-use interface, powerful reporting features, and a store grader to help users judge their shop's performance.
If you want to know more about Privy, head over to my detailed Privy review, where I share my experiences with the tool.
Similar Software #2- Postscript: The Premium SMS Marketing Tool for Shopify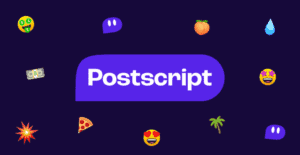 Postscript is an SMS marketing tool for Shopify stores that is powerful and simple. It allows you to segment clients effectively using more than 60 filters, set up triggers for different segments, and grow and engage your subscriber lists.
Postscript comes with several noteworthy features: acquisition tools, advanced pop-up customization with CSS, automation triggers, unlimited text-to-join keywords, unique QR code generation, message and subscriber analytics, campaign scheduling, response management, and more.
In addition to designing your customized campaigns, you can also monitor your performance with Postscript's extensive analytics and reporting features. Another mentionable aspect of Postscript is that it prioritizes creating a TCPA-compliant list, so your clients are always engaged legally and ethically.
Besides all its features, Postscript offers several integrations, though it does not support any e-commerce platform other than Shopify and Shopify Plus.
In terms of pricing, Postscript does not offer standard subscriptions. Instead, users are charged based on the number of messages sent per month. Pricing starts from $25 per month for 2,500 messages (charging $0.01 per message), and the cost per message decreases with increasing text volume.
Besides, if you need more than 1,333,000 messages, you can contact the sales team to offer you a custom plan. Before subscribing to Postscript, you can also use the 30-day free trial offer to take the tool out for a spin first.
If you're interested in a growth marketer's in-depth look at Postscript, head over to my detailed Postscript Review, where I share my personal experiences with the marketing tool.
Final Thoughts 
There you have it – a solid Cartloop review to know whether or not it's the right fit for your business.
All in all, Cartloop is a fantastic tool for businesses that want to give their marketing strategy that unique human touch. Besides beginners, it is a helpful boost to have Cartloop agents take over abandoned cart cases and win back customers using discounts, cross-sells, and up-sells while collecting valuable feedback.
But if the premium price isn't a concern, you can also opt for Postscript. Best suited for medium to small businesses, Postscript sets itself apart with its advanced targeting and segmentation features. However, if you're looking for a budget-friendly solution that also offers email marketing alongside SMS, Privy may be your option.
Disclaimer: I may receive affiliate compensation for some of the links mentioned (at no cost to you) if you purchase a paid plan. However, these are some of the best tools I have tested, and I support them personally. For more information, you can read my privacy policy & affiliate disclosure.
P.S: If you're interested in sustainable growth marketing and want to learn how growth marketers are moving their business needles, check out my podcast, which already has 70 episodes to keep you busy!