What is ROUTEE?
Routee is a leading cloud communications provider that designs, develops, and distributes advanced Web & API automation solutions.
Through its robust platform and scalable API, it helps corporations, retail businesses, and service providers, around the world, to:
Increase the number of website visitors.
 Generate new leads.
 Upsell and Cross-sell to existing customers.
 Reduce communication costs.
Powered by AMD Telecom's vigorous infrastructure, Routee brings a powerful engagement toolset to its trusted global partners and some of the most renowned Fortune 500 corporations. What are some of the things you can do with Routee? -SMS Spread your message efficiently all over the globe using the SMS services Routee provides. Marketing SMS, Transactional SMS, Two-Way SMS, SMS Two-Factor Authentication,SMS Survey, Bulk MMS, Verified SMS Sender. -VOICE Let people hear your business's voice through the numerous VoIP choices. Elevate your brand through Voice Broadcasting, Two Way Voice, Click To Call, Text To Speech, Cloud IVR and Voice Two Factor Authentication. -EMAIL Discover which Email service suits you, customize it and make it happen. Promotional Email, Transactional Email, Email Verifier. Which one do you need? -MESSAGING APPS Reach your clients with more interactive messages and increase your revenues. Engage with them via Viber, RCS, Facebook, Telegram & WhatsApp. -NUMBERS Get your own Premium Rate or Toll-free numbers, validate your contacts list and prevent call-related fraud. This advanced communications platform includes Virtual Numbers, Number Validation, Number Lookup, Missed Call, Call Masking, Toll-free Numbers. -TWO FACTOR AUTHENTICATION Add a second layer of security to your business by utilizing a combination of two different components. Prevent fraudsters from getting access to your sensitive information, application, or software. Use among Two-Factor Authentication with Fallback, SMS, Voice, Viber, or Missed Call.
About ROUTEE
Routee is a cloud-based platform designed to help businesses of all sizes manage the entire workflow of SMS marketing, from creating campaigns to generating leads. Key features include bulk messaging, two-factor authentication, push notifications, real-time reporting and analytics. Routee allows businesses to send personalized messages in bulk to customers by including information such as customers' names, purchase number, ticket number and more. Its marketing automation tool enables users to create campaigns, track interactions, generate subscription forms, target and segment leads across multiple channels. Additionally, it lets retailers track customers' preferences to send custom emails with promotions, offers and discounts. Routee comes with an API, which allows businesses to modify the system and integrate it with various third-party applications such as Salesforce, Zoho CRM, WooCommerce and more. Pricing is available on monthly subscriptions and support is extended via live chat, documentation and other online measures.
Pros
"Extremely easy interface and business process workflow."

"It is now much easier to send emails. I like that even people without much experience can easily learn to use ROUTEE."

"It is very functional, efficient and takes great care to satisfy all users."

"I have gained very inspiring experiences with this platform."
Cons
"Its menu is a bit difficult to use when you are looking for a feature and it has some unecessary settings in some features that can be a problem."

"Examples did not Include VB.NET and some errors in JSON strings."

"They refused to provide/give me access to export my mailing lists or receipts."

"The messages to ported numbers were being lost and they said they fixed it after the fact but couldn't guarantee that it would not happen again."
Routee features
Main features of Routee are:
SMS
Voice
Numbers
Email
Messaging Apps
Two-Factor Authentication
Fallback
Automation
Push Notification
Analytics
Routee Benefits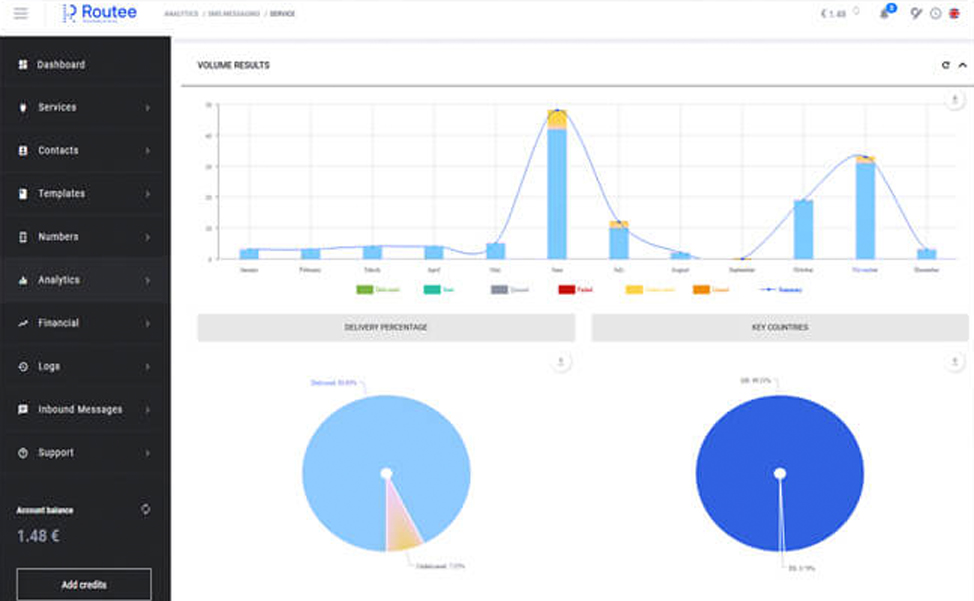 The main benefits of Routee are its advanced security, convenience, scope, and scalability. Here are more details of its benefits:
Advanced Security
Routee users benefit from the top of the line security tools. Every message is secured with two-factor authentication. Together with other security protocols and features, it effectively enhances the end-user experience as it creates a credible and safe climate for interaction and purchase.
Convenience
Routee offers a one-stop-shop for users with diverse marketing needs. Marketing tools for SMS, email, messaging apps, and voice broadcasting can all be accessed in one hub. Users need not avail of separate marketing software.
Scope
Routee is leading the industry with it's ready and easy to use marketing tools for messaging apps. This platform is ripe with leads and Routee provides solid features to reach such market. This is one of its significant edge compared to other bulk SMS service software.
Scalability
Routee tools will grow with your business. Its marketing tools can adjust according to your business needs. Cost efficiency can be prioritized as service packages can be customized and tailored to users' liking.
Technical Specifications
Devices Supported
Web-based
iOS
Android
Desktop
Customer types
Small business
Medium business
Enterprise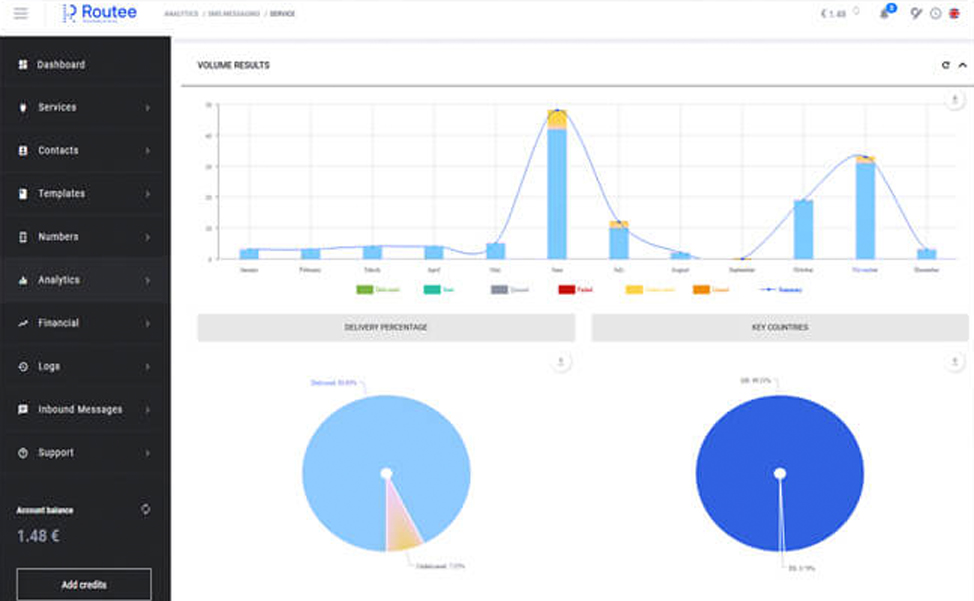 Routee Integrations
The following Routee integrations are currently offered by the vendor:
amoCRM
SalesForce
Insightly
Zoho CRM
Magento
Slack
Zapier
Shopify