About Adestra
Adestra is a cloud-based life cycle and email marketing solution which helps SMBs manage marketing campaigns. The platform provides a Form Builder tool that enables users to create landing pages and templates to generate leads leveraging email marketing. Adestra comes with integrated templates to segment customers. While the email triggers monitor returning customers, reporting helps in tracking the performance of ongoing email campaigns. Adestra's key features include campaign management, cross-channel communication, automation, account structure, reporting, data management, testing and targeting. Adestra also provides additional services such as deliverability metrics, customer success, projects, consultancy and digital design. Adestra integrates with various tools comprising Salesforce, Adobe Analytics, Microsoft Dynamics, Google Analytics, Hubspot, OpenMarket, Unbounce, Litmus and Raiser's Edge. Support is provided through phone, email, an online help desk and documentation. Pricing is available on request.
What is Adestra ?
Adestra is an email marketing automation platform that enhances how businesses and teams engage with their prospects and customers. This platform uses triggers so that users can send the right email messages and contents to the right people at the right time. For example, emails are automatically sent out to customers after they purchased products or decided to abandon their shopping carts. Tailored emails are also delivered to prospects and customers based on the things they like and the way they behave. Also, Adestra permits users to evaluate the effectiveness and performance of their email marketing campaigns which is made possible by applying split testing.
Adestra features
Main features of Adestra are:
Mobile marketing
Leads tracking
Support
Account management
Data and analytics integration
Report
Project management
Social sharing
Data security and managed deliverability
Data-driven automation
Adestra Benefits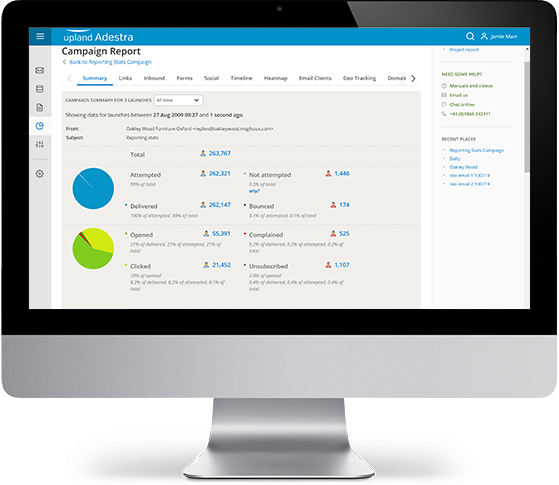 The main benefits of Adestra are, it makes it easy for businesses and marketers to manage their email marketing campaigns, delivers a tool for creating and designing custom landing pages, uses triggers so users can send the right emails to the right people at the right time, allows the launching of text marketing campaigns, and permits users to gain insights into the effectiveness and performance of their marketing campaigns. The following outlines how Adestra can improve your email marketing efforts:
Gives you an Easy and Automated Way to Handle your Email Marketing Campaigns
Adestra gives businesses along with their marketing teams an easy and automated way to handle their email marketing campaigns. It provides them with all the tools they need for them to easily reach their marketing goals.
Create and Design your Own Landing Pages
One of the tools built within Adestra is its form building tool. With this tool, users will be able to create and design their own landing pages as they launch email marketing campaigns, a capability which makes it easy for them to promote their products or services and capture important pieces of information about prospects.
Deliver the Right Emails to the Right People at the Right Time
The email marketing automation platform utilizes triggers. These triggers enable users to automatically send out emails to prospects or customers based on their actions, activities, and behaviors. For instance, they can immediately deliver email messages to those people who have not been buying products from them for quite a long time or to those ones that have abandoned their shopping carts for various reasons. Through triggered emails, they can easily recover lost customers and encourage them to re-engage with their business.
Launch Text Marketing Campaigns
Adestra smoothly works with Dynmark, a mobile messaging service used for delivering text messages to specific individuals or groups of individuals. Because of this integration, users can launch not only email marketing campaigns but also text marketing campaigns. In other words, they are given the opportunity to send out text messages to prospects and customers, extend the reach of their business, and gain higher profits.
Gain Insights into the Effectiveness and Performance of your Campaigns
Summing it up, Adestra is equipped with reporting capabilities that make it possible for users to evaluate the effectiveness and performance of their email marketing campaigns. Here, they can verify if prospects and customers are opening the emails they are sending out and which specific locations are generating higher conversions.
Adestra Integrations
The following Adestra integrations are currently offered by the vendor:
BlueBolt
IBM Coremetrics
Dynmark
Adobe Omniture
Barilliance
Dovetail
Magento
Litmus
Myriad
Peerius
Sub2
Salesforce
HubSpot
Sage CRM
Scout analytics
Wyvern DM
Live intent
DataSalon
Webtrends
Google analytics
Goldmine