About Digioh
Digioh is built for marketers who have outgrown standard web form options. Thousands of customers (including Crayola, Nascar, and Soylent) choose Digioh to grow their email lists and reduce abandoned shopping carts. Targeting rules, trigger conditions, and a dynamic content editor allow for endless customizations (without writing any code). Our ecommerce features help recover up to 15% of abandoned carts. Digioh integrates with 400+ marketing tools so you can start growing your list right away.
What is Digioh?
Digioh Description
Digioh's customizable lightboxes and on-site widgets as well as landing pages can help websites increase email signups and sales.
Digioh's personalization suite allows you to:
:: Display targeted content and offers to specific audience segments
Personalize forms based upon traffic source, page content and shopping cart totals, UTM parameters and geo-location.
Use our drag-and drop editor to create landing pages and forms that match your brand.
:: Integrate seamlessly to your favorite ESP/CRM
Digioh offers an enterprise lightbox service. It's a power tool for building lists for high-traffic websites and online stores. In addition to collecting emails, Digioh can also be used as a recommendations engine and to power cart abandonment emails. Digioh works for clients like NBC Sports, Gamespot, and NASCAR, along with over 20,000 customers.
Digioh Company history
Digioh was founded in 2011 by Rishi Shah and Robert Staffles. With backgrounds in ecommerce and software development, Rishi and Robert set out to create a service aimed at helping their customers grow their businesses.
Digioh alternatives
Are you looking for an Digioh alternative for your email marketing? We listed some Digioh alternatives.
Netcore Cloud
Multichannel marketing automation for B2C brands
MailerLite
Email Marketing Software, Automation and Service
Hello Mail Interactive
Online Direkt marketing and addresses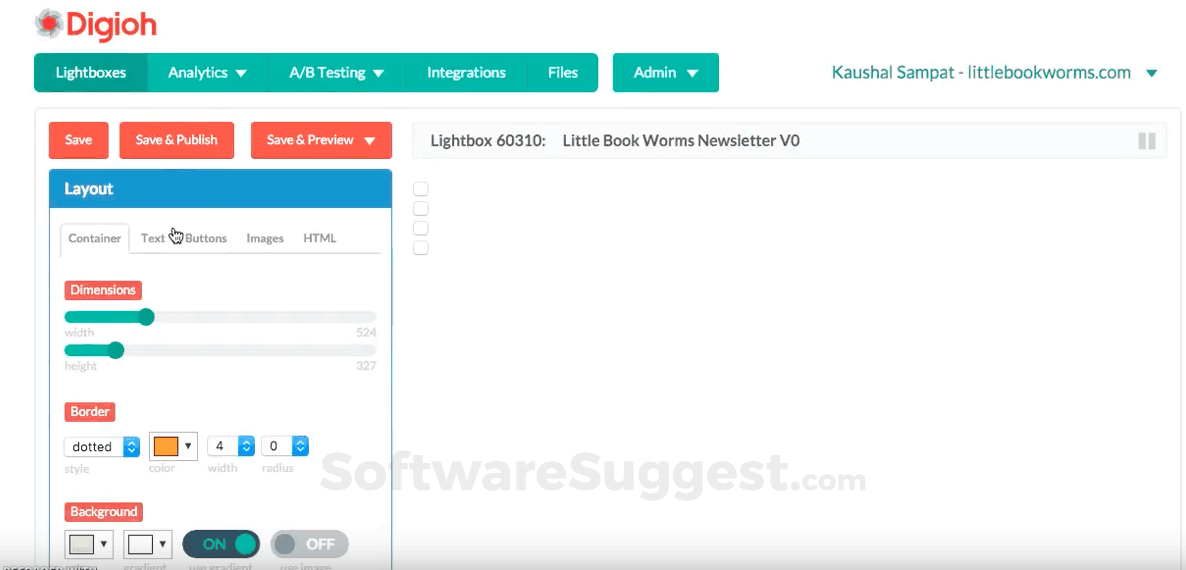 Products and services
Digioh include the following functionalities.
Drag and Drop Editor
Designing forms is a breeze. Write the form copy, upload images, add CTA buttons and perfect your signup form with a little rearranging.
Dynamic Keyword Insertion
Use DTR to personalize opt-in offers in real-time. Change the form contents using page elements like categories and tags OR ad keywords.
A/B Testing
Run A/B or split tests between opt-in forms to find out the most effective copy, design, and offer.
Custom Trigger Rules
Choose from a variety of predefined trigger rules, or use HTML, Javascript to set custom trigger rules.
Targeting Rules
Targeting rules allow you to personalize your opt-in offers. With Digioh, you can target visitors with specific and highly personalized opt-in offers based on the content they're reading, their location, referral source, cookie data, and the device and browser they're using to access your site.
Special Targeting Rules for Ad Blockers and Native Ads Find workarounds to handle ad blockers and show targeted offers to visitors who have already viewed some native ad on your site.
Dynamic Cookie Tracking
Target subscribers and general traffic differently with Digioh's cookie tracking superpowers. Show cross-promotional offers/deals to subscribers and simple signup forms to other visitors.