SendPulse Overview
SendPulse is a multi-channel marketing automation platform for multifaceted business promotion and customer retention. SendPulse allows you to send email and SMS campaigns, work with clients using chatbots for Telegram, Facebook Messenger, WhatsApp, and Instagram, and create landing pages in just 15 minutes. You can easily track all of your marketing activities and client information with SendPulse's free CRM.
Intro
It's difficult to choose an email marketing solution because they all seem to do the same thing. You have to look closely at the software to find out its shortcomings as well as the functionality that will help you transform your campaigns.
We looked closely at SendPulse and found some really useful features, specifically regarding contact management and segmentation. There were also some shortcomings. Read on to find out what those were.
Who is SendPulse for?
Given SendPulse's tailored setup process, this software is suitable for both experienced marketers who want to create complex campaigns as well as business users with no email marketing experience who want a quick and easy way to boost their marketing efforts.
SendPulse's features
SendPulse brands itself as much more than an email marketing platform, which is fair since it includes tons of other marketing automation features, such as push and SMS notifications. However, this review will focus on the email marketing functionality.
Contact management and mailing lists
With SendPulse, you can copy and paste, upload contacts, or add them one by one to create your mailing list. SendPulse has some really useful functionality to help you better manage contacts, such as advanced filters that help you send more relevant campaigns.
To help you recognize and remove email addresses that are low-quality or potential spam, SendPulse rates them out of five stars. This improves your email deliverability rates and makes it more likely that your emails will end up in your customers' inboxes.
Sending email campaigns
SendPulse is keen on personalization and tailoring elements of your messaging according to customer information and behavior. You can add criteria and variables to your subject line and create segments on the fly from within the email campaign builder. This level of automation speeds up the campaign creation process.
SendPulse speeds up the email creation process, too, by allowing you to build templates not just for emails, but for particular content blocks within emails, too. These blocks can contain a wide range of elements, such as images or video. The A/B testing process is also very smooth, with a lot of options to make sure you get the best insight into what works, including:
Measuring opens or clicks
How long to run the test before choosing the winning email
Which list to send the tests to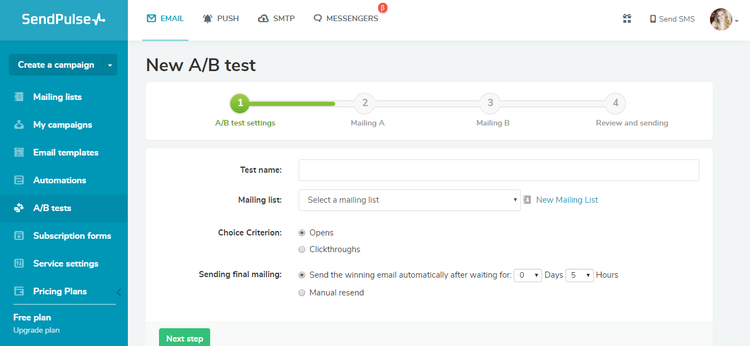 Create categories for your emails — for example, newsletters or product updates — and you can allow customers to unsubscribe from only that category, instead of unsubscribing from all of your emails.
Unfortunately, email scheduling options are limited: You can only choose to send emails immediately or at a time of your choosing. Other solutions allow you to schedule emails at an optimal time based on past customer opening behavior, or to send at the best time for a customer's location.
SendPulse's workflow builder can help you send the most relevant emails, or take the next best action, at the right time by automatically sending campaigns based on certain user behavior and events. These behaviors and events include:
Abandoning a cart
Making a purchase
Signing up to a newsletter
Custom events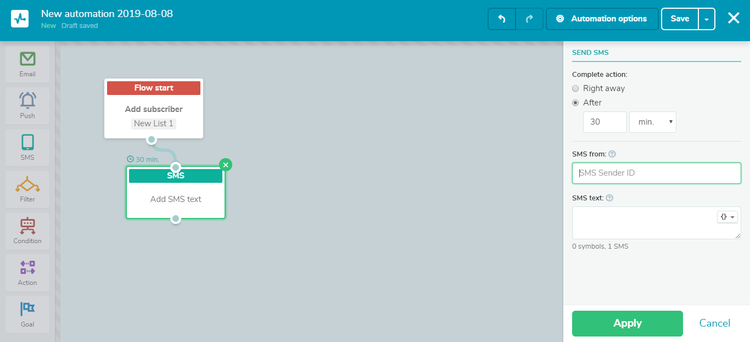 These behaviors trigger actions such as sending emails, SMS, push notifications, and adding or removing subscribers from a list.
Generating signups
To grow your email lists, you need to create signup forms for your website, but it's important these forms don't annoy your customers or interrupt when they're making a purchase. That's why being able to customize the kind of forms you display is important.
SendPulse lets you choose from the following different types of forms:
Embedded
Pop-ups
Floating
Fixed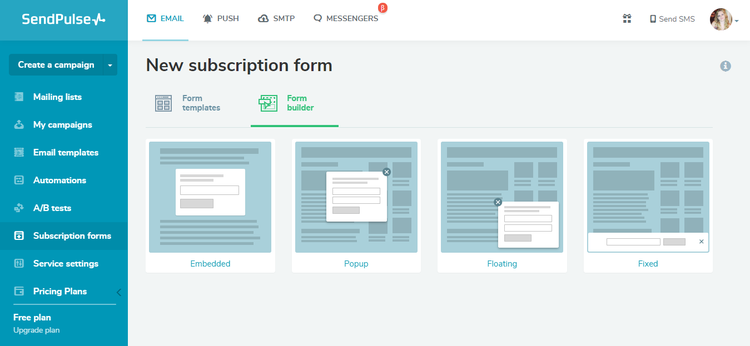 You can also change the layout from vertical to horizontal, edit the notification text they receive when they sign up, and track the success of the form in generating signups using either Google Analytics or Yandex.Metrica. All of this improves the user experience by not getting in the way of customers' workflow or impeding their path to purchase.
SendPulse includes dynamic segmentation functionality whereby it automatically adds and removes customers to segments based on their latest behavior. For example, if a customer hasn't interacted with you in three months, SendPulse automatically adds them to your winback campaign segment, but as soon as they interact with your brand again, they are automatically removed from the segment.
Benefits of using SendPulse
SendPulse is packed with useful email marketing and marketing automation features. Its contact management and advanced segmentation capabilities are particularly impressive as they can help you identify the right contacts for your campaigns and send more relevant emails.
SendPulse automates this process, which not only saves you time and money but is also more accurate because it's based on a machine-learning algorithm rather than guesswork or manual data analysis. Its range of signup forms also makes it easy to design attractive and useful pop-ups to grow and manage your email list.
Working with SendPulse's support
SendPulse doesn't hide its contact information; you can easily find phone and email details on the main support page (albeit on a tiny link at the bottom of the page).
SendPulse also provides a 24/7 live chat service to all customers and a comprehensive knowledge base with both articles and videos providing step-by-step guides that explain how to use key features.
All of these forms of support are available to all customers, even those on the free plan. Many other email marketing software solutions don't offer many support options to customers on free plans or on lower-tier paid plans, so this is a nice plus for SendPulse.
SendPulse pricing
SendPulse has a straightforward pricing structure with lots of different payment options to help you get the best deal for your needs.
The free plan allows you to send up to 15,000 emails to up to 500 subscribers. It also includes SendPulse branding, and it doesn't come with dynamic segmentation.
In terms of SendPulse's paid pricing plans, the features are the same in each tier, but you pay more to send emails to more subscribers.
You get a 10% discount if you pay for six months in advance and a 30% discount if you pay for the whole year at once.
There is also a pay-as-you-go plan where you pay a fixed price for every email you send.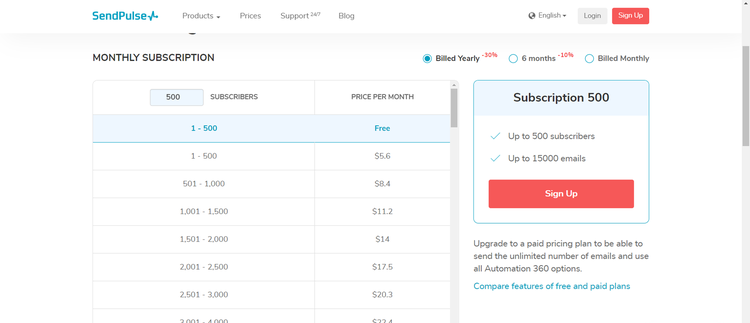 SendPulse's ease of use
In email marketing software, you're looking for a solution that's right for your particular business needs and offers easy setup so you can get the most value out of it without needing a ton of external help and training. That's what makes SendPulse a standout solution, as it's easy to tailor setup and use to your individual needs.
Getting started
When you sign up for the solution — you can also use your Google account, which is a real time-saver — SendPulse asks you what you're using the service for and if you have sent email newsletters before so it can guide you down the right path. Then it asks you the size of your mailing list so it can tailor the actions it shows on your dashboard to that information.
The getting-started checklist (below) helps you understand the steps you need to take to successfully meet your goals (such as creating an email message or importing your list of contacts), and the video tutorials SendPulse provides for each step are a helpful way of making sure you don't get lost. It keeps this list short so you aren't overwhelmed with information.
If a video tutorial isn't enough to get you started, click More Info to find a step-by-step guide of each feature, complete with annotated screenshots.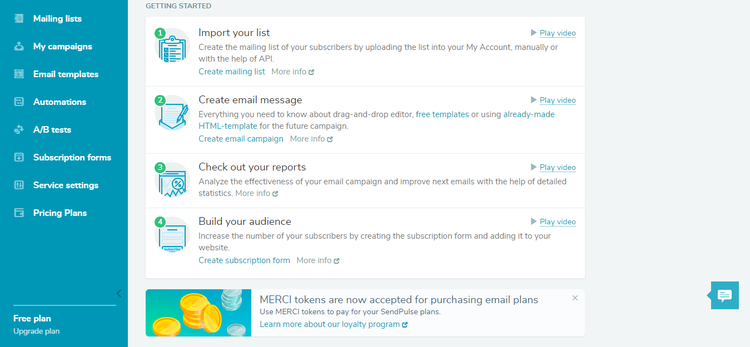 SendPulse is organized logically to get you started from scratch. It highlights the "Create a Mailing List" button to indicate that is the first step you should take in creating a campaign.
By making these resources available up-front — rather than forcing you to search for relevant help articles when you have a problem — SendPulse caters to users of all experience levels.
Too much information
While the tailored approach and the abundance of help resources make getting started really easy, SendPulse packs too much into the main dashboard. The checklist combined with a side navigation and two different horizontal navigation bars is quite busy and can be distracting.
Simplifying the user interface and tucking some of the main options into menus on subpages would make the user experience much smoother.