What is Systeme.io?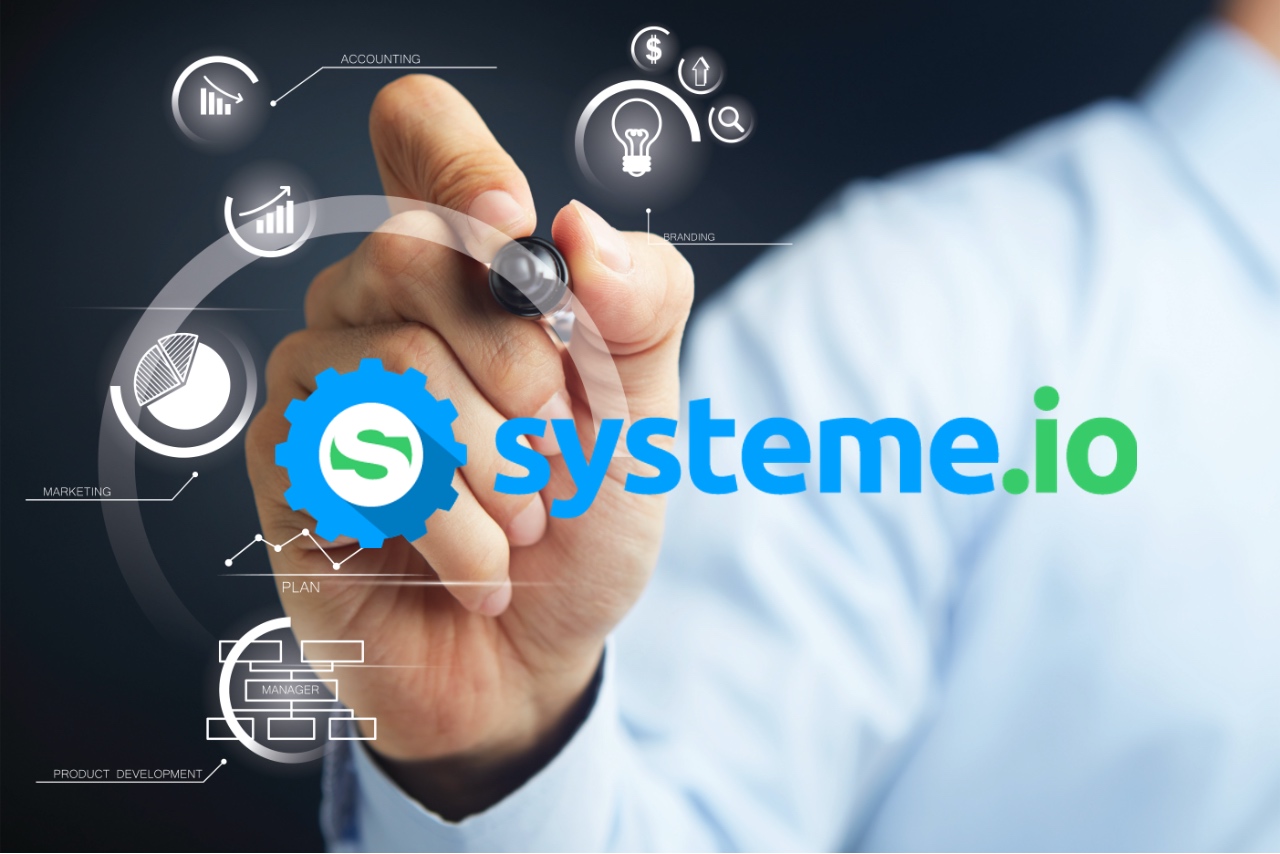 Systeme.io (pronounced "system dot I-O") is an all-in-one online marketing platform that makes it easy to launch, grow, and scale your online business. Build sales funnels, send automated emails, create and manage online courses, run affiliate programs, set up a website, and automate almost every aspect of your business with systeme.io.
Systeme.io is a swiss army knife for entrepreneurs. When we say "all-in-one", we really mean it.
Systeme.io is an all-in-one marketing platform that helps businesses create and launch sales funnels, affiliate programs, email marketing campaigns, online courses, blogs, and websites. Marketers can utilize the platform to automatically capture leads, add rules, trigger emails and more. Features of Systeme.io include workflow management, tagging, A/B testing, one-click upsell, custom domains, and contact database. It provides a drag and drop interface, which allows businesses to create web pages using predefined templates and integrate membership sites and payment systems for subscribers. Additionally, businesses can utilize an editor to set up course sites, configure timed access and sell content online. It facilitates integration with several third-party applications such as Stripe and Paypal. Pricing is available on monthly and annual subscriptions and support is extended via online measures.
Systeme.io Pricing
Systeme.io is a free all-in-one marketing platform. You can build sales funnels, set up a blog, build a membership site, and get a custom domain. You'll get unlimited emailing, file storage space, and membership site members on any of our plans. If you've got more than 2k contacts, we offer 3 paid monthly subscriptions: – Our Startup plan is only $27/month. – Our Webinar plan is made for you to scale your online business and will only cost you $47/month. – Our coveted top-tier Enterprise plan is only $97/month for up to 15k contacts. With this plan, you'll get unlimited access to everything including free migration and a 1-on-1 kickstart coaching session. We've also got custom plans if you've got more than 15k contacts. All our plans comes with 24/7 customer support, no transaction fees, and access to our lucrative affiliate program.
 Starting price: $27.00 per month
 Free trial: Not Available
 Free version: Available
Pros
"Systeme is not new to the space, buts it pretty new to the US and I am so happy to have found them. The tools are amazing, the support has proven to be amazing as well and here is why."

"Besides, the [SENSITIVE CONTENT] is proactively taking feedback from all systeme.io users (those on free plan as well as paid plan which is amazing)."

"I have loved it, I wasn't sure what to expect because I have used clickfunnels before which is the best out there for funnel design as well as kartra, groovefunnels and optimizepress."

"It's been a great experience so far. The migration was done timely and seamlessly."
Cons
"The only area I had a little problem with was tieing it into my website. It was a matter of reading and testing until it works."

"I've used Clickfunnels and Kartra which in many ways seemed lazily put together, sloppy, slow, and frustrating."

"Also, there must be an option to add many courses to a single membership site. But I am not sure about it."

"The videos take show you how to use the platform can be more in debt, so you don't have to try to figure out the moving pieces."
Systeme.io Review
In this Systeme.io review, we take a closer look at this free all-inclusive funnel builder with email campaigns, sales funnels, landing pages, and marketing automation in one platform!
By the end of this review, you should be able to decide if Systeme will be an asset and help you grow your business.
| Who is Systeme.io best for?
Systeme.io is great for beginners and seasoned business owners alike. In fact, Systeme.io is perhaps the easiest tool to use compared to the competition for an overall marketing platform.
The closest that comes to mind is Kajabi which is 5 times more expensive as well!
Systeme.io offers everything you need to manage and run a 6 figure online business with ease, as demonstrated by users with real businesses.
| Systeme.io summary
When considering all of the benefits that you get in combination with the low price of Systeme.io, this all-in-one marketing platform becomes a nice package that's hard to pass up.
And beginners may not fully understand the insane value this SaaS platform provides, as the alternatives cost 3-10 times as much for essentially doing the exact same thing.
That's money saved that could go to buying ads, assets, or having content made that ultimately increases your business revenue. 
Does Systeme.io have its kinks and flaws? Of course, no software is perfect, but since the starter plan is entirely free you risk nothing.
After testing this software thoroughly for this systeme.io review, I immediately bought the annual plan for $246 since it's such a good deal.
Compare that to Kajabi which costs $149, per month!
| Systeme.io pricing
Let's do a deeper dive into the pricing in our systeme.io review.
The free plan is great but of course limited to certain things, like how many sales funnels you can create, email campaigns, custom domains you can connect, and membership sites you can create.
But no feature is left out, everything is unlocked from the start which is great!
And with the free trial, it's entirely possible to manage one entire online business which is crazy.
Because all you really need is email automation, landing pages, a sales funnel, perhaps membership sites, and the possibility to take payments.
You'll outgrow the free plan though, and the next step is the startup plan for $27/month which is an awesome deal.
Need webinars in your business? Then the $47/month plan is what you need. This is still way cheaper than the alternatives, in fact, it's half the price.
I have a hard time seeing that anyone would need the enterprise plan for $97 /month.