About Freshsales
Freshsales is a full-fledged sales force automation solution for sales teams. It provides everything a salesperson needs to- attract quality leads, engage in contextual conversations, drive deals with AI-powered insights, and nurture customer relationships. With built-in email, phone, chat, and telephony, Freshsales empowers sales teams with more time for selling by automating the sales process and increases efficiency and productivity in their daily activities.
What is Freshsales?
Pros
"This product has become like my business or team partner. The ongoing enhancement and functional upscaling of this software make for comfortable selling, tracking planning, and auditing processes."

"What I like most about this software is its easiness to use that makes the whole experience work."

"Over all I think FreshSales has been an amazing addition to our company. We have easy access to customer accounts."

"Offers great documentation and free Support. Diversified into almost every domain that users need from a CRM."
Cons
"Worst still, I have to follow up on the ticket since the support never proactively tells you the status of your ticket. Never opt for Freshsales! what a rip off and time waste."

"We have customers all over the globe and it can sometimes be bothersome to find the customers time zone or simply address to ship their orders."

"Support and billing communication were horrendous."

"I had to contact my cc company and cancel my card to fight a charge they refuse to change. Auto bill is enabled on the account by default."
Contacts, Leads, Deals, and Reports
Managing data like contacts and leads is time-consuming. To help with that, Freshsales has added data deduplication functionality (powered by machine learning) and an array of alerts, such as auto-renew and contract-renewal reminders. It also warns of deal rotting (very stale deals that need attention).
After you log in, you see your list of leads, which includes a sample record. Along the top of the screen, you can see how many days remain in your free trial, click to upgrade to a paid account, create a new record (lead, contact, account, and so on), compose an email, view notifications, and manage account settings. Along the left side of the screen, you can access other parts of the CRM.
Underneath leads are contacts, accounts, deals, conversations, calendar, reports, dashboard, and settings. You'll also find sample data in contacts and sample tasks in the calendar. The tasks reminders were sent to my email, seemingly to encourage me to play around with the software.
Freshsales uses the lead as the entry point. Once a lead converts to a contact, the associated company information populates into an account record. Add the website URL, and Freshsales automatically adds public information about the company, including its website, logo, social media, company size, address, and other details, just as it does with contacts and leads. When we added PCMag.com as an account, it pulled in the correct street address, phone number, and social media accounts.
When you add or update a new record, a panel opens on the right of your screen so you can input the information without navigating away from your task in progress. You can also upload leads from a CSV file, but you can't connect directly to another CRM. Users can also capture leads by embedding a form on their website.
When you add a new lead or contact and include their email address, Freshsales auto-enriches the profile by pulling in associated Facebook, Twitter, and LinkedIn profiles. This way you can see what your leads and contacts are interested in and what they're talking about, so you have a starting point.
You can filter leads, contacts, and accounts by any field, as well as by lead score and when you last contacted them. Users can also conduct bulk actions, including sending emails and assigning records to different sales reps.
The Deals section of Freshsales is set up in a Kanban-style view, where deals can be dragged and dropped to different phases of the pipeline. You can customize the stages in the pipeline and change the order to your liking.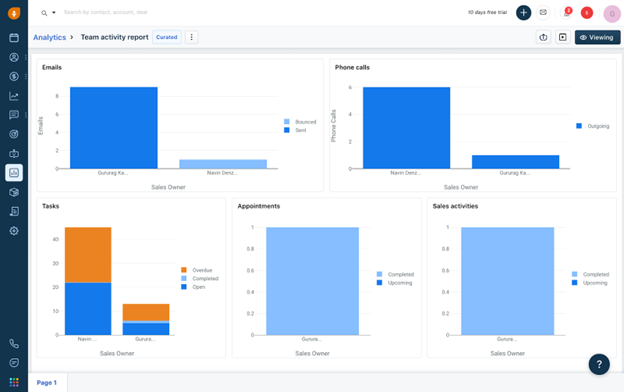 Freshsales also emplos its artificial intelligence (AI)- sales assistant Freddy, which can analyze and learn from historical sales data, engagement, and activities on deals to provide insights and predictions. These insights are useful for making better decisions and winning more deals. For companies with various deals in their pipeline, Freddy can be used to help refocus on high-probability engagements. Freddy can highlight deals that have seen a sudden increase or decrease in activity and provides insight into why.
Some SMB's might appreciate the proactive assistance of Freddy that can flag stalling activities and post an 'At risk' tag in your deal pipeline indicating a dip in activity in the past week. Conversely, Freddy can greenlight deals that have been worked on actively with a 'likely to close' tag. Deal tags are useful identifiers taht can give SMBs a qick view of the deal status and choose which ones are worth their attention.
Keeping in Touch
Freshsales offers several communication tools, including email templates, campaigns, integrated voice over IP (VoIP) phone and voicemail, and call recording. The idea is to be able to conduct all your outreach without leaving the software or having to input updates manually. You can save files (up to 20 megabytes [MB] each) from your computer or cloud storage, such as Google Drive and DropBox Business, in the software too and add them as email attachments.
Users can track email open- and click-rates for any messages sent through the software or via connected email accounts. There are also metrics available for email templates so you can gauge which are the most successful. The team inbox syncs with generic company email addresses, such as info@company.com. Freshsales then tracks those emails and automatically adds new leads.
You can connect any IMAP-compatible email account to Freshsales, including Gmail, Microsoft Office 365, and Zoho Mail; this syncs the inbox and sent folder. On the Conversation tab, you can view an Awaiting Response folder that shows where you need to follow up. Freshsales has a built-in calendar and task manager and can also sync with Google Calendar. There's also a Gmail add-on that adds a right rail to the email platform with relevant data from Freshsales.
Automating manual tasks is a big part of Freshsales, and that includes the ability to set up workflows. You can set up triggers and conditions for any record—for example, having it create a task when a lead sends an email. Or you can set it up so that Freshsales sends an email after a certain amount of time passes without communication.
There's a full-featured mobile app for Android and Apple iOS that sales reps can use in the field to access information and update records after meetings and phone calls. Once a contact becomes a customer, all relevant information can be shared with customer service agents if you're also using Freshdesk support. This way, agents have the most up-to-date information.
Reports are available for conversations, tasks, appointments, leads, deals, contacts, and accounts. There are several built into the software, but you can also customize your own. The reports can be viewed in chart form and exported as CSV or PDF files. You can even schedule reports to be emailed daily, weekly, or monthly.
In addition to the Freshdesk helpdesk, Freshsales integrates with other company products like Freshchat (webchat for sales reps), Freshconnect (collaboration), and Freshcaller (built-in calling). Its many third-party integrations include the email and calendar programs mentioned above as well as Calendly, Facebook, HubSpot, QuickBooks, Trello, and Zapier. Others in the works are Magento, Shopify, and DocuSign.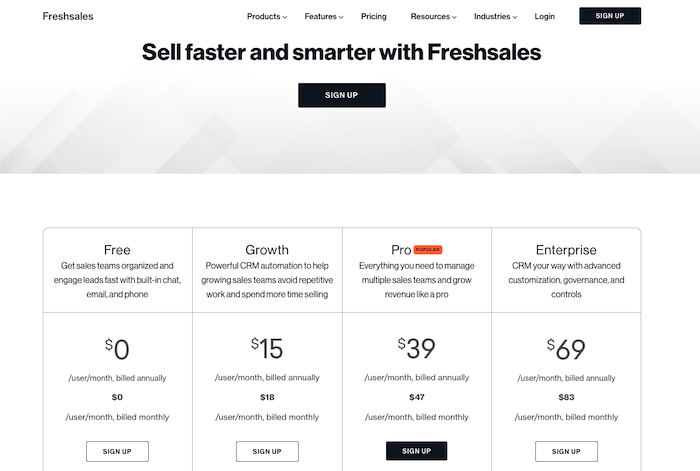 Freshsales Keeps It Simple
If you're looking for a simple, lightweight CRM, then Freshsales is a solid choice. Businesses new to CRM won't face a steep learning curve, and the sales team will appreciate the time saved and tedium avoided. Small firms that need a simple solution can take advantage of the free plan. If you need a platform with more third-party software compatibility or an open API, then consider the affordable Zoho CRM, one of our Editors' Choice products in this category. Or you should try out Salesforce Sales Cloud Lightning Professional, which is more expensive but highly customizable.