About MailBird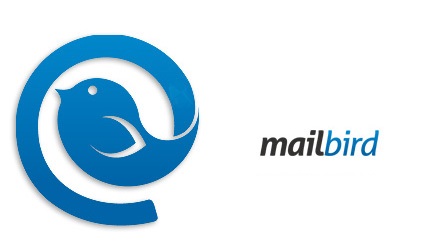 Mailbird is an email marketing tool that helps businesses of all sizes manage multiple accounts and enhance workforce productivity. It is a Windows-based solution that enables users to sync and centralize emails and contacts from several platforms in a single inbox. Key features of Mailbird include email archiving, response management, keyboard shortcuts and attachment search. It alerts users through message snooze and custom notification sounds.
The solution's contacts manager allows users to link, merge and drag and drop contacts and unify them in one inbox. Additional features include access to unlimited email accounts, offline mode, undo sent messages and attachment preview. Mailbird allows integration with various email software such as Gmail, Outlook, eM Client and Thunderbird. It is available on monthly subscription and support is extended via documentation and email.
MAILBIRD PRO: FEATURES
Mailbird Pro gives you access to many features including
You can add multiple email addresses and manage them in a unified Mailbird inbox. Let's say you have a Gmail account, one Yahoo Mail account, and another on Microsoft outlook. You can log into all these accounts on the Mailbird app and start receiving emails for all of them in one inbox.
This app enables you to manage multiple emails from one spot instead of downloading different apps and cluttering your device. The unified inbox has an appealing interface that you can easily navigate. Whenever you receive an email at any address, you'll see it there, and you can reply using that address. This feature is possible because popular email providers like Gmail and Outlook offer tools to enable third-party developers to integrate with them.
In your Inbox, you can snooze messages to hide them and focus only on the ones you need at the moment. Another good feature we noticed is the Quick Compose feature which lets you open the menu for writing an email with a keyboard shortcut even if the Mailbird app isn't currently open.
One drawback about Mailbird Pro is that it doesn't let you categorize or filter emails as you'll do on the likes of Gmail and Outlook. For example, you can't group specific email addresses under "newsletters," "promotions," and "business". Everything routes through one inbox, which can be inconvenient for users that receive tons of emails.
You can customize the layout of your inbox by choosing from many color themes. For example, you can toggle between the Dark theme or Light theme.
The Mailbird app offers different email notification sounds to choose. If they don't satisfy you, you can upload your unique sound.
Mailbird has integrations with many third-party apps, including popular ones like Facebook, WhatsApp, Dropbox, Microsoft To-Do, Slack, and Google Calendar. For example, with the Dropbox integration, you can easily attach Dropbox files to emails to send to others. The Google Calendar integration makes it easy to manage your schedule from the Mailbird app. With Microsoft To-Do, you can create to-do lists and track them from the Mailbird app.
Mailbird includes a contact manager that unifies your contacts under a single dashboard. You can add contacts and search through them anytime you need to fetch someone's information. Likewise, you can organize contacts into groups like "family," "friends," and "work" to make them easy to find.
This feature is one of the most unique ones we've seen in an email client, so we had to highlight it. You can right-click on any contact in your Mailbird inbox and search for their credentials directly on LinkedIn. This feature is helpful for people using Mailbird in professional settings that may need to validate whether an email comes from a legit source or not.
You can search through all the attachments in multiple email addresses using Mailbird. This feature is helpful for people having thousands of emails and attachments over many years, which can be difficult to sort through.
MAILBIRD PRO: INTERFACE AND USE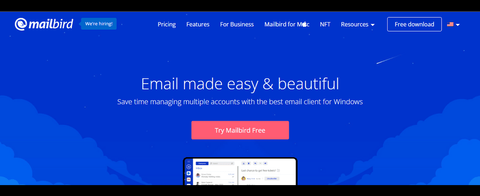 For unclear reasons, the Mailbird installation process was pretty slow during our testing. But, after completion, we observed an app with an attractive modern interface. The Mailbird app provides tips to first-time users to help them navigate. Afterward, it should be easy to get accustomed to its features.
The main drawback is that Mailbird is only available on the Windows operating system. The company says a version for macOS desktop users is coming soon but hasn't given specifics.
MAILBIRD PRO: SUPPORT
If you encounter an issue with Mailbird, you can visit the official Help Center containing user guides, a knowledge base, a troubleshooting page, and answers to frequently asked questions. If these resources don't give you what you want, you can submit a request to Mailbird's support team and wait for an email response.
There's no live chat or telephone support, which we consider a disadvantage.
MAILBIRD PRO: THE COMPETITION
Popular alternatives to Mailbird include Thunderbird, Front, and Mailspring. Mailbird provides comparable features to these competitors, but it lags by being exclusive to the Windows operating system, whereas a rival like Mailspring is also compatible with the macOS and Linux operating systems, and Front has a mobile app.
MAILBIRD PRO: FINAL VERDICT
Mailbird is an effective email client for Windows users, enabling them to use multiple email addresses from one app. It's pretty easy to use, and you can customize the interface to fit your tastes. It's also a relatively affordable app. The main drawbacks are having no mobile app and being exclusive to the Windows OS.