What is Salesforce Marketing Cloud?

With Salesforce Marketing Cloud, you can seamlessly turn moments into lifelong relationships. You can get to know your customer through a single source of truth to engage with relevancy, humanize every moment at scale with AI-powered personalization to inspire action and loyalty, and optimize overall marketing impact with unified analytics. All with unparalleled agility.
Why Salesforce Marketing Cloud Is the Best Enterprise Marketing Solution
Salesforce Marketing Cloud combines dozens of features into an integrated marketing solution that can improve email campaigns, overall marketing strategies and contact management for sales and marketing teams. The software offers an easy-to-use interface that streamlines communication between a business and its consumers.
Salesforce Marketing Cloud's features are especially beneficial for larger enterprises with lengthy contact lists, and they help engage a wide audience and deliver personalized reports to determine which type of messaging is working best. This drives smarter engagement without business owners having to manually track metrics and analyze reports, saving them time to focus on other aspects of the business.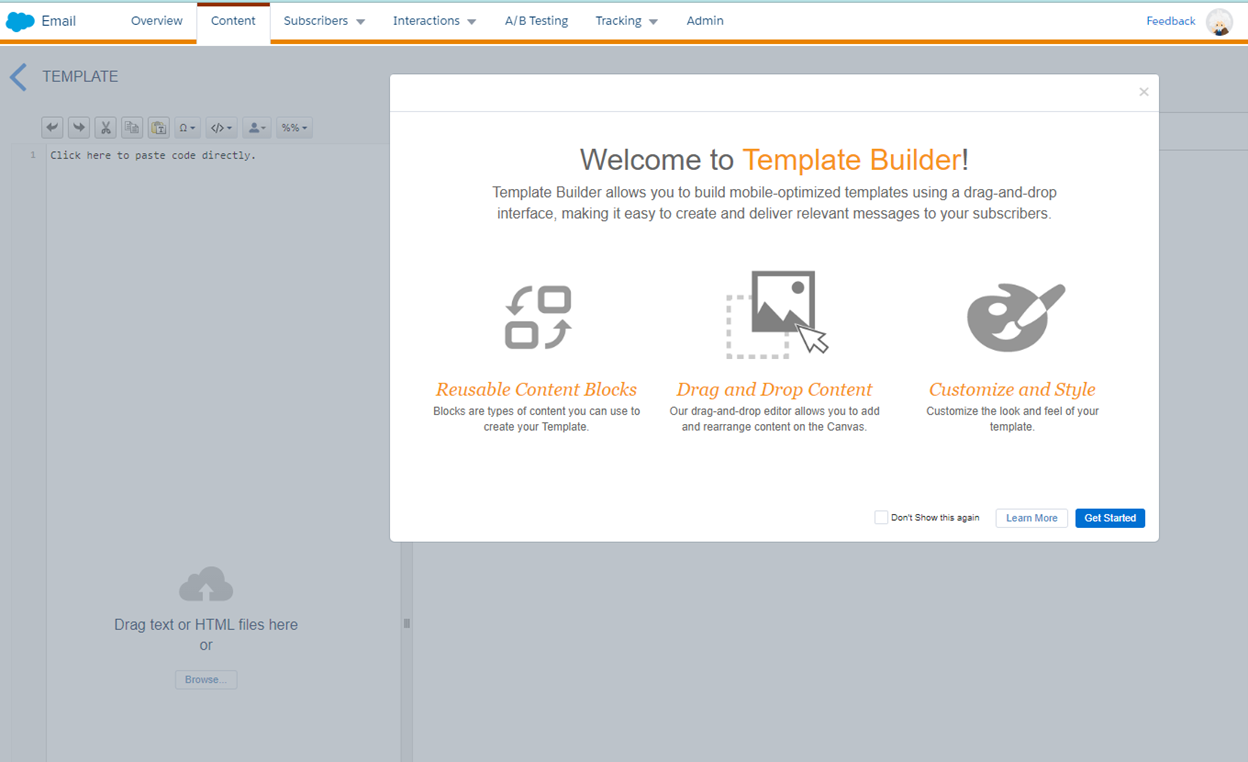 Pros
Salesforce offers dozens of features and options to customize emails for your customers' unique journeys.
The customer service team provides 24/7 service via live chat and phone.
The AI Einstein tool offers insights based on real information from the database to help sales teams find and prioritize leads.
Cons
Salesforce's Email Studio is expensive.
Salesforce isn't the right choice for small businesses just looking for basic email marketing functions.
There is a learning curve due to the variety of tools available.
Usability
If you or your team members are new to Salesforce, there will be a somewhat steep learning curve to get acquainted with the system and navigate it. However, we found Salesforce Marketing Cloud's interface easy to use and navigate. As with all Salesforce applications, the interface is clean, bright and well designed. It's easy to switch between different features and create emails.
Some online user reviews have reported UI issues with respect to template-based emails, as users have found them to be not as customizable as they need. However, we found that Salesforce had plenty of customizable options for a variety of email templates and were pleased with the customizable features. Salesforce also allows you to load a custom UI so that you can implement your applications' file structure according to your preferences and your business's needs.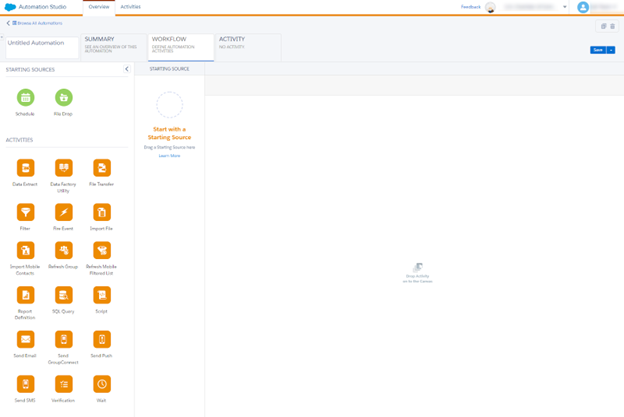 Guided Training and Helpful Tips
Salesforce systems can be intimidating at first and complex to learn. Luckily, Salesforce offers one of the most detailed training and certification systems via Trailhead, the company's online learning platform. Trailhead is free to use and provides courses to help users learn about Salesforce's systems.
We found Trailhead's Marketing Cloud courses to be easy to follow and helpful in learning how to use the program. Each course or module is broken into multiple units between 10 and 40 minutes long. These units consist of easy-to-read teachings and videos, and they conclude with quizzes and practices to test your knowledge. When you finish a module, you earn a certain number of points toward your overall "skill set."
In addition to Trailhead, Salesforce has 24/7 customer service, including experts available via live chat and phone. There is also a community within Trailhead where customers discuss their experiences and share their expertise.
Salesforce Features
Salesforce is a feature-rich email marketing and CRM software platform that allows deep customization and personalization of content. Marketing Cloud delivers features for email, mobile, social and digital advertising, as well as a data management platform to track trends and optimize campaigns. Within these customer journeys, there are plenty of options for automation, email list segmentation and user engagement.
Here are some of the most prominent features of Salesforce Marketing Cloud's Email Studio:
| | |
| --- | --- |
| Tracking | You can see and collect data about your email campaign. |
| A/B testing | You can send two versions of your email campaign to two test audiences to see which performs best. |
| AI Einstein | This paid add-on to Marketing Cloud helps with decision-making. |
| Content creation | You can create personalized emails for your subscribers. |
Tracking
The ability to track and use data is one of the most important functions of any email marketing software. Email Studio includes key metrics like email open rates, clicks, undeliverable messages, new subscribers and unsubscribes. Through tracking, you can also capture how many emails your subscribers forward to other accounts and how many new subscribers your emails generate. Salesforce Marketing Cloud stores your tracking data for future reference.
Additionally, you can run reports from the Tracking tab in Email Studio and set them to be delivered to your inbox so you can analyze the results. Visit the "Report Status and History" screen to review older reports to compare performance and glean insights.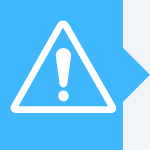 Did you know?: Salesforce is the only company that's a charter member of both the Facebook Strategic Partner Program and the Twitter Ads API program. This allows you to use your data to enhance both your email and social media strategies.
A/B Testing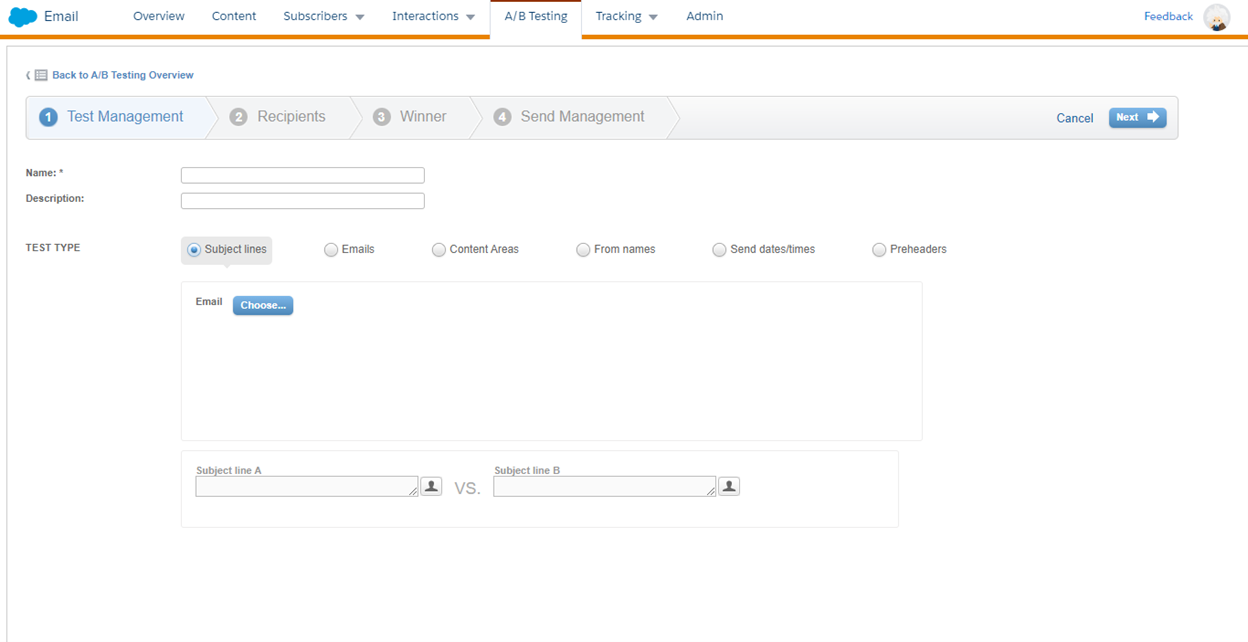 With Salesforce's A/B testing, we were able to send two versions of an email to two test audiences. This feature tracks which version of your email received the higher open rate and click-through rate, which allows you to make more informed decisions about your email content. A/B testing is an essential part of optimizing open rates, click-through rates and conversions.
Through A/B testing in Email Studio, users can experiment with various features, like different subject lines, content areas, types of emails, sender names, send times and preheaders. To ensure accurate results, the tests are sent randomly to different subscribers. Once results are in, you can begin sending out the winner or utilizing winning features in future emails. You can cancel or edit A/B tests at any time, and you can review results in real time.
AI Einstein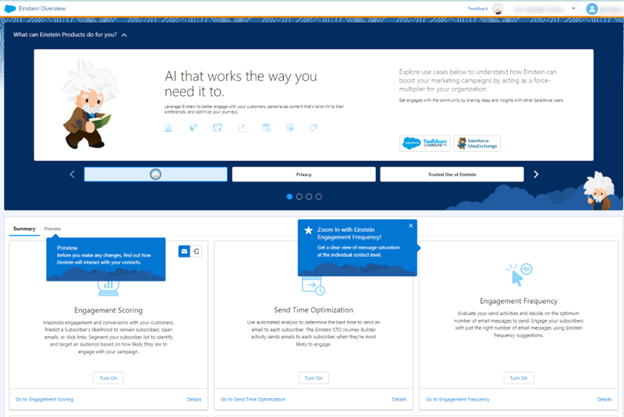 This feature is unique to Salesforce and could be a game-changer for many companies. AI Einstein helps you turn your data into insights and find and prioritize leads for your sales team. We found that AI Einstein could help users fully optimize all the tools that Email Studio offers and target those users on an email list that are most likely to convert.
AI Einstein also tailors your content to specific audiences/subscribers so you can create segments based on individual behavior. Since the emails are interactive, you'll receive real data regarding users' actions. AI will help you understand what's working and what isn't, allowing you to continuously adjust your messaging and email marketing tactics to drive the best results.
Content Creation
The fundamental tool of any email marketing program is the ability to create content. Email Studio gives you the ability to create content blocks that include text, HTML, images, buttons and more dynamic content. Its offerings in this area are similar to other email marketing tools. Email Studio also offers drag-and-drop segmentation tools that hone your subscriber list to provide only relevant content to the right users. This allows you to filter profiles based on specific demographics and features and get instant counts for sending.
Additionally, you can deliver data-driven content to scale personalization across your email campaigns by analyzing first-party data. Not only will this enhance your subscriber experience, but it will also help you freshen and refine your messages as you go. Through Email Studio, you can manage and edit messages, send messages directly from the application using the most applicable method, preview your messages before sending and utilize the Content Detective to identify spam triggers.
Salesforce Pricing
Salesforce Marketing Cloud and its email, mobile and web marketing modules come in four plans: Basic, Pro, Corporate and Enterprise. Within these plans, you can choose the Salesforce products you want to buy and add on.
Basic offers email marketing, content creation and integration for $400 per month.
Pro includes everything in Basic and adds automation features; it starts at $1,250 per month.
Corporate includes everything in Pro and adds Journey Builder, mobile messaging and AI Einstein for $3,750 per month.
Enterprise has all the features mentioned above and allows you to manage multiple businesses. You'll need to request a custom quote from a sales representative.
While there is no free trial of Salesforce Marketing Cloud, you can try its CRM software for free. All you need to do is answer eight questions, and a sales representative will get you set up. There is no credit card required or any software to install. Within this trial, you'll receive preconfigured processes and dashboards, guided content, best practices, and online training. Learn more about this software in our Salesforce CRM review.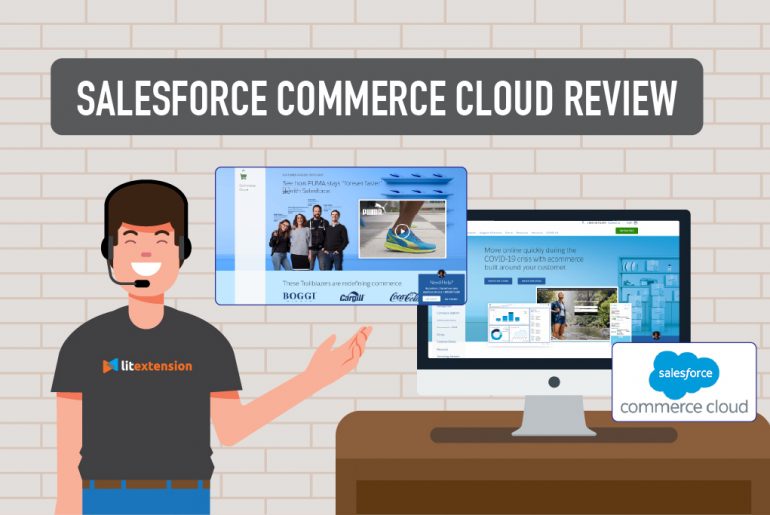 Setup
Depending on the scope of your business, Salesforce may take some time to deploy. Again, the learning curve can be steep. However, to get your business up and running quicker, Salesforce offers the Jump Start program. This costs an extra $5,000 and provides eight six-hour meetings so that you can complete your setup within two weeks. To learn about an email marketing solution that's easier to set up, read our Freshsales email marketing review.
Marketing Cloud allows you to seamlessly integrate your sales, marketing and service data with the rest of your Salesforce CRM. When collecting data or crossing projects over into other Salesforce systems, we had no issues at all.
For third-party software, Salesforce provides an open API that allows development teams to create their own integrations. There are also native integrations for Salesforce to collaborate with other industry-leading accounting, e-commerce, analytics and cloud-based storage services. While Salesforce makes it possible to connect all these systems, some require the help of professional developers.
Customer Service
Customer service for Marketing Cloud and Email Studio is available 24/7. We contacted Salesforce through live chat and by phone. In both instances, we found the support team incredibly responsive and helpful. During our discussions, we asked them about audience building and an error we created, and they quickly resolved our issue and provided additional resources to support us.
There is also an abundance of support within Trailhead. For our research, we engaged with the Email Studio community and found many helpful hints from other users about building a campaign and using the system.
Drawbacks
One of the major drawbacks of the Salesforce Email Studio is the price point. While Email Studio has the most customizable features, you can find similar ones in significantly cheaper or free email marketing software, such as Sendinblue and Mailchimp. Small businesses looking for email marketing software may look to one of those tools based on price, unless they plan to implement Salesforce in their other operations. We also found the mobile app to be lacking compared to the desktop interface.
Methodology
To determine the best email marketing services, we compiled a list of popular platforms based on our careful research of each service's online reputation. We spent several weeks researching each of these email marketing services further by investigating their offerings, watching tutorials and how-to videos, testing the software (when possible), and reading user reviews. We also evaluated each service's pricing structure and customer service by contacting each of our finalists and posing as a business owner looking for email marketing software. When researching Salesforce, we considered the features that would be most important to an enterprise-level business with a hefty budget for email marketing.