About Gammadyne Mailer
Your website already has a mail server, so why are you paying an email service a fortune to send a few thousand emails? Gammadyne Mailer can do it all, with no limits. And if you do need tracking of opens and clicks, $1 will track 5000 emails.
Your company will also benefit financially as Gammadyne Mailer doesn't require users to pay monthly fees for their email services. Similar services provide the same features and capabilities yet charge companies per email, which can be quite expensive. Gammadyne Mailer also provides a tracking feature that allows users to see opens and clicks, offering them with a trove of customer information that they can use for their marketing campaigns and more.
What is Gammadyne Mailer?
Gammadyne Mailer is essential software for automating a business's email marketing. It can send personalized email campaigns and process virtually any type of incoming email. Carefully crafted to achieve the highest delivery rate, it will reach more of your audience and generate more sales. And its ability to track opens and clicks provides an abundance of marketing knowledge. By utilizing your website's mail server, or renting a cheap server, you can save a fortune by avoiding the recurring fees associated with an email service. Gammadyne Mailer has been helping businesses grow since 1999. No email marketing effort should be without it!
Pros
"Its been a wonderful experience so far and I look at the various features available through the report which helps us to understand where do we have more presence and traction."

"We can always find a way to do what we want with this product. Company is responsive to suggestions."

"For the novice, this software is simple to learn, and for the advanced user, it is a dangerous tool to propel your growth ambitions."

"Ability to segment send list via database clauses. Ability to send emails through various email servers."
Cons
"It is a complex program and I work alone on this type matter so it was difficult for me to learn what to do."

"We have more problems when we use the HTML editor to build messages for one-off jobs."

"By now all the technology had changed and it was no longer possible to lift a page and send it as it had been."

"The system seems to take close spellings of curse words to be enough to give a bad spam score. Easy enough to sort out but irritating for it to occur every time I use the program."
Gammadyne Mailer Overview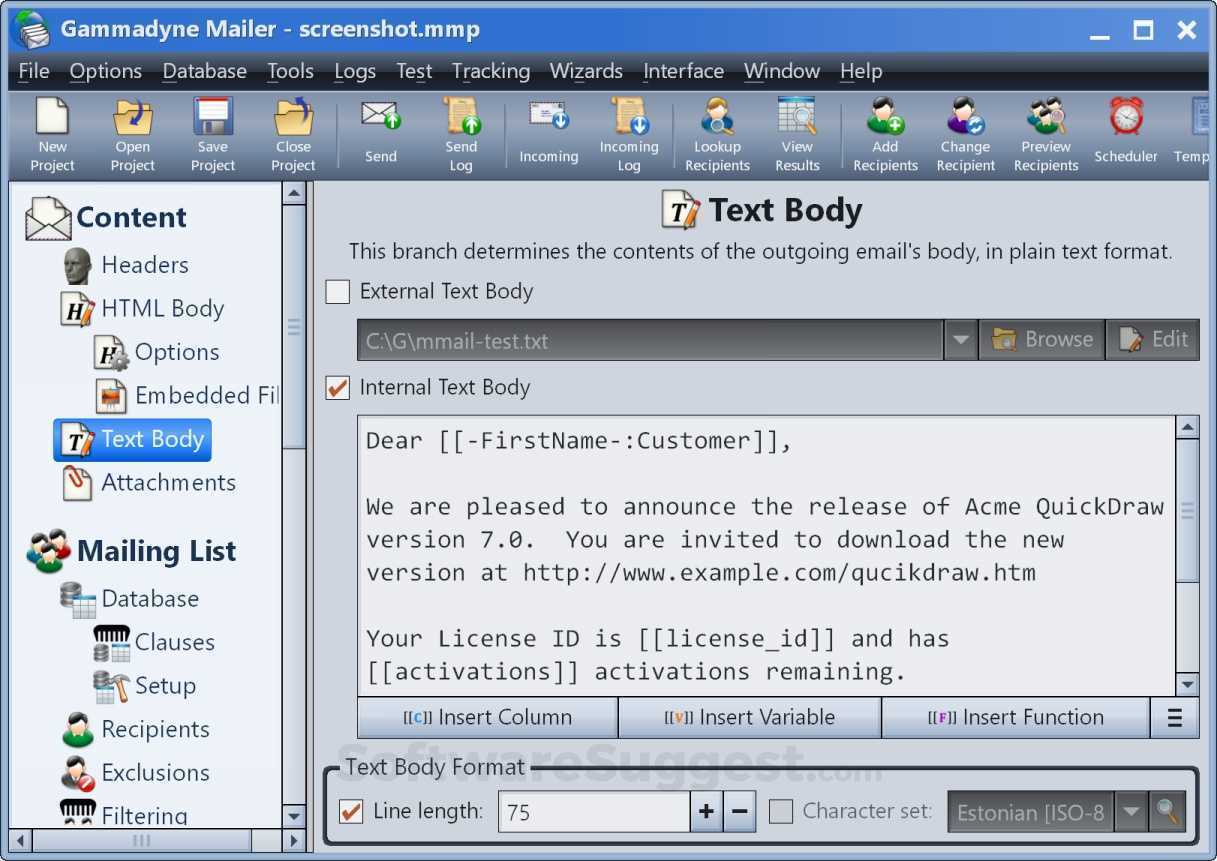 Gammadyne Mailer is essential software for automating a business's email marketing and email operations. It helps to improve consistency and increase sales and revenue.
Gammadyne Mailer is a solution for large mailing lists. Besides, it can track email opens and clicks, providing a wealth of marketing information understanding the customers' importance to successful marketing and with the tracking report, it provides the recipients' interest in the message, where they are located, and what language they prefer. It also helps to focus the marketing efforts on the best prospects, again translating to more sales.
Key features of Gammadyne Mailer are advanced mail sending engine, automated incoming mail processing, list management, tracks a campaign's opens and clicks, mail merge, database integration, multi-threading, scheduling, HTML email with graphics and many more.
Overview of Gammadyne Mailer Benefits
By maximizing your website's mail server, or leasing affordable servers, you can reduce your expenses by avoiding the recurring fees that come with an email service. Or, if Gammadyne Mailer is installed on a web server, you can configure it to deliver emails directly to your clients. Gammadyne Mailer is an ideal email automation service for mailing lists that are stored in ODBC compliant database (like Access and SQL Server), a CSV file, or a plain text file. There is no need to import and you have total control over your client information.
If you want to achieve the highest success rate while still attaining a fast overall time of completion, Gammadyne Mailer is your software. The platform can maintain a separate throttle for all the domains it delivers to. While tracking opens and clicks is an optional feature, it is quite inexpensive and does not require a recurring subscription. While it can be activated for a portion of a campaign, it does not expire and can track up to 2,500 emails for just $1.
With Gammadyne Mailer's integrated scripting language, you are set and ready to automate any conceivable email operation. You will really love the extensive feature set that software offers, including list management, data merge, list segmentation, multi-threaded delivery, load balancing, drip marketing, auto-responding, auto-forwarding, list-serving, message preview, attachments, suppression lists, and much more.
Gammadyne Mailer Features
List management
Data merge
List segmentation
Multi-threaded delivery
Load balancing
Drip marketing
Auto-responding
Auto-forwarding
List-serving
Message preview
Attachments
Suppression lists
message preview, attachments, suppression lists