About BirdSend
Content Creators save 80% in email tool expenses every month while still enjoying high email opens. They send 30M emails/m via BirdSend.
BirdSend is a cloud-based email marketing solution that enables content creators to streamline marketing operations through drip email campaigns, contact segmentation, revenue tracking and more. Professionals can utilize the platform to identify VIP subscribers, determine top-performing emails and set up rules to automate various tasks. BirdSend allows marketers to segment contacts using tags, enabling them to notify specific subscribers about upcoming newsletters, promotions or product launches through broadcast emails. Content creators can gain visibility into emails' open and click rates, track customers' average lifetime value and collect website visitors' details using in-built forms. Additionally, it lets professionals set up and sequence drip email campaigns to engage with subscribers. BirdSend helps content creators track the revenue generated from each email. Pricing scales with the number of contacts and support is extended via live chat and email.
Pros
"The dashboard is straight forward, which I like. I'm not very tech-savvy so I like the basics and ease which BirdSend provides both."

"It has been working like charm. Also the migration from my previously used software was very smooth, as the Birdsend staff did it for me."

"BirdSend has been a great replacement for my previous email list provider (GetResponse). It is cheaper, easier to use, and is already providing better results."

"I had hundreds of questions and they answered each and every one in a timely manner. I was super impressed at the level of detail during the migration process."
Cons
"I also miss the visual automations within ConvertKit."

"Although I guess the failing is on the part of Thrive, not BirdSend. I don't think the BirdSend optin forms offer as much functionality and customisation as the Thrive Leads forms do."

"I only use it to send weekly updates about my blog and don't use all the features that others might use, so I don't have anything really that I don't like about it."

"The biggest issue I have is they don't have that many direct integrations. You can connect with other tools via Zapier, but that's a pain to set up (and an additional cost)."
BirdSend Review — Features & Functionality
In no particular order, these are some of the features and functions I love (and hate) about BirdSend.
Send a test email
Many email marketing systems allow you to send a test email to yourself before sending the broadcast to your list. If you've never used this functionality before, I'd recommend you begin with it. It's the perfect way to catch any problems with your email before it hits your subscriber's inbox.
BirdSend offers a 'send test email' functionality, but what I most like is it's found within the regular steps you complete to send an email. Unlike some other systems where you have to go out of your way to find this option, BirdSend allows you to send a test email from the same page where you schedule your email.
A/B testing of headlines
Every time you send a broadcast email, you click through a page that gives you the option to split test your email headline. This feature is available on all accounts (including free trials), and you can use it for all or none of the emails you send.
To split test a headline, check the 'Split Test (A/B Test)' box and add a subject line variation.
You also have the option to set an automatic winner so you don't have to return to check the results and send the winner to the remainder of your list. Instead, during setup, check the 'Automatic winner' box. You have a number of criteria to choose from, including:
Higher Earnings
Higher # Sales (Conversion)
Higher Open Rate
Higher Click Rate
You also have the ability to set the duration of the test and identify how much of your list you'd like to use for the control and variation emails.
Finally, you can also resend the A/B test winner to people who haven't opened the email by checking the "Resend winner to Unopens" box and selecting a timeframe to wait until the email is resent.
Resend to unopens
As discussed above, you can resend the winning email to people who haven't opened an email during a split test. However, you also have this functionality for every email you send. Simply set a timeframe, and your email will be re-sent to people who haven't opened the initial email. You can also choose a new subject line if you wish.
Integrations
BirdSend integrates with all of the major systems you're likely to use for lead generation, including Google, Lead Pages, ClickFunnels, PayPal, ThriveLeads, and WooCommerce. Where integrations don't currently exist, you can connect BirdSend to 1000+ other platforms using Zapier.
BirdSend Review — Ease of Use
As with any new software, you have to take the time to learn how to use it. I've found BirdSend's user interface to be quite easy to follow, albeit different from the visual automation heavy platform that is ConvertKit.
Adding subscribers
BirdSend allows you to add all of the information you have about a new subscriber on one page. Click the 'email' icon on the left of the screen, and then click 'contacts' in the top bar. From there, click the 'new contact' button in the top right-hand corner. On this page, you can then add the subscriber's name and email address, and you can add them to tags or email sequences.
Creating forms/pages
Click the 'email' icon on the left of the screen, and then click 'forms' in the top bar. From there, click the '+ new form' button in the top right-hand corner. Enter the form name in the popup box and click 'create.' Then, choose a form style (or create a form to be integrated with third-party software) and customise as you wish.
Once you've created your form, you can:
Choose a page to redirect subscribers to after they submit their details.
Select and edit a double opt-in email or turn them off entirely.
Automatically tag subscribers or add them to sequences.
Sending emails
To send a one-off email to subscribers, click 'emails' on the left-hand side, and then 'broadcasts' in the top bar. Click 'new email' and follow the steps to create and send your email broadcast. Within this, you can choose to send to all of your subscribers or only certain subscribers depending on their tags or sequences.
In the example below, I have excluded subscribers tagged with 'Onboarding: 7DSFS' as they are currently within an onboarding sequence.
Setting up automated sequences
For a simple automation (e.g., add subscriber to a single sequence post-opt-in), you can set this option within the 'new form' section, providing you've pre-written the sequence. However, if you'd like to add greater functionality to the automation (e.g., adding and removing tags upon completion of a sequence), you'll have to use the 'automations' section to create 'sequences' and 'rules.'
For example, below I'm removing the 'Onboarding: 7DSFS' tag from subscribers who have completed the sequence, and then tagging them with 'Subscriber: 7DSFS.' This is so I know where the subscriber came from, but I also know they've completed the initial onboarding sequence.
BirdSend Review — Price
As I mentioned before, price was my greatest motivator for switching email marketing systems. BirdSend has, without a doubt, the best functionality for the lowest price of any email marketing system available today. Check out the table below to see why BirdSend comes out on top.
BirdSend Review — Customer Support
This was my second most important reason for choosing BirdSend over other email marketing systems. BirdSend offered to migrate my entire ConvertKit setup (including subscribers, forms, automations, and sequences) to the BirdSend platform for free. If I hadn't, I wouldn't have had the time to switch.
I've also had a few questions since the migration, mostly related to how to use the platform. The BirdSend crew have always responded to my questions within 24 hours, and mostly within three to four hours.
BirdSend Review — Deliverability
At this stage, having only sent a few broadcast emails to my list, I've found my deliverability is quite similar to what I was getting in ConvertKit. I'm on my own email list and I did find the first few emails went to my junk mailbox, but having opened three or four, they're now consistently landing in my inbox.
As with any email provider, I'd recommend asking your new subscribers to whitelist your address so you always land in their inbox, regardless of any changes happening within your email marketing system.
BirdSend Review — What I Don't Like
Lack of visual automations
I really miss the visual automations in ConvertKit, my previous email marketing system. The ability to see an entire funnel in a single flowchart is so helpful for understanding how subscribers move through the system. This is, without a doubt, the biggest negative with BirdSend. But, it's a negative I have to accept in order to save $20US per month on my email marketing system.
Lack of CSS email customisation
As discussed earlier, I also miss the ability to customise emails using CSS. It's much more time consuming to code an entire email using inline styling, and it's easier to make mistakes. I'm hoping BirdSend adds this feature, but for now, if you're happy sending plain text emails and making any adjustments with inline code (e.g., highlighting and font changes), BirdSend will certainly work for you.
Lack of email templates
If you're used to the drag and drop templates found in MailChimp and ActiveCampaign, you'll likely be disappointed with the plain text styling of BirdSend emails. As with ConvertKit, BirdSend focuses on sending emails with as little coding as possible so they're less likely to be flagged as spam. This is to improve deliverability but also to improve the personal connection with subscribers (as the emails look like those you'd get from a friend). If you love templates, however, BirdSend is not for you.
Confusing integrations
Although BirdSend integrates with a truck-tonne of platforms, some of those integrations aren't as straight forward as you'd expect. I use Thrive Themes on my website, and rather than clicking a button and connecting to BirdSend, I had to add HTML code to my Thrive Themes forms to get them to integrate with my email system. It's not difficult to do, but it would be easier if these integrations were as simple as the more well-known platforms.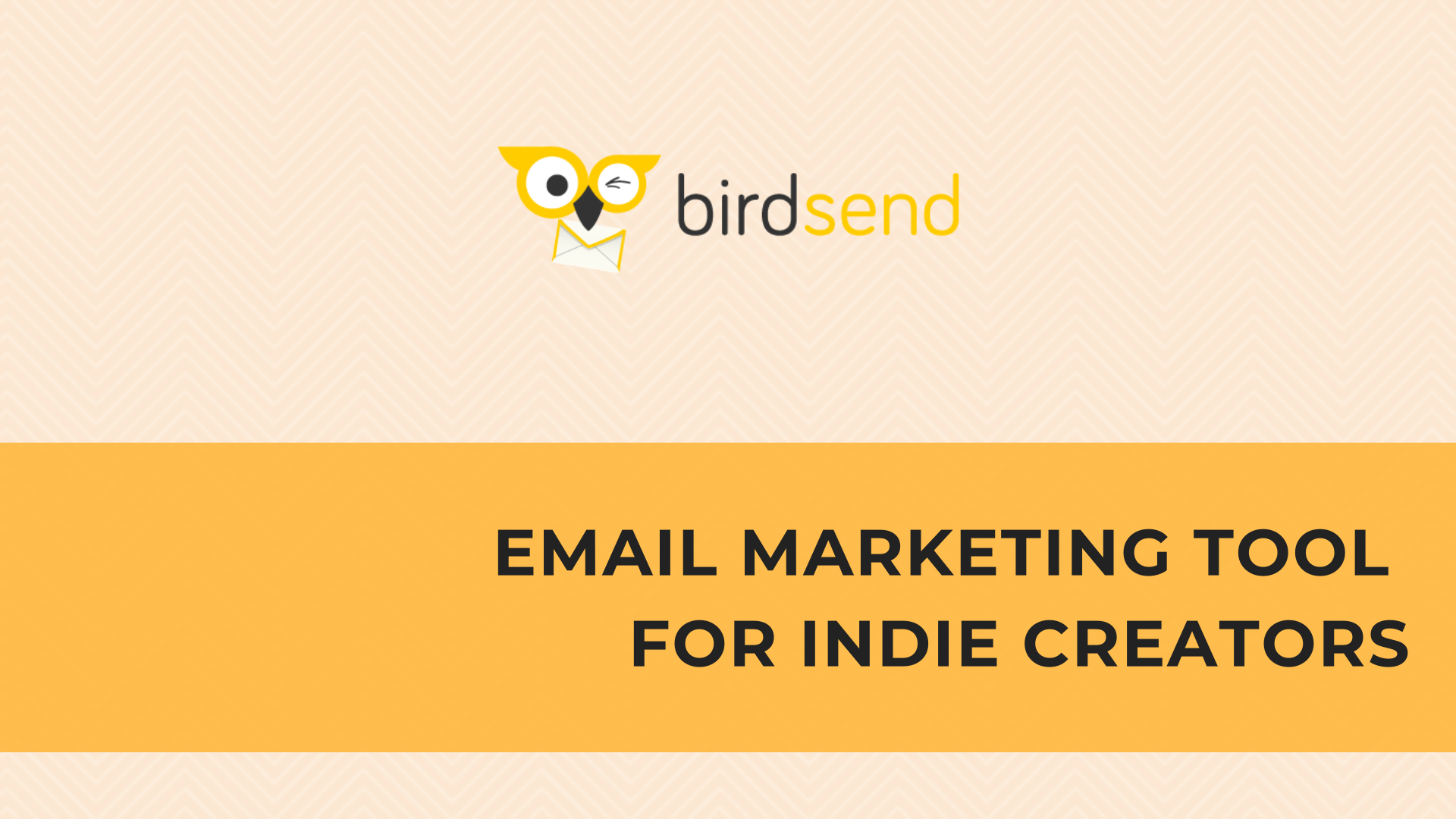 Conclusion
BirdSend is an "email marketing tool exclusively for content creators (not for everyone else) to crank out emails SUPER Fast." This means if you're a blogger, freelancer, or small business owner creating content for your business, BirdSend if the place for you. It's especially for beginner business owners who want to make their savings last as long as possible or seasoned content creators who aren't raking in quite the cash they expected.
Sure, BirdSend isn't as flashy as some of the more expensive email marketing systems out there. But it does the three things it's supposed to:
Stores the most valuable asset in your business (your email list).
Helps you connect with said asset (by making emailing consistently as easy as pie).
Tracks your sales and conversions (so you know exactly how well your business is performing).
If you're looking for an email marketing system, give BirdSend a go. I promise you won't regret it.