About Yet Another Mail Merge
YAMM is the best mail merge tool for Gmail. Send mass personalized emails in bulk directly from Google Sheets and Gmail. Deliver mass emails to the primary inbox and get an open rate up to 20x higher than with traditional emailing solutions such as Mailchimp or Hubspot. YAMM lets you track opens, clicks, bounces, and responses. Features include contact segmentation, personalized subject lines, email body, links, images and attachments, email polls, templates, and customization via HTML and CSS.
What is Yet Another Mail Merge (YAMM)?
Pros
"It also provides analytics and the amazing thing is that is GDPR friendly."

"The ability to track the opened, clicked, responses ,bounced emails is awesome."

"The overall experience is impressive. It is an excellent tool with good features."

"Yet Another Mail Merge is a convenient add-on that gives you the opportunity to do fast, easy email blasts. It's also super nice having all of the metrics all on your Google sheet."
Cons
"It runs through gmail so if you have several bounces or failures to deliver then you can put your gmail account at risk."

"Pricing is a little convoluted, it was easy to set up individually, but a little frustrating as a business to purchase for multiple users."

"However, with the limited features that do not allow more than one merge scheduled in advance and lack of automated follow-ups, it is more manual than other mail merge programs."

"The limited number of senders that can send is the only issue. We need to upgrade and the prices are a bit higher."
Yet Another Mail Merge Pricing Plans
Yet Another Mail Merge pricing includes:
Individual plans:

Basic: free plan – send up to 50 emails per day for one Gmail account.
Gmail.com Premium: $20/year – send up to 400 emails per day for one Gmail account + scheduling features + tech support.
G Suite Individual: $40/year – send up to 1500 emails per day for one G Suite account + scheduling features + tech support.

Team:

Enterprise: $240/year – send up to 1500 emails/day per user with support for 10 Gmail users.
Enterprise+: starts at $500/year – send up to 1500 emails/day per user with support for 100 Gmail users.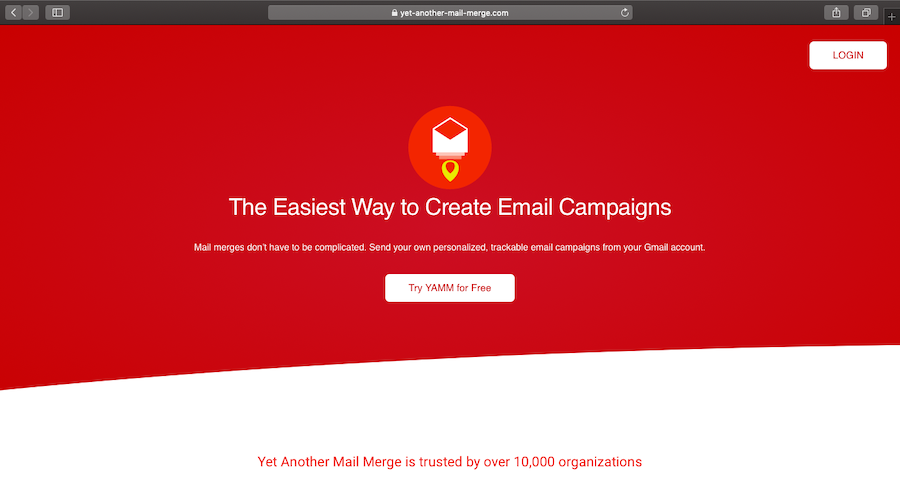 3 Key Features of Yet Another Mail Merge
Here's a quick look at the main features of Yet Another Mail Merge:
1. Seamless Email Personalization
Yet Another Mail Merge functions as a powerful mail merge add-on that lets you send personalized emails to multiple recipients to boost email engagement.
To send personalized emails in YAMM, you can add recipient data from a Google Sheets file to a YAMM email template. However, your Google Sheet must be properly formatted for mail merge to work.
How do you format each merge field correctly?
Each row in the spreadsheet should contain the records in your email list, and each column should be a personalization label, like:
First name
Company name
Address
These labels act as placeholders for the recipient data in individual emails that YAMM adds automatically. This way, you can use YAMM to send customized emails to your email list easily.
2. Extensive Email Template Library
Like other mail merge tools, Yet Another Mail Merge has an extensive template library that makes composing bulk email a piece of cake.
Instead of creating another mail merged email for each campaign, just use a premade email template from the YAMM library. You can also create a custom template in Google Docs and then use YAMM to import the Google Doc to Gmail.
Once your YAMM template is ready, you can then perform a mail merge with Gmail to personalize your email. For added flexibility, the tool also lets you use templates to send notification emails whenever someone submits a Google Form.
3. Send and Track Email Campaigns
Sure, Yet Another Mail Merge lets you send personalized email campaigns to hundreds of prospects with its mail merge feature.
However, that isn't all.
You can also use YAMM to track your campaign's performance to analyze deliverability and identify improvements for future email campaigns. However, your campaign will be tracked only if you've enabled tracking for it.
Once you've enabled email tracking in YAMM, a tracking report is auto-generated each time you send a campaign.
This report includes various metrics, like:
Email open rate: the percentage of emails opened in a specific campaign.
Click through rate: the ratio of recipients who clicked a link in the email to the total number of recipients who opened the email.
Bounce rate: the percentage of emails that were undelivered in a specific campaign.
Merge status: displays various mail merge statuses like sent, opened, etc. for each recipient.
This tracking report will automatically open up on your spreadsheet's right sidebar after you send a campaign.
The 3 Drawbacks of Yet Another Mail Merge
While Yet Another Mail Merge is a great tool, it isn't perfect.
Here are the three main disadvantages of using YAMM:
1. Email Tracking Is Complicated to Use
While YAMM tracks many useful email metrics, the email tracking function can be complicated to use.
Why?
This happens due to several reasons:
Receipts (tracking records) are only stored for the past ten days
Yet Another Mail Merge only stores records for up to ten days. If you sent your campaign 20 days ago but didn't open the Google spreadsheet reports within the ten-day period, you won't be able to retrieve those records.
Tracking isn't automated
Remember, to track a campaign, you must enable tracking when you start mail merge. If you forget to do this, your campaign won't be tracked once you hit the send button — preventing you from analyzing your mail merged email's engagement.
Campaign stats aren't available in your inbox
YAMM stores campaign stats in the Google Sheets spreadsheet you link during the mail merge process. This complicates campaign analytics, as you need to keep track of each campaign's unique Google spreadsheet in your Google Drive.
These factors make YAMM's analytics pretty complex to manage!
2. Lacks Support for Mobile Devices
Mobile accessibility is essential for any email marketing professional today!
Why?
You need to be able to track emails on the go and have access to your mail merge tools anytime, anywhere.
However, Yet Another Mail Merge does not yet support mobile apps. Whether you need an iPhone, iPad, or Android app — YAMM doesn't have it.
3. Can't Bypass Gmail Sending Limits
Yet Another Mail Merge does not integrate with third-party apps like SendGrid to bypass Gmail mail sending limits.
Its sending quota only allows you to send 400 individual emails per day with a Gmail account, and 1,500 emails per day on a G Suite account.
Why is this a problem?
These sending limits are extremely low for mass email campaigns — which severely limits your campaign engagement and potential conversions.