What is Enginemailer ?
Enginemailer is an integrated cloud platform that offers database management, email marketing and transactional email. Its unified features deliver better customer engagement across the entire email marketing and automation spectrum – combining simple yet powerful drag-and-drop interfaces, advanced data analytics and a complete set of integration APIs.
About Enginemailer
MANAGE and grow a quality email distribution list. Import existing customers, sign up new ones, synchronize and organize them. CREATE dynamic, professional newsletters and surveys on our flexible in-built editor. Do it yourself or hire a professional, it's up to you. DELIVER effective marketing and automated emails. Send personalized content to the right person, at the right time, in minutes. TRACK campaign performance via in-dashboard reports and real-time analytics. Make changes. Take timely action. Win more customers. With one powerful email marketing tool that helps you manage contacts, engage them; and see your business grow. Start with and maintain a quality subscriber list. Add contacts via CSV, Excel, API integrations or online forms; emails are automatically cleaned up – duplicate and erroneous ones vaporized! Sort your contacts into one or various groups of audiences: age, location, behavior, interest, etc. Hone each campaign by targeting and engaging the right people.
Pros
"Great platform and surprisingly more effective than MailChimp."

"It's nice to have a startup like Enginemailer supporting the government to further help elevate and create a vibrant ecosystem for Malaysian entrepreneurs."

"Its super reliable and offers lots of free & attractive templates; excellent Contacts & Database Management with detailed reporting."

"EngineMailer is extremely impressive from the customer service all the way to their support team."
Cons
"Limited template options for a great-looking content."

"A little confusing for set up initially. Also, need more follow up guide and lessons on how to retarget, strategize and move our email marketing to the next level."
Enginemailer Description
MANAGE and grow an email distribution list of quality. Sign up new customers, import existing customers, and synchronize, organize, and manage them. Our flexible editor allows you to create professional newsletters and surveys. You can do it yourself or hire someone to do it for you. DELIVER automated emails and marketing messages that are effective. In minutes, send personalized content to the right person at the right moment, and it will be delivered. TRACK campaign performance using in-dashboard reports or real-time analytics. Make changes. You must take prompt action. More customers. One powerful email marketing tool that allows you to manage contacts and engage them. This will help your business grow. Start with a quality subscriber base and keep it up. You can add contacts via CSV or Excel, API integrations, online forms, or online forms. Emails are automatically cleaned up and duplicates are vaporized. Sort your contacts into one or more audiences based on their age, location, behavior, interests, etc. Each campaign can be improved by engaging and targeting the right people.
What do you like best about Enginemailer?
It makes launching email marketing campaigns a hassle-free thing. It gives a simple email editor with lots of ready to use templates. It saves lot of time. It also gives these all for free with a suffcient limitations.
What do you dislike about Enginemailer?
Adding more templates would be good however the quality of existing templates is still very good.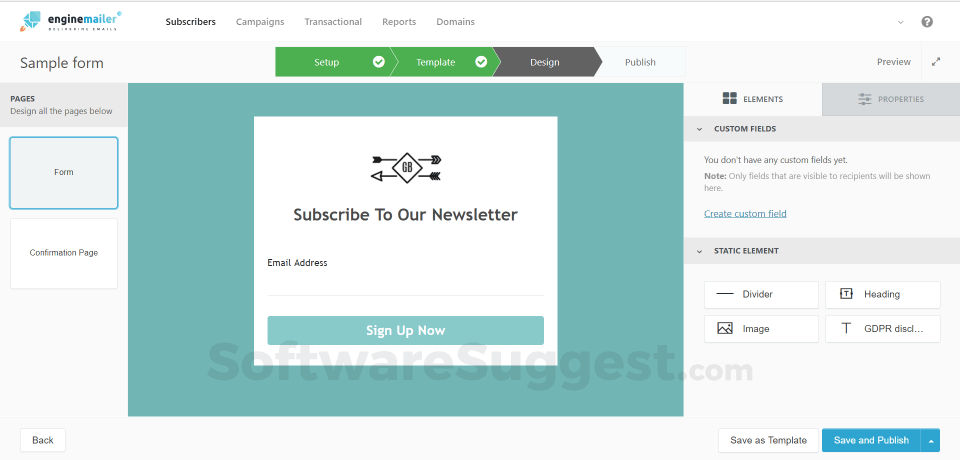 Recommendations to others considering Enginemailer:
It is highly recommended to friends and colleagues for email marketing and promotional purposes.
What problems is Enginemailer solving and how is that benefiting you?
I am saving a lot of time by utilizing ready-to-use templates and a simple interface of enginemailer with drag and drop support. I am launching email campaigns more effectively in a much shorter time.