About KIRIM.EMAIL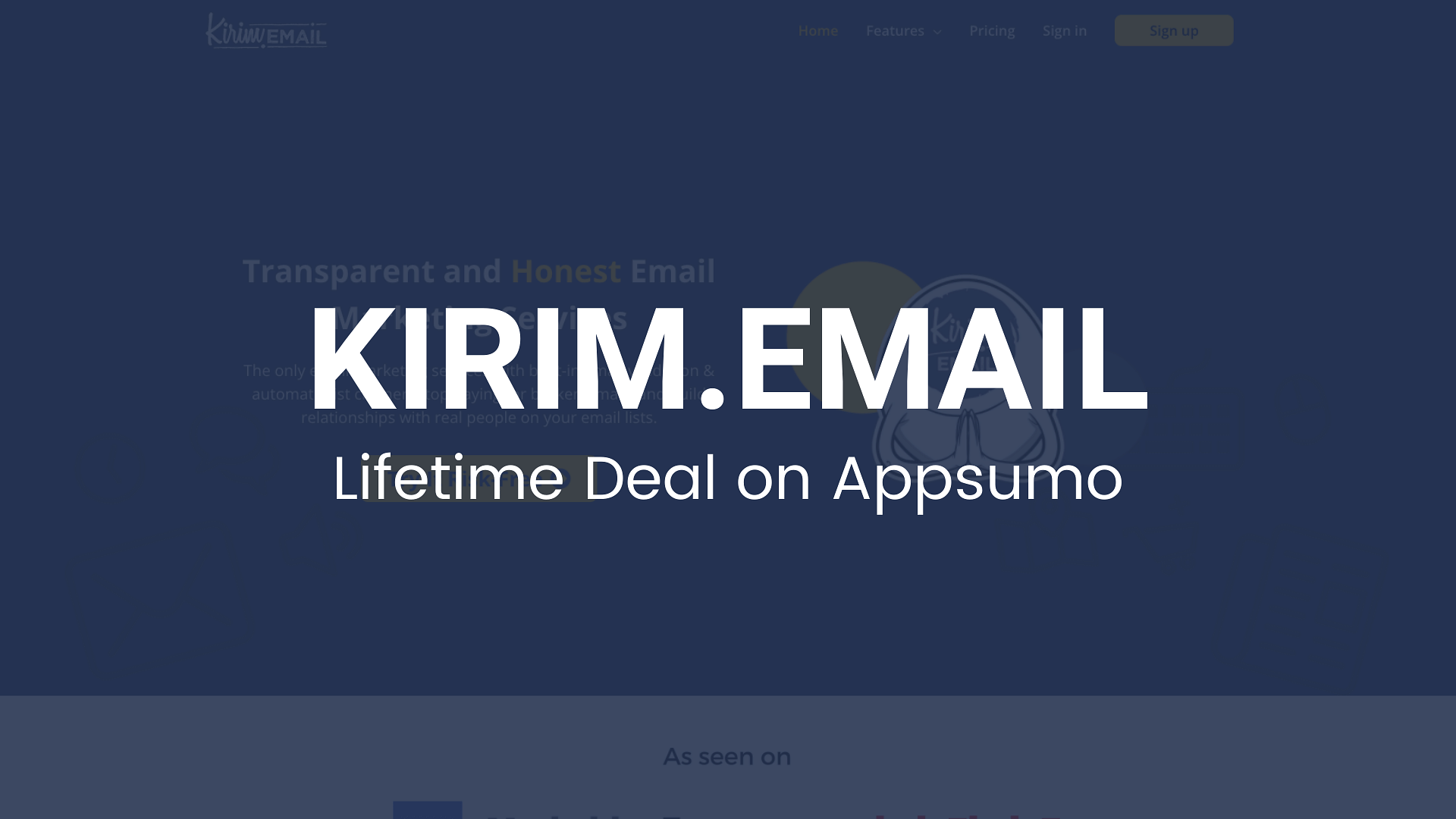 Over 28,000 companies from 20 countries worldwide are already using KIRIM.EMAIL as their email infrastructure to generate more sales, build apps, and build their traffic sources.
The only email marketing services with built-in email validation & automatic list cleaner. Stop paying for broken emails and build relationships with real people on your email lists. Get your custom domain for your business to make it look more professional. Then, build your landing page to launch your business. Choose an email template, modify it based on your needs, and instantly send it to your subscriber. Email marketing service that built-in with email validation technology with no additional cost. Conveniently run your marketing campaign and validate your email subscribers at once directly from Google Sheets, without any third party plugins or add-ons. Setup giveaways, sweepstakes, and product launches in minutes. Make your customer earns point and rewards for referring friends and promoting your products. Magic Opt-in makes your subscribers register to your form using a single opt-in method, but their email is verified using a double opt-in.
What is KIRIM.EMAIL?
The world's most affordable email infrastructure for business. Over 28,000 companies from 20 countries worldwide are already using KIRIM.EMAIL as their email infrastructure to generate more sales, build apps, and build their traffic sources.
What is KIRIM.EMAIL and how does it work?
KIRIM.EMAIL is an email marketing service which provides in-built email validation and an automatic list cleaner. These features automatically remove spam traps, zombie emails, and bots from the mailing list and also filter out duplicate email addresses of subscribers. It also intelligently recognizes and removes dormant email addresses through continuous background checks. This makes the mailing list more responsive and enhances the email deliverability. Businesses can conduct viral campaigns and contests through this service to engage more customers. The platform can be used with the existing website or embedded into the landing page, which can be built directly from the dashboard. Users can integrate Google forms or sheets into the mailing list and also sync Facebook Advertising or Google Ads Lead Forms Extension without using any add-ons. Another important feature of the platform is the magic opt-in process which confirms a subscriber's email address when they click a link for accessing the lead magnet. This makes it easy for the subscriber and can lead to more customers joining the list.
KIRIM.EMAIL Features
✅  KIRIM.EMAIL simplifies and automates the process of cleaning up your email list, so that only responsive ones stay on sending lists to increase response rates.
✅  One of KIRIM.EMAIL's crowning features is its Magic Import technology which sorts and verifies emails on imported email lists to weed out those pesky invalid email addresses.
✅  KIRIM.EMAIL is a tool that will allow you to achieve superior deliverability and ensure higher email responsiveness with an active list of people on your side, giving better analytics for tracking success rates in circulation across different platforms or time periods.
✅  KIRIM.EMAIL offers an on-going email validation service, making sure you avoid sending emails to spam traps or bots with their built in system for checking if the recipient is still active and not listed as junk mail. The email validation process is done automatically in the background, which means you'll be able to avoid unnecessary fees from duplicate deliveries.
✅  KIRIM.EMAIL lets you send automated email sequences or series with broadcast triggers, click links for specific actions and more! With these features for email sequences and personalized emails, you can increase your sales conversion.
✅  Direct people form your email to customized landing pages that you can create even without coding knowledge. You can also quickly set up custom business domains without using a website or a web hosting service.
✅  Create mobile-responsive landing pages from scratch or customize pre-made templates. These landing pages can seamlessly integrate with other workplace tools such as Google and WordPress.
Pros
"The design platform is fantastic with a user-friendly backend panel."

"It's one of the most affordable email services out there as well as it delivers what they promise you. Front and back end both side customer chat service provide the best support for the software."

"I used Kerjamail and I love it, so after they launched kirim.email it was no brain deal for me, I already know the team and test their tools before. Great product keep the good work."

"Some simple yet very useful things like removing trash contact from a campaign (that came back bounces) allow you to send mails to only target leads over time."
Cons
"Sometimes the automation doesn't kick it as expected and the process could be a little confusing and tedious for rookies to email marketing."

"There is no spam score word identification feature yet, even though this feature is very useful."
KIRIM.EMAIL Pricing Overview
KIRIM.EMAIL's monthly price starts at $13.61 per month for a "Kontak" plan which is perfect for marketing professionals. The price scales up if you want to open sub-accounts within your main account and if you want to send transactional emails/SMTP.
Alternatively, KIRIM.EMAIL offers a limited lifetime deal on Appsumo starting at $69 for a Tier 1 deal. Higher tiers with better features are also being offered.
Price starts from:
$13.61 per month
✅  They offer a 30-day money-back guarantee

Lifetime Deal price starts from:
$69.00 – Single Payment for a Tier 1 Deal